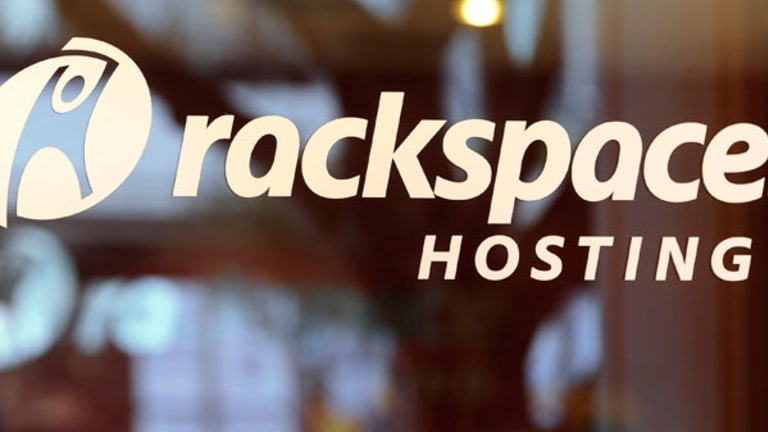 Why Blue Harbour Sees Value in Rackspace
Blue Harbour began buying Rackspace shares in late June; roughly a month after Rackspace said it hired Morgan Stanley to run a strategic review for the company.
Updated from 10:59 a.m. to reflect that Blue Harbor started buying Rackspace in May, not June.
NEW YORK (TheStreet) -- Hedge fund Blue Harbour Group believes managed cloud company Rackspace (RAX) is undervalued and can buy back a significant amount of stock as the company distinguishes its business model from larger competitors such as Amazon Web Service (AMZN) - Get Amazon.com, Inc. Report . Blue Harbour began buying Rackspace shares in May before Rackspace said it hired Morgan Stanley to run a strategic review, however, the bulk of the firm's accumulation happened through June, July and August.
While Blue Harbour believes Rackspace's business would be complementary to a handful of acquirers over the long-term, it also thinks the company's standalone prospects in the cloud computing market present a value to investors. Blue Harbour expects Rackspace will generate $2 billion in recurring revenue by 2015, indicating a return to steady revenue growth amid a change in strategy that emphasizes the company's service, in addition to its cloud infrastructure capabilities.
Rackspace, after failing to win cloud hosting market share from Amazon Web Service amid a pricing battle, is working to re-emphasize its customer service, in a move that may underscore its differentiated offering to smaller businesses without a large IT infrastructure. Earlier in 2014, Rackspace changed its pricing to split infrastructure and service costs for customers. That change appears to have buoyed Rackspace's recent earnings and its outlook for coming quarters. 
Improving fundamentals at Rackspace and a more clear communication of strategy to investors may help the company improve its valuation. Currently, Rackspace is trading at about six times forward earnings before interest, taxes, depreciation and amortization (EBITDA), while competitors (according to Blue Harbour) such as Equinix (EQIX) - Get Equinix, Inc. Report trade at multiples of over 10x EBITDA. Historically, Rackspace has traded at around 10x EBITDA.
Blue Harbour has lobbied that the company use its balance sheet to buy back shares while they are undervalued. The fund accumulated a 6.4% stake in Rackspace shares through July and August and met with management to express its views on buybacks before filing a 13D on Monday. Blue Harbour is currently Rackspace's fourth largest shareholder, according to Bloomberg data, while hedge fund Third Point Management recently disclosed an over 5% stake in the company.
Rackspace carries $340 million in cash on its balance sheet and the company generates roughly $600 million in EBITDA. Wells Fargo analysts said on Tuesday they believe the disclosure of Blue Harbour and Third Point's stake, in addition to strong third quarter guidance is improving investor sentiment on Rackspace after years of underperformance.
Rackspace appears poised to adopt a more shareholder friendly capital structure, Wells Fargo said, while noting the company may be able to repurchase as much as $900 million in stock, or 20% of its equity value.
No Winner Take All Market
Blue Harbour's thesis on Rackspace may prove a subtle twist in how investors look at cloud computing. While services such as AWS, Google Compute Engine (GOOG) - Get Alphabet Inc. Class C Report and Microsoft Azure (MSFT) - Get Microsoft Corporation Report have quickly ascended to a powerful market position, cloud services may not be the zero sum game many investors foresee.
Large corporations and government agencies were early adopters of cloud solutions like AWS as a means to lower their IT infrastructure costs. While large firms with dedicated IT staff are able to handle low-service infrastructure like AWS, Rackspace is oriented to smaller firms that need more help as they adopt public clouds. It is the wider adoption of cloud services among smaller organizations where Rackspace may have a stable and under-appreciated foothold, Blue Harbour believes.
"Cloud computing is not a winner takes all game," Todd R. Marcy, a managing director at Blue Harbour, said of the firm's investment in Rackspace, in a Monday evening interview with TheStreet. "We think Rackspace is differentiated within a huge secular growth market."
Blue Harbour's other IT-services oriented investments have included
Akamai Technologies
(AKAM) - Get Akamai Technologies, Inc. Report
, the firm's largest position according to
Bloomberg
data, and
Savvis
, a company acquired by
CenturyLink
(CTL) - Get CenturyLink, Inc. Report
.
Strategic Review
Reports have come in mixed on Rackspace's strategic review. While the company said it hired Morgan Stanley after receiving indications of interest, media reports indicate no deal may be imminent. One issue appears to be Rackspace' discounted valuation, which is creating a large gap in the bids the company is receiving and the price at which it is willing to sell.
Potential buyers such as AT&T (T) - Get AT&T Inc. Report   have their hands tied as they work to complete large acquisitions or continued strategic change. IBM's (IBM) - Get International Business Machines Corporation Report purchase of SoftLayer for $2 billion, or an enterprise value of 10.5 times EBITDA ultimately may prove a good barometer on Rackspace's long-term deal-making prospects.
Rackspace shares were rising nearly 4% in early Tuesday trading. Shares in the company have fallen over 15% year-to-date and nearly 10% since the company announced its strategic review in May.
Rackspace declined to comment for this article, while Third Point Management didn't immediately respond to an email seeking comment.
-- Written by Antoine Gara in New York