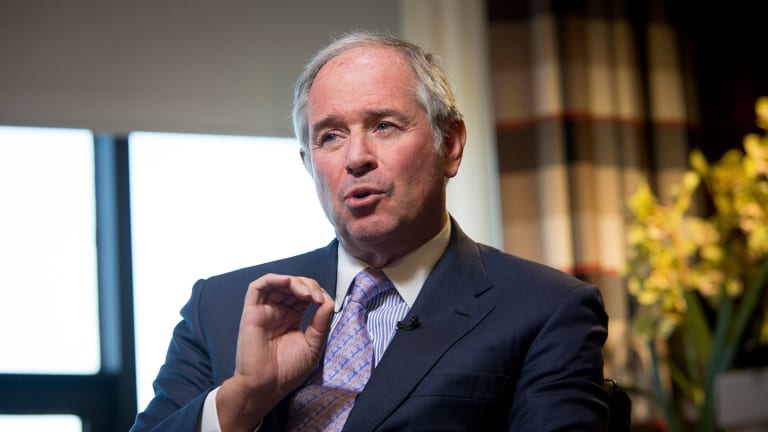 Why Activist Investors Won't Touch the Big Buyout Shops
Large publicly-traded private equity firms have seen their share prices drop significantly over the past year but they are virtually impenetrable when it comes to shareholder insurgencies. Here's why.
Large publicly-traded private equity firms have seen their share prices drop fairly substantially over the past year amid market uncertainty and concerns about global growth.
Private equity behemoth Blackstone Group LP (BX) - Get Free Report for example, has fallen from a high of about $44 a share a year ago to trade lately around $26 a share. KKR & Co.'s (KKR) - Get Free Report shares traded at around $23 a year ago and have since fallen to about $13.25 while Carlyle Group LP (CG) - Get Free Report , Apollo Global Management LLC (APO) - Get Free Report and Fortress Investment Group LLCundefined have also experienced significant share price declines over the past year.
One might ascertain that Blackstone's share price woes, for example, could attract the attention of some activist hedge funds, who might start thinking about reaching into their insurgency playbook by agitating for a sale or IPO of one or more of the buyout shop's many portfolio businesses to coincide with a buyback hike.
However, for a variety of reasons, the supersized $32 billion market capitalization buyout shop run by billionaire Stephen Schwarzman (pictured) actually does not make a good target and neither do many other big private equity firms.
Unlike holders of common stock in a traditional corporation, Blackstone's shareholders, known as unitholders, do not elect the buyout shop's board of directors. As a result, an activist wouldn't be able to seek to elect a dissident slate of directors after after accumulating a stake.
KKR has a similar structure, noting in its annual report that its equity investors - also known as common unitholders -- do not elect the firm's board and have "limited ability to influence decisions" regarding the business. In addition, the fund's unitholders "have no ability to remove" the firm's managing partner "with or without cause." A KKR spokesman acknowledged that an activist investor would have no ability to control or replace the company's board of directors - taking off the table what otherwise would have been the biggest threat an activist can make at a targeted company.
Separately, Carlyle notes in its annual report that its unitholders don't elect the buyout shop's general partner. As a result, shareholders at Carlyle have "limited ability to influence decisions" regarding the company's business. In addition, Carlyle's rules prohibit any person who owns 20% or more of any class of the private equity firm's common units from being voted "on any matter." Its partnership agreement contains provisions limiting the ability of shareholders to call meetings or "acquire information about operations" or "influencing the manner or direction" of management.
The governance structure at these firms - which really don't give shareholders much influence at all - could be enough to convince activists to stay far, far away.
"The prevalent view is that there are so many problematic companies in the U.S. so why go after a company where I have one hand tied behind my back in terms of not being able to elect my dissident directors," said Jon Lukomnik, executive director at the Investor Responsibility Research Center Institute.
However, activists, have launched insurgency campaigns and even proxy contests on occasion with tiny stakes at controlled companies with dual or multi-class share structures as part of an effort to sufficiently embarrass executives into action even though there is no technical mechanism for them to win. For example, activist Eric Jackson drafted a 99-page report in January urging Viacom Inc. (VIAB) to shake up its management and board and consider strategic options even though its founder, Sumner Redstone, controlled the majority of the media giant's voting power through a holding company.
Jackson's campaign was covered by major media outlets, putting public pressure on Viacom -- it succeeded at pushing Redstone out of the position of executive chairman and the media giant may soon be looking for a new CEO. On the other side of the Atlantic ocean, Chris Hohn's London-based Children's Investment Fund has a campaign underway at Volkswagen Group AG (VLKAY) even though Porsche AG and the German state of Lower Saxony control 72% of the voting rights.
However, at Blackstone, KKR, Carlyle and other public private equity firms, there are a multitude of other reasons beyond their controlled structure why an activist may not want to launch a campaign.
For one, the buyout shops have fairly big stock market capitalizations, making them difficult for even the most established activist hedge funds (read: Carl Icahn) to accumulate even a 1% stake. A significant stake is necessary - even if it only represents 1% or 2% of a target's market capitalization -- to show other investors you mean business and have serious skin-in-the-game. Blackstone, for example, has a $31 billion market capitalization, KKR, $11 billion, Carlyle, $5.4 billion and Apollo $3 billion.
In addition, and perhaps even more importantly, private equity firms are already engaging in a private setting in the kind of restructuring of companies that activists seek out at their more traditionally-structured public corporation targets. As a result the kinds of share-price improvement catalyst an activist may want to push for may not be available at Blackstone, for example.
"Activists seek restructuring opportunities at public companies," said Ann Dai, analyst at Keefe, Bruyette & Woods Inc. in New York. "Blackstone is already restructuring its portfolio companies for its limited partner investors."
An adviser to companies targeted by activists agreed that the big publicly-traded private equity companies are always focused on "breaking up" their portfolio and as a result an activist fund would have a difficult time forming the basis for a campaign centered on the same idea.
A proxy solicitor, who advises both companies and activists embroiled in insurgency campaigns, said private equity firms are constantly evaluating whether their capital is being allocated in the best way to achieve value. "Like an activist, they are always considering catalysts," he said.
Public investors in private equity firms, he noted, are there because they like the manager, such as Blackstone's Schwarzman or Carlyle co-founder David Rubenstein, and they believe the firm is a specialist in capital allocation.
Activists often pressure public companies to spin off divisions into publicly traded corporations so that they can benefit from transforming their investment in one stock into ownership of shares in two publicly-traded companies - essentially extracting what they see as hidden value at their original target. However, activists run into a roadblock at public private equity firms -- pressuring Blackstone to conduct an IPO of one of its portfolio companies will not give the activist who owns shares in the buyout shop any stake in the newly-formed company.
"The investor would benefit from any upside Blackstone receives from the IPO or sale," said Dai. "But the Blackstone shareholder won't get shares in the new company."
In addition, Dai notes that Blackstone has a fiduciary duty to their limited partners for each of its funds. As a result, any move to expedite a sale or IPO of a portfolio company at the behest of an activist could be interpreted as a breach of its fiduciary duty to those limited partner investors.
At some large private equity firms there are assets that could be sold or spun-off in a traditional sense. But PE firms are already engaging in these forms of M&A. For example, Blackstone last year successfully spun off of its financial and strategic advisory services business to PJT Partners Inc. (PJT) The divestiture suggests that Blackstone is already engaged in the kind of review of its assets that an activist might otherwise have urged it to conduct.
Putting pressure on a large private equity firm to conduct stock buybacks - another play in the activist playbook - is also a tough one. Dai notes that it would be difficult for an activist to drive Blackstone into distributing more capital to shareholders in the form of buybacks or dividends because Blackstone already pays out 80-90% of distributable earnings to shareholders in the form of distributions, essentially dividends.
Other big private equity companies have similar restrictions in place. KKR, for example, notes in its annual report that it intends to pay periodic distributions to unitholders but its ability to do so many be limited by its holding company structure and contractual restrictions.
Probably one of the most important reasons why an activist may never target a major private equity firm is because of important relationships they may have with the buyout shop and other investors. An activist may not want to upset Blackstone or other large private equity firms because they often provide the share price catalyst insurgent investors are seeking at their public company targets.
"If you want to sell a division or company as a whole these leading private equity firms are certainly key in the M&A market and happen to be potential buyers," said one banker who requested anonymity. "They [big private equity firms] can provide a liquidity event that activist is seeking and activists don't want to bite the hand that feeds them. The private equity funds can be the solution to a lot of the situations an activist sets up."
Gary Lutin, a former investment banker who chairs the Shareholder Forum in New York, argues that there are serious complications in the relationship between activists and private equity firms and that as a result insurgent managers try to avoid upsetting private equity firms. "The private equity companies can make dreams come true for an activist," said Lutin.
Case in point: Insurgent Elliott Management Corp.'s Paul Singer has numerous connections in the private equity world - it recently hired a former principal at PE firm Golden Gate Capital LP -- and a number of the firm's targets end up being acquired by private equity firms. Elliott, which is not afraid to launch proxy fights, pressured American Capital Ltd. (ACAS) earlier this year to shift gears and focus on a sale process for the whole business. Six months later, on May 23, it was acquired by specialty finance buyout shop Ares Capital Corp. (ARCC) - Get Free Report in a deal valued at $3.4 billion.
Another banker acknowledged that the collective lackluster share-price performance of the large U.S. private equity firms could put them in an activist's cross-hairs. However, he agreed that activists would ultimately stay away for fear of losing a potential buyer for their targeted companies.
"If you are an activist and hope to have a private equity firm come in one day and buy a company you are targeting - as many activists do -- it doesn't make sense to be out there pissing off the private equity firms that are their friends," he said.In addition, he noted that a large private equity firm's underlying businesses are much more opaque than a traditional publicly-traded corporation and as a result it would be more difficult for an activist hedge fund to identify operational and capital allocation issues that they could use for their campaign.
Finally, there are other types of relationships between activists and private equity firms that are likely to discourage insurgencies. A number of investors in activist hedge funds are also limited partners of KKR and other major private equity shops, raising additional connection complications. For example, some public pension funds, such as the California State Teachers' Retirement System, invest with activist funds at the same time that they are also limited partners at large private equity firms. CalSTRS is a good example -- it has investments with both activist fund managers Trian Partners, Starboard Value LP, Blue Harbour Group LP as well as major buyout shops including Blackstone, KKR and Carlyle.
"If you want to get the votes of the pension fund crowd it may not help to attack their other partners," Lutin said. "You're not going to win a lot of friends by saying their careful selection of a private equity manager was dumb. Much better to stick to attacking companies in the fund's indexed portfolio that they can't be blamed for selecting."
For now, governance, relationships and size are enough to keep activist funds at bay. But further poor share price performance might be enough to change the equation.