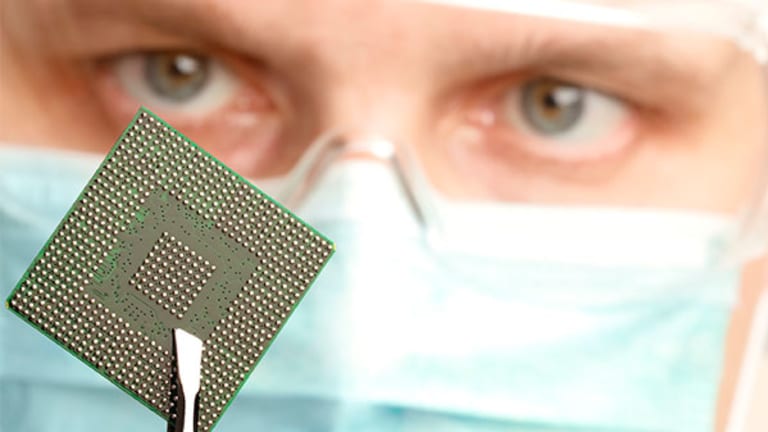 Which Semiconductor Company Could Buy Semtech Today?
As one of the few remaining independents, the analog semiconductor provider could fetch as much as $2 billion.
Analog chipmaker Semtech (SMTC) - Get Semtech Corporation Report is looking more and more appealing as an acquisition target in a rapidly consolidating industry thanks to its strong financial profile. The company could fetch about $2 billion in a sale to a bigger semiconductor maker, according to industry sources.
These people, who asked to remain unnamed, believe M&A will continue to be a key theme for the semiconductor sector in 2016.
Given slowing revenue growth, chipmakers busily turned to acquisitions last year, with multiple mega-billion dollar transactions taking place including NXP Semiconductors' (NXPI) - Get NXP Semiconductors NV Report $16.7 billion acquisition of Freescale Semiconductor and Intel's (INTC) - Get Intel Corporation Report $15.7 billion purchase of Altera.
Among the remaining players, Camarillo, Calif.-based Semtech, with a $1.18 billion market capitalization, stands out as an acquisition candidate and could receive a price tag of $2 billion from a bigger rival, said the industry sources. 
Some of these sources said Dialog Semiconductor (DLGNF) , in particular, could take a look at Semtech after passing on Atmel (ATML) . Atmel said Jan. 13 a rival offer from Microchip Technology (MCHP) - Get Microchip Technology Incorporated Report was superior to its initial deal with Dialog Semiconductor, which responded the following day by announcing it wouldn't top Microchip's bid but instead take a breakup fee.
San Jose, Calif.-based Atmel agreed to be acquired by Microchip for $8.15 per share, which consists of $7 per share and the rest in stock. Dialog had offered in September $4.65 in cash and 0.112 Dialog shares for each Atmel share, or $10.42 per share in total, but the British semiconductor company's stock has been plummeting since then.
"Semtech is an interesting company," said one of the industry sources who sought anonymity. "They've done good acquisitions and have a good technology."
In fact, Semtech purchased Gennum for $494 million in 2012, when it also bought Cycelo for $21 million. In 2009, the chipmaker shelled out $180 million for Sierra Monolithics.
"The list of candidates is not going down, and Semtech has built up a nice portfolio," the source explained. "Dialog better move fast."
B. Riley & Co. analyst Craig Ellis said Semtech has very high margins and is a fast-growing business that focuses on the strong end markets of communications and infrastructure. Its financial and growth profile could argue for a multiple of four times to five times sales, he said, adding that, on average, semiconductor companies have garnered about three times sales.
Semtech is currently estimated to generate about $502 million in revenue and $299.3 million in gross profit on 59.6% margins, according to Bloomberg data. A multiple of four times to five times revenue would give the target a potential price tag of $2 billion to $2.5 billion.

"It has nice growth characteristics. On the IOT (Internet of Things) side, the company has made a number of investments with a lot of organic capability," Ellis added. IOT involves connecting physical objects such as a lamp to the Internet.
Steve Smigie, an analyst with Raymond James & Associates, said Semtech would make an interesting target for many players in the sector, pointing to Analog Devices (ADI) - Get Analog Devices, Inc. Report and Maxim Integrated Products (MXIM) - Get Maxim Integrated Products, Inc. Report as potential suitors.
He said ON Semiconductor (ON) - Get ON Semiconductor Corporation Report could also be a logical buyer for Semtech, given that it initially agreed in December to purchase Fairchild Semiconductor Internationalundefined for $2.4 billion. One obstacle, however, is the bid ON received from China Resources Microelectronics and Hua Capital Management.
Chinese players could also come in, Smigie added, pointing to the country's commitment to growing its internal semiconductor business. In addition to Fairchild, Integrated Silicon Solution and OmniVision Technologies were acquired by Chinese buyers. 
While Semtech fits the criteria for an acquisition candidate, its management doesn't appear willing to sell in the short term, explained RBC Capital Markets LLC analyst Mitch Steves.
Still, semiconductor companies with $4 billion to $10 billion in market cap could take a look at Semtech, as can any analog chipmaker, he said.
Officials with Semtech, ON Semiconductor and Dialog did not return requests for comment Monday. Those with Analog Devices and Maxim declined to comment.
Elsewhere in the sector, EZchip Semiconductor (EZCH) shareholders on Monday approved a $811 million merger with Mellanox Technologies (MLNX) - Get Mellanox Technologies, Ltd. Report at a special meeting. EZchip initially agreed to the deal in September, but activist Raging Capital Management launched a campaign in October, asserting that the proposed transaction undervalued the company. Raging Capital bowed out of its campaign earlier this month. The transaction is expected to close next month.
Industry followers are also tagging Xilinx (XLNX) - Get Xilinx, Inc. Report as a potential acquisition candidate. The chipmaker with a $11 billion market cap competes with Altera, which was bought by Intel. Xilinx could receive the next biggest spotlight on the M&A front.