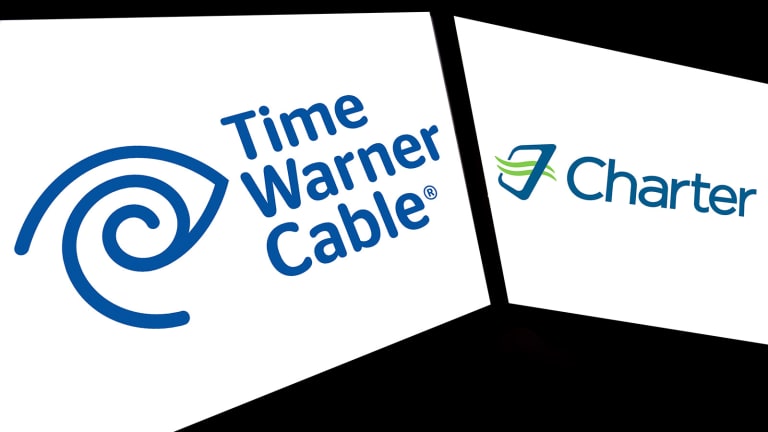 Publish date:
What's Next in the Cable Industry's Consolidation
Smaller companies remain after two mega-deals announced in the last two weeks.
Smaller companies remain after two mega-deals announced in the last two weeks.
NEW YORK ( The Deal) -- Over the last two weeks, John Malone-backed Charter Communications (CHTR) - Get Report and Altice SA (ATCEY) , the acquisitive Luxembourg communications outfit of French billionaire Patrick Drahi, have scooped up some of the most attractive cable systems in the U.S.
Charter added Time Warner Cable (TWC) for $79 billion, in conjunction with the $10.4 billion purchase of a controlling stake in privately held Bright House Networks LLC. Altice bought Suddenlink Communications for $9.1 billion, with ambitions to add to its U.S. portfolio.
A field of smaller players remain, from Cox Communications to New York metro-area provider Cablevision Systems (CVC) and companies such as Mediacom Communications Corp., which focuses on smaller markets. Private-equity firms such as Abry Partners LLC, Oak Hill Capital Partners and GTCR LLC back cable-TV companies and could be sellers.
Graham Holdings (GHC) - Get Report, the former owner of the Washington Post, is spinning off Cable One Inc., the 10th-largest U.S. cable operator with $815 million in 2014 sales and more than 420,000 video subscribers in the Midwest, West and South.
"The most attractive guys left are Cablevision and Cox from a market standpoint," Moody's Investors Service analyst Neil Begley said of the array of cable operators.
Cablevision CEO James Dolan has said the New York market should be consolidated. Meanwhile, Cox president Pat Esser said the company "is not for sale," in an emailed statement. "We'll continue to aggressively invest and innovate within our product portfolio and explore other potential growth opportunities that align with our business objectives," he added.
Scale is increasingly important in negotiations with content providers. The drop-off from the largest cable outfits to the rest of the field is steep. To a smaller operator, especially one with private-equity backing, it might not be a bad time to exit.
"If you get an offer for 10x Ebitda (earnings before interest, taxes, depreciation and amortization) or better, you have a good chance of having people line up to say, 'I'll take some of that,' " Begley said. "The Suddenlink deal would be attractive to a lot of folks, particularly the more rural guys."
Among PE firms, Abry and Oak Hill have been particularly active. Abry owns RCN Telecom Services LLC, Grande Communications Networks LLC and Home Town Cable of Port St. Lucie, Fla.
Oak Hill and GI Partners back Wave Holdco LLC, which operates out of Kirkland, Wash., under the name WaveDivision.
Abry and Oak Hill have worked together in the past. The firms previously owned Atlantic Broadband Group LLC, which Cogeco Cable Inc. purchased for $1.36 billion in 2012. Abry and Oak Hill also sold WideOpenWest to Avista Capital Partners for $800 million in 2006. Charter bought another Abry portfolio company, Avalon Cable, for $845 million in 1999.
Services to corporations, governments and other commercial customers is a growth market for cable operators. A fragmented, isolated footprint is a setback when pitching a contract to an enterprise with multiple locations.
"They are going to reach a level of maturity more quickly than the large companies in the commercial segment," Begley said of the smaller operators, "since they have less capability to serve the larger businesses given their more restricted network footprint."
Many of the PE-backed cable operators are "overbuilders" -- meaning they erected networks in markets that already had an incumbent operator. By definition, these providers face more competition. Begley suggested that overbuilders are more ripe for an international buyout than a sale to a local cable operator, noting that no incumbent U.S. cable operator has ever overbuilt another cable company.
Consolidation among the smaller operators may not help. Boosting subscribers from 1 million to 2 million would not change the disparity with Comcast's (CMCSA) - Get Report more than 20 million subscribers.
"Most of the remaining field are going to have a hard time acquiring enough scale to be meaningful," Begley said.
That said, here's a look at the remaining potential targets.
Cox Communications. Atlanta-based Cox is the third-largest U.S. cable operator based on sales, with $10.4 billion in 2014 revenue surpassing Charter's $9.1 billion in sales. However, SNL Kagan ranks Cox is fourth largest when judging by basic video subscribers. Charter's 4.3 million top Cox's 4.1 million. The Cox family took the cable company private in 2004, paying $8.3 billion for the 38% public stake. The cable business is a wholly owned subsidiary of Cox Enterprises Inc.
Grande Communications Networks. Abry bought San Marcos, Texas-based Grande in 2009. The company has 140,000 customers in the Texas markets of Austin, Corpus Christi, Dallas, Midland, Odessa, San Antonio, San Marcos and Waco. Jim Holanda of Patriot Media Consulting manages Grande for Abry. Holanda is a of veteran Patriot Media & Communications, which Comcast purchased for $483 million in 2007.
Mediacom Communications. Founder, chairman and CEO Rocco Commisso took the Mediacom Park, N.Y., company private through a $3.65 billion buyout in 2010. Operating throughout the Midwest and Southeast, Mediacom is the eighth-largest cable-TV company, according to SNL Kagan, with close to 890,000 video subscribers. Revenue approached $1.7 billion in 2014.
NextWave Communications. GTCR acquired the Sikeston, Mo.-based cable company from Pamlico Capital in 2013. Formally known as Telecommunications Management LLC, the company operates in Arkansas, Illinois, Indiana, Louisiana, Mississippi, Missouri and Texas. SNL Kagan ranks the company 20th by basic video customers, with about 100,000 subscribers.
GTCR made the investment through a partnership with Rural Broadband Investments, which cable veteran Phil Spencer runs. Rural Broadband aims to acquire companies with 300,000 to 400,000 subscribers. The investment came from the firm's GTCR Fund X.
RCN Telecom Services. Abry acquired RCN in 2010, and split off its business-services unit into a separate company called Sidera Networks that later merged with Lightower Fiber Networks LLC. Based in Herndon, Va., the company provides cable service in cities, including Boston, Chicago, New York, Philadelphia and Washington. SNL Kagan lists RCN as the 11th-largest U.S. cable company, with about 300,000 basic subscribers. Spectrum Equity also holds a position. Jim Holanda of Patriot Media Consulting manages RCN.
WaveDivision Holdings LLC. Oak Hill and GI Partners bought WaveDivision from a Sandler Capital Management-led group for about $1 billion in 2012. The Kirkland, Wash., company generates more than $350 million in annual sales from cable systems in Washington, Oregon and California. A spokesman said WaveDivision is more of a buyer than a seller. The company purchased Seattle Internet service provider ReallyFast.Net in April, marking the 17th acquisition since its formation in 2003. WaveDivision raised $130 million in a May bond sale that could fund more deals.
WideOpenWest. Avista Capital Partners acquired the company from Abry and Oak Hill for an estimated $800 million to $850 million in 2006. WideOpenWest has 600,000 video subscribers in the Midwest and Southeast, and posted almost $1.3 billion in 2014 sales. The company operates as WOW!, and is the ninth-largest U.S. cable company, according to SNL Kagan. The Englewood, Colo., company expanded to the Southeast with its acquisition of Knology in July 2012.
Read more from: