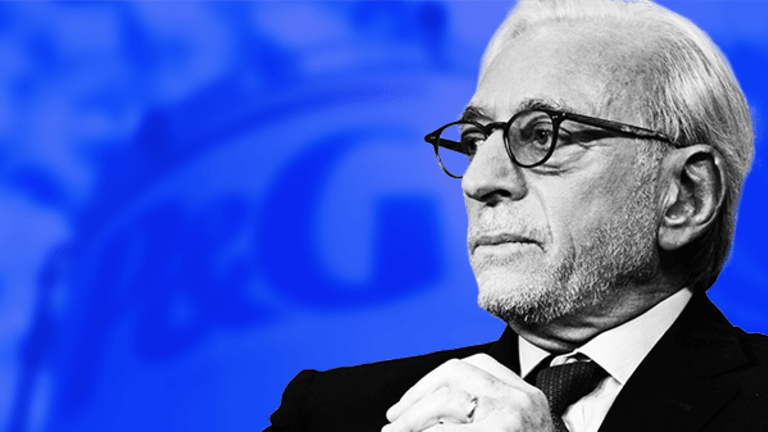 What Would Really Happen If Peltz Wins His Procter & Gamble Boardroom Battle
With no settlement in sight it appears that the P&G vs. Peltz tete-a-tete is likely to go down to the wire and vote at P&G's Oct. 10 annual meeting next week. Here's our look at what would really happen if Peltz wins his boardroom battle and gains a seat on the $235 billion market capitalization company.
The biggest boardroom battle in the history of U.S. director election contests is set to take place in less than a week with activist investor Nelson Peltz seeking a seat on the board of packaged goods company Procter & Gamble (PG) - Get Procter & Gamble Company Report .
At the center of the dispute is the activist investor's assertion that P&G suffers from "suffocating bureaucracy" and should be restructured into three global business units rather than the four it has now. Procter & Gamble CEO David Taylor, seeking to defend his turf, recently told TheStreet that giving in to Peltz would be dangerous and result in a complete elimination of the company's Research & Development initiatives.
And with no settlement in sight, it appears that the Taylor vs. Peltz tete-a-tete is likely to go down to the wire and vote at P&G's Oct. 10 annual meeting next week. As such, TheStreet's sister publication The Deal thought it might be a good idea to get a sense of what would happen if Peltz wins his boardroom battle and gains a seat on the $235 billion market capitalization company.
On one level, winning one seat on an 11-person board shouldn't have a big impact on P&G. In fact, Peltz has committed to re-nominate the director he is seeking to oust, which would set up the dissident as one director on a 12-person board. However, taken another way, a Peltz victory would mean that a majority of shareholders - both big institutional investors as well as little retail holders -- support his efforts. That could send a message to P&G's management and the rest of its board that a mandate for change has arrived.
It might make sense to take a look at Peltz's near victory at DuPont Co. in 2015 for some guidance. Until Peltz's Procter & Gamble battle this year his effort to get board seats at DuPont represented the largest proxy fight to go to a vote at a U.S. corporation. Even though Peltz narrowly lost that fight, he threatened to return in 2016. In the months following his defeat, DuPont stock price dropped, and it subsequently replaced its CEO, Ellen Kullman. With Peltz hovering, DuPont began merger discussions with Dow Chemical, which was targeted by another activist, Dan Loeb. In the end, DuPont combined with Dow Chemical in a $150 billion merger to create DowDuPont, which will break up into three companies in the months to come.
One proxy solicitor veteran of director battles suggested that Peltz ultimately succeeded at DuPont even though he lost his proxy war because the company engaged in a significant shake-up, partly to avoid having to face his activist's fund, Trian Fund Management, again in 2016. He argued that if Peltz wins next week, it will mean that shareholders have spoken with a loud voice, setting up a mandate for change, all of which will mean that the independent directors at the company will have to listen at least to some of his suggestions.
A massive restructuring like what Peltz is seeking is unlikely. However, smaller changes, like a push to make more small acquisitions to bring in innovative brands or a wholesale re-evaluation of its R&D spending, are things that the board could agree on in the wake of a Peltz victory. The board might feel pressure to include Peltz on an innovation and technology subcommittee so that he could have a voice in how P&G spends its R&D dollars.
However, it is also very possible that even if Peltz wins that he won't have a meaningful say in the company's future direction. Like at DuPont a lot will have to do with how P&G performs from a revenue and share-price point of view in the months to come. P&G's board could decide not to include Peltz on any subcommittees, limiting his power. Also, Peltz may not have any allies on the board, which means he may not succeed at gaining a second director to support his motions. "Without a second to support his motions the board won't agree to consider them," said the proxy solicitor.
Also, it is possible that if Peltz gets installed on P&G's board that he becomes more amenable to the company's game-plan because he would have access to non-public information about the conglomerate.
April Scee, consumer packaged goods analyst at RenMac in New York, said it made sense to consider Peltz's two-year campaign urging PepsiCo Inc. (PEP) - Get PepsiCo, Inc. Report breakup that ended in 2015 when the two sides settled by bringing a Trian adviser and ex-H.J. Heinz CEO onto its board. "Trian wanted Pepsi to break up, but once Peltz got a director on its board, he stopped agitating for it," said Scee. "He likely learned something that changed his mind once he had full information. The same could happen with Procter."
At Procter & Gamble, Scee expects the company to continue its existing strategy even if Peltz gets a seat on the board. Nevertheless, Scee added that she believes that P&G will take steps to implement some of Peltz's suggestions. However, she adds that the company likely would have done so anyways had Peltz never shown up.
For example, Peltz is urging P&G to focus more on acquiring smaller brands to help bring in more millennial customers who don't want the company's big global brands. Scee suggests that P&G hasn't been making acquisitions of late because it was in the process of purging roughly one hundred brands following a sale of its fragrance, cosmetics, and hair color/styling business to Coty (COTY) - Get Coty Inc. Class A Report in 2016. "It was always their intention to do acquisitions, but the timing wasn't right," she said. "Peltz came in right before a number of changes were to take place, such as additional acquisitions, and he may get credit for it."
Many observers have suggested privately that what Peltz really wants is to see P&G broken up. Activists often seek to dismantle large conglomerates as a means of extracting value. Peltz, for his part, has explicitly said in statements and reports that Trian has no interest in breaking up P&G. And Scee says that a breakup is extremely unlikely even if Peltz privately would like to see it. Also, she doesn't think that Peltz can convince the board to restructure itself, even if he is granted a board seat.
"If Nelson Peltz gets a board seat, he will be working from a minority position and will need a more compelling argument than we've seen thus far to convince the other directors his plan is superior to the current one," said Scee.
PepsiCo is a holding in Jim Cramer'sAction Alerts PLUS Charitable Trust Portfolio. Want to be alerted before Cramer buys or sells PEP? Learn more now.
More of What's Trending on TheStreet: