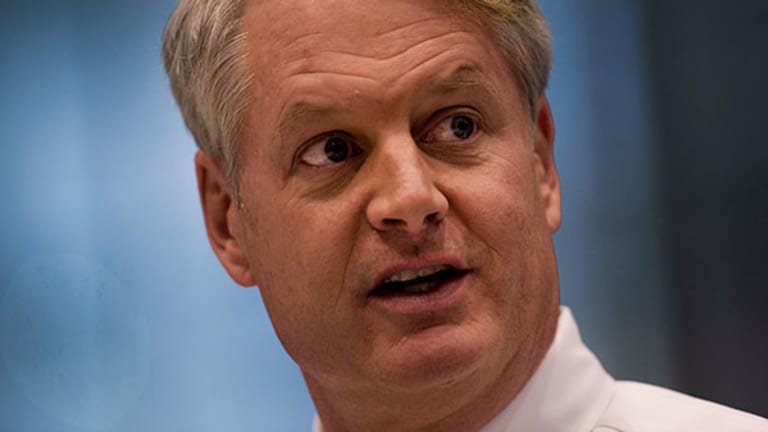 What Went Right for eBay and PayPal Under Outgoing CEO John Donahoe
Outgoing eBay CEO John Donahoe made a lot of smart moves at eBay and PayPal, which put both divisions in a position to now stand alone against competitors.
Updated from 11:41 a.m ET to include Carl Icahn comments and additional context throughout.
NEW YORK (TheStreet) -- Carl Icahn is certainly cashing in on eBay's (EBAY) - Get Free Report decision to split PayPal from the e-commerce giant, and taking credit for the move, but it was a series of smart decisions by outgoing eBay CEO John Donahoe that set the stage for a successful spinoff. It was Donahoe who put both divisions in a position to now stand alone against the likes of Amazon (AMZN) - Get Free Report , Alibaba (BABA) - Get Free Report , Apple (AAPL) - Get Free Report and Google (GOOG) - Get Free Report .
Carl Icahn took to his blog to express his favor of eBay's PayPal split, noting that "eBay's board and management have acted responsibly concerning the separation -- perhaps a little later than they should have, but earlier than we expected."However, investors shouldn't discount Donahoe's hand in building eBay and PayPal. 
Donahoe, a long-time Bain & Company executive, joined eBay in 2005 to turn the company's Marketplace business around. Within three years, he doubled eBay's Marketplace revenue and profits and led a series of smart acquisitions highlighted by the $310 million purchase of StubHub in 2007.
When the financial crisis struck, Donahoe took the reins of eBay in March of 2008 and within a few months he made a series of decisive moves. That October, as financial markets melted down, Donahoe decided to lay off 10% of eBay's workforce and buy Bill Me Later from a handful of venture investors including Amazon for $820 million. The latter move, made when many tech companies might have eschewed financial services and credit-based businesses, is now a key piece of PayPal as it prepares to go at it alone.
Carl Icahn criticized eBay's sale of a majority stake in Skype to Silver Lake Partners in 2009 for $1.9 billion and the company's subsequent $1.4 billion windfall when Microsoft (MSFT) - Get Free Report CEO Steve Ballmer decided to pay $8.5 billion for the business in 2011.
Perhaps, eBay could have waited for a over-eager buyer like Ballmer, but the billions that Donahoe brought into the company by divesting Skype appear to have been put to good use. eBay's $2.4 billion purchase of GSI Commerce in 2011 and the company's $800 million purchase of Braintree in 2013 have rounded out its Marketplace and Payments capabilities.
Meanwhile, a long-term look at eBay's Marketplace and Payments division show Donahoe to have been a very consistent and disciplined allocator of capital.
PayPal's revenue has nearly tripled under Donahoe's watch, as eBay took corporate cash flows and reinvested it in PayPal and other growth areas like eBay Enterprise.
A review of Donahoe's tenure shows the outgoing CEO to be a credible long-term thinker in an era when many tech giants have run from one market to the next, wasting billions on failed organic investment and M&A.
In that sense, Donahoe likely also deserves credit for the timing of his decision to announce a PayPal spinoff, especially as most media reports on Tuesday attribute the planned tax-free spin to a scorched-earth campaign run by Carl Icahn in 2014.
The Icahn Settlement
After a damaging back and forth with Icahn, both parties reached a settlement in April. Donahoe didn't mention the activist's name in a Tuesday call with investors to explain the PayPal split. Instead, Donahoe used the conference call to outline the logic of the split and note that such a move has been considered by the company since he became CEO in 2008.
When Donahoe assumed eBay's top job, Marketplace-related transactions accounted for roughly half of PayPal's total payments volume. Those figures indicate eBay's large and established base of users played a crucial role in PayPal's growth in recent years, providing a free installed base. In 2008, merchant services total payments volumes were $30 billion. That figure has grown to $145 billion in the last 12 months.
But as PayPal has grown, eBay's core business has become less important. Now, roughly 70% of PayPal payment volumes come off of eBay, and that figure may rise to 85% in coming years. The synergies that kept eBay and PayPal together are now quickly evaporating, allowing for an arms-length relationship.
Both businesses also can now stand alone and benefit from changes to the e-commerce and mobile payments marketplaces. In the last 12-months, eBay's Marketplace division has generated nearly $10 billion in revenue at a 35% operating margin, indicating that it can generate significant capital returns to investors as a standalone business.
PayPal, meanwhile, has earned $7.2 billion in trailing 12-month revenue at a 25% margin. The company's key selling points as an independent will be its over 150 million user base and near 20% revenue growth rates. Meanwhile, eBay investments like Bill Me Later, Braintree and a recent move to use overseas cash flow to support PayPal's credit businesses could give the division a durable market position as Google and Apple enter the mobile payments market.
Recent Developments
Apple's move into payments through Apple Pay has been seen as a negative for PayPal given the iPhone maker's financial clout. Donahoe said on Tuesday that Apple Pay could be a positive for PayPal given the prospect of greater adoption of near-field communications payments technologies.
Icahn said on Tuesday eBay should consider structuring its spinoff as a reverse morris trust so as to draw bidders for PayPal, given the emergence of new competitors such as Apple Pay. "[T]he sooner these consolidations take place, the better," Icahn wrote.
Donahoe, nonetheless, downplayed the notion that eBay is spinning PayPal to usher in the sale of its Marketplace and Payments businesses, but that prospect will nonetheless provide a point of support once both units are publicly traded. Fundamentally, both divisions appear to be in good health, and they may benefit from easier comparison to competitors like Amazon and a recently IPO-ed Alibaba.
On Tuesday, eBay also announced a series of planned management changes, highlighted by Donahoe's retirement when the PayPal spin occurs. Dan Schulman, an executive with experience at the top of AT&T, Priceline, Virgin Mobile and American Express has been hired as president of PayPal and will become the company's CEO when it is spun, a move expected in the second quarter of 2015.
Devin Wenig, the current president of eBay Marketplaces, will become CEO of an independent eBay when the spin occurs, and Scott Schenkel will become CFO.
All told, eBay's decision to split PayPal appears planned, well-wrought and timely. That is a big credit to Donahoe, who has faced tremendous pressure in 2014 amid scrutiny from Icahn and some stumbles.
eBay pushed into Russia just ahead of Vladimir Putin's agitation in the Ukraine. The company surprised analysts announcing a net $6 billion repatriation of overseas funds in the first quarter, and it cut guidance in the second quarter as it worked to protect StubHub from competitive threats. [On Tuesday, eBay reaffirmed its third quarter and full-year guidance]
Perhaps, by the time eBay's split of PayPal occurs, a few of Donahoe's missteps will be seen as smart long-term moves.
Analysts still believe eBay repatriated foreign earnings to make a large acquisition and CFO Robert Swann confirmed that the move still hasn't been made. As eBay's Marketplace division becomes a standalone company, expect greater emphasis on the long-term position of crown jewel assets like StubHub and GSI Commerce. 
-- Written by Antoine Gara in New York