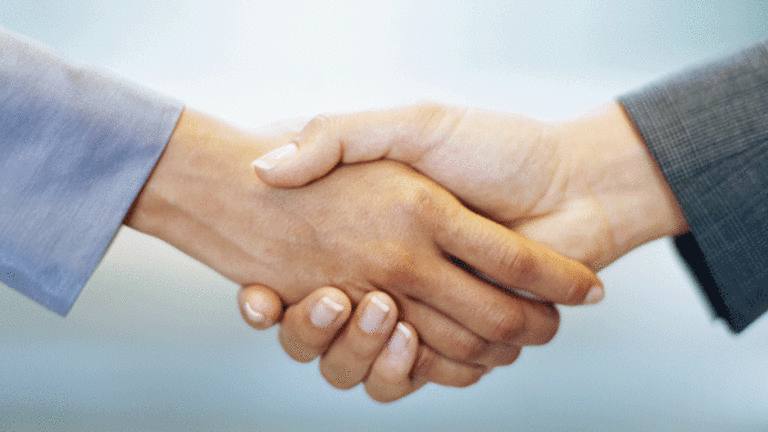 What Wall Street's Saying About Fox's Pursuit of Time Warner
Time Warner may have initially rejected 21st Century Fox's takeover bid but Wall Street hardly views a deal for the owner of HBO and Warner Bros. Studios to be over.
NEW YORK (TheStreet) -- Time Warner (TWX)  may have initially rejected 21st Century Fox's (FOXA) - Get Fox Corporation Class A Report takeover bid but Wall Street hardly views a deal for the owner of HBO and Warner Bros. Studios to be over.
Time Warner CEO Jeff Bewkes took to the airwaves of Google's (GOOG) - Get Alphabet Inc. Class C Report YouTube to declare that he and his board of directors weren't interested in Fox Chairman Rupert Murdoch's $80 stock-and-cash offer. The board judged the offer too low, while Bewkes insisted that his Time Warner in its streamlined post-AOL/TimeWarnerCable/TimeInc condition is just fine, thank you. Now, please go away.
Unlikely.

The initial offer, a cash-and-stock deal which amounted to around $85 a share, represented an approximate 25% premium to Time Warner's average price at the time of the offer in early July. Shares rallied on the news, and Thursday was moving another 2.85 to $85.45.
Analysts are generally viewing the deal, though rebuffed, as a sign that a deal for Time Warner eventually gets done as media companies' make aggressive moves to get bigger, acquire more content and more subscribers, regulators be damned.
Time Warner's Rupert Murdoch Defense Could Mirror Sale of Time Warner Cable
Why Sports May be the Key to Rupert Murdoch's Bid for Time Warner
Time Warner Skyrockets as 21st Century Fox Confirms Rejected Bid
Here's what Wall Street's saying about a possible Time Warner takeout:
Bank of America
Bank of America analysts Jessica Reif Cohen, Bryan Goldberg and Peter Henderson argued Fox could stand to raise its bid without taking too much of a hit.
"We estimate FOXA could pay up to $95-100 per TWX share without incurring material dilution on an EPS basis holding synergies constant and assuming a 62:38 stock vs. cash mix. Should synergies prove to be 100% larger ($2bn), we estimate FOXA could theoretically tolerate a $110 per share offer," they wrote.
"To the extent rights contracts permit-the potential consolidation of Turner's NBA, NCAA, MLB and Golf sports rights with FOXA's NFL, MLB, NASCAR, PAC 12, Big East, UFC, Champions League, FIFA and regional sports nets could yield a more scaled/competitive sports offering vs. ESPN, driving affil. fee and adv. upside."
Credit Suisse
Research analysts Omar Sheikh, Joseph Barnet-Lamb, Nick Bertolotti, Sophie Bell speculated on Fox's strategy to concentrate on content-creation assets.
"If a deal to buy Time Warner were to proceed, Fox would reduce its exposure to distribution relative to content. This in itself suggests to us that Fox's long-term priorities may be shifting away from ownership of distribution assets," analysts wrote.
Also, a consolidation of two of the largest TV/movie companies in the U.S. would have a knock-on effect internationally, reducing global media buyers' bargaining power.
"A Fox/Time Warner transaction concentrates ownership of key US broadcast and cable networks, which includes some of the most attractive content sold into international markets. This will reduce the bargaining power of international customers of this content, unless these customers themselves get bigger. Moreover, it is possible US downstream (distribution) consolidation may not be over. If so, this would drive a search for scale upstream, for any studio or network selling content into the US market."
BMO Capital Markets
BMO's Daniel Salmon remains skeptical on an eventual Time Warner-Fox pairing, though he retains a "market perform" rating on the industry.
"We don't believe a deal will be consummated any time soon. With a public bidder, we don't expect TWX to return to prior levels, simply some profit taking. Despite our expectation of a pullback in TWX, we remain Market Perform as we see this as a temporary dislocation in the stock price and not a change to the fundamental 12-month view," he wrote.
"We don't expect FOXA to pursue TWX at any price, and we don't believe TWX would consider a sale without an auction process."
Wells Fargo
Wells Fargo's Marci Ryvicker retains an "outperform" rating on the diversified entertainment sector, particularly seeing upside in Time Warner's share price.
"FOXA's bid clearly underscores the value of the TWX portfolio, which we didn't think the market fully appreciated before. While we don't know TWX's overall "plans," we do think the company is in a good position to negotiate a higher purchase price; and by FOXA's statements, this isn't a stretch. We think TWX has found a new "floor" with the potential to go to $100/share or above."
JPMorgan
"We believe FOX's desire to acquire TWX's blue chip asset portfolio (HBO, Warner Bros, Turner/Turner Sports) has strong strategic merits. However, as evidenced by the quick rejection of Fox's $85 reported per share bid, we believe a much higher offer would need to be made to incentivize a sale given TWX is on the cusp of an accelerated earnings growth ramp and believes it can monetize its content assets globally just as effectively as if it were part of a larger company," wrote analyst Alexia S. Quadrani, reiterating an "overweight" rating on Time Warner.
Barclays
"We believe the cost synergy number of $1bn spoken about in press reports are likely too low and we think the combined entity could potentially generate additional revenue synergies from: (1) gross ratings exposure to the 18-49 demographic; (2) improved bundling ability; (3) international distribution; (4) studio scale; and (5) HBO optionality," wrote analyst Kannan Venkateshwar. "We estimate the deal is likely to be accretive to FOXA's unaffected share price (as of 7/15/14) of $35.19 at an offer price for TWX of around $95-105/share."
--Written by Keris Alison Lahiff in New York.
Time Warner's Rupert Murdoch Defense Could Mirror Sale of Time Warner Cable
Why Sports May be the Key to Rupert Murdoch's Bid for Time Warner
Time Warner Skyrockets as 21st Century Fox Confirms Rejected Bid