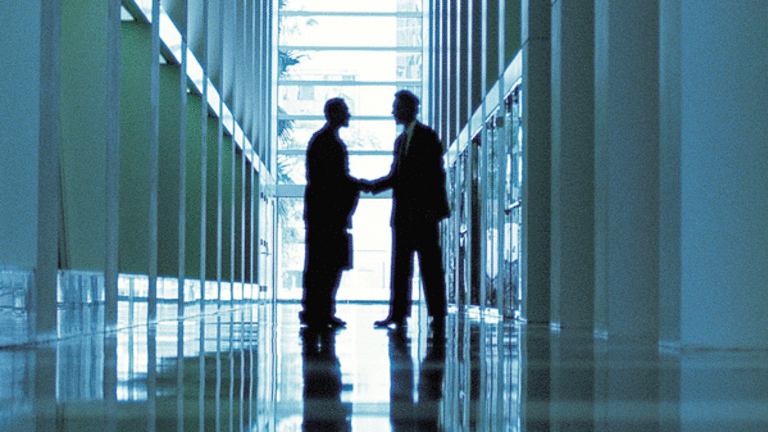 Publish date:
What the Mega Deals Really Mean
The Heinz and Dell transactions may not foreshadow an M&A frenzy, but they say a lot about corporate America and the economy.
The Heinz and Dell transactions may not foreshadow an M&A frenzy, but they say a lot about corporate America and the economy.
NEW YORK (
) -- This just in: The year so far has brought with it the return of the mega deal, with $10 billion-plus transactions for the likes of
Heinz
(HNZ)
,
Dell
(DELL) - Get Report
,
American Airlines
( AMRPQ),
General Electric's
(GE) - Get Report
stake in
NBCUniversal
and
Virgin Media
(VMED)
.
While the mergers, acquisitions and leveraged buyouts are of a size rarely seen since the credit bubble burst in 2007, it might be wise for investors to consider calls for a mega-merger frenzy as premature.
In fact, that's exactly what some top insiders in the M&A and private equity world are saying.
Mark Gallogly, head of private equity firm
Centerbridge Partners
, noted on Friday that such large acquisitions may be the exception rather than the rule, even if he expects that Wall Street is in the early stage of a post-crisis deal-making renaissance.
"These are really unusual transactions," Gallogly said of
Dell's proposed $24.4 billion buyout
and a
$28 billion acquisition of Heinz
by Warren Buffett and private equity firm
3G Capital
at
Columbia Business School's
Private Equity and Venture Capital Conference in Manhattan on Friday.
Gallogly notes that in Dell's case, the more than $5 billion in equity that company founder Michael Dell is contributing to the buyout certainly isn't the norm. Buffett's Heinz ketchup acquisition and a proposed blockbuster merger to pull American Airlines from bankruptcy also might not be symbolic of wider trends.
Still, the Centerbridge head and former senior managing director at the
Blackstone Group
said firms like his can expect an improving deals market ahead.
Even as some traders and analysts scour Wall Street for the next mega deal, investors ought to consider what Gallogly's comments might imply.
Notably, it could indicate further evidence of a consistent rise in valuations, improving executive and investor confidence, and a slow psychological turn to animal spirits from the crippling fear brought by the financial crisis.
In other words, status quo.
Consider that in the absence of frenzied periods of mega deals in 2012, overall M&A activity around the world ended the year roughly flat from 2011 levels, according to data provider
Dealogic
.
While M&A globally came in at about $2.7 trillion -- below 2008 levels in excess of $3 trillion -- the number of deals done exceeded levels from four years ago.
Even in the absence of blockbuster mergers like Heinz or Dell, private equity firms such as
Carlyle Group
(CG) - Get Report
and banks including
Goldman Sachs
(GS) - Get Report
have been hard at work in recent months.
Meanwhile, a surge in 2013 deal making may not be such an aberration from the previous year. Dealogic data show that nearly $1 trillion in transactions in the fourth quarter of 2012 was the highest quarterly total since the same period five years earlier.
Given the uncertainties in the past 12 months -- for instance, a partisan presidential election in the U.S., the so-called fiscal cliff, rising tax rates and economic woes in Europe -- the fact that the likes of
Comcast
(CMCSA) - Get Report
and
Liberty Media
(LBTYA) - Get Report
are putting money to work could signal the prospect of a post-crisis economic calamity is growing remote.
"There is a psychological effect that, in the very least, will create more deals," Brian Richards, a partner in the merger and acquisition practice at
Paul Hastings
, says of recent transactions. As a result of access to cheap financing and corporate balance sheets flush with cash, "there is an appetite in the marketplace for big deals."
Given Warren Buffett's commentary in the wake of Berkshire's $12 billion equity investment in the buyout of Heinz, the point is well taken.
On Thursday, the Oracle of Omaha said on
CNBC
he's still ready to use Berkshire's cash to bag an elephant of a deal.
Those trying to
might do well to consider food giants such as
Hershey
(HSY) - Get Report
or
Campbell Soup
(CPB) - Get Report
Brian Sozzi, chief equities analyst at NBG Productions.
Morningstar recently highlighted energy companies
BG Group
and
Chesapeake Energy
(CHK) - Get Report
, in addition to retail giant
Kohl's
(KSS) - Get Report
, medical-products manufacturer
Abiomed
(ABMD) - Get Report
and Los Angeles-based lender
City National
(CYN)
as some
large takeout targets in 2013
.
As
TheStreet
noted
earlier in February,
Morgan Stanley's
(MS) - Get Report
proposed acquisition of a brokerage venture with
Citigroup
(C) - Get Report
could mirror the
size and strategy
of Comcast's deal for NBCUniversal and be yet another large 2013 merger.
For all the excitement over a flurry of February deals and the speculation of where the likes of Berkshire Hathaway will spend its money next, it might simply be wise for the ordinary investor to see a busy Wall Street as added confirmation of rising stock valuations, strengthening corporate earnings and a pickup in the economy.
-- Written by Antoine Gara in New York
For more on M&A speculation, see Morningstar's
11 M&A stock picks for 2013
.