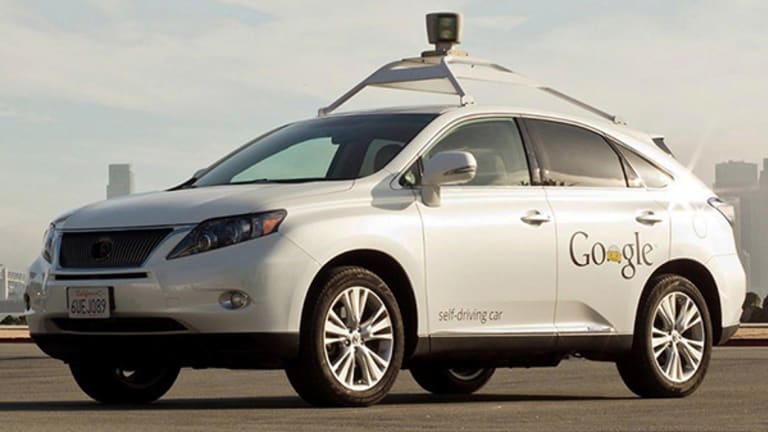 What Self-Driving Carmakers Can Learn From the Smartphone Wars
Self-driving carmakers face problems similar to the ones smartphones faced during their rise, at the beginning of the decade. Its resolution was dramatic and expensive.
NEW YORK (The Deal) -- The driverless car has gone from dream to near-reality.
Google (GOOGL) - Get Alphabet Inc. Class A Report has been testing such vehicles for the last few years. Elon Musk, CEO of Tesla Motors (TSLA) - Get Tesla Inc Report expects to produce one within the next decade. And the ambition isn't limited to Silicon Valley.
Mark Fields, CEO of Ford Motor  (F) - Get Ford Motor Company Report, hopes to re-imagine the Detroit carmaker as an information services company. The transformation involves the incorporation of existing semiconductor, mobile and other technologies into cars, which in turn will force companies to grapple with the legal challenges raised by the use of those technologies -- ones covered by thousands of patents held by a broad array of entities.
The rise of smartphones posed a similar problem, at the beginning of the decade, and its resolution was dramatic and expensive. Apple  (AAPL) - Get Apple Inc. Report led a group of tech companies that paid $4.5 billion to Nortel Networks for 6,000 patents, in 2011, and a few months later Google responded by agreeing to buy Motorola Mobility for $13 billion.
Apple, Google and others large industry players complained loudly about the actions of Intellectual Ventures and other non-practicing entities or trolls, which buy patents not to support an operating business but to assert the intellectual property against "real companies." That effort led to the passage of the American Invents Act in 2011 and to the development of patent case law in ways that have modestly reduced the scope of patents and the ability of patent owners to use them to extract value from infringers.
Perhaps the most important lesson of the smartphone wars for companies that hope to be a part of the switch to driverless cars is the need to be proactive in managing patent risk. Earlier this year, Ford took licenses from both Intellectual Ventures and RPX, which buys patents and licenses them to more than 200 companies. Ford was the first carmaker to take that step, but it won't be the last. Rivals such as General Motors  (GM) - Get General Motors Company Report will follow suit, as will automotive component manufacturers. That represents a new revenue stream for both IV, which has suffered a difficult last several years, and for RPX, which in contrast has become stronger and thus more able to buy patents as they come onto the market.
Many car companies have strong patent portfolios related to their core technologies, but they don't have patents on the wireless technology that is already being integrated into cars and will need to buy access to it just as Google and Apple did in 2011.
But three factors may help reduce the intensity of patent battles in the development of driverless cars. First is the need for technological standards that govern patents related to navigation and vehicle safety. Such standard-essential patents must be licensed on fair, reasonable and non-discriminatory terms, or FRAND. That's true for many patent-intensive products, including smartphones, but the political pressure to make driverless vehicles as safe as possible will be intense, which could lead to more aggressive definitions by standard-setting bodies of what constitutes a standard-essential patents.
Car companies will also play the safety card in litigation brought against them by non-practicing entities, which could help to drive down the settlement value of such cases.
Second, open-source technology may be more appealing for the car industry than it was for smartphone companies and, before them, semiconductor companies. Tesla has tried to promote an open-source approach by promising to allow other companies to use its patents in good faith.
In January, Toyota Motor  (TM) - Get Toyota Motor Corp. Report took the same stem with its hydrogen fuel-cell patents. In 2011, AutoHarvest Foundation was formed as a non-profit intellectual property exchange for the automotive industry. Patent litigation between operating companies is brutally expensive, and at least among chip and smartphone companies it has led to cross-licensing.
Car companies have generally had far lower profit margins than many tech companies and may well want to avoid prolonged patent litigation, if at all possible. According to one survey, the eight largest car manufacturers in the U.S. brought a total of seven patent lawsuits between 2010 and 2014. Open-source technology and industry cooperation are two ways to minimize intra-industry patent litigation.
Finally, the patent re-examination procedures that were part of the America Invents Act have allowed companies to more easily challenge patents asserted against them in litigation in so-called inter-partes reviews, or IPRs. Ford and Toyota have been particularly aggressive about resorting to IPRs, which allow the defendant company to raise the cost of litigation and therefore lower the return on nuisance litigation brought by holders of dubious patents.
Those three factors may reduce the patent exposure that car companies face but won't eliminate it, as Ford's decision to buy licenses from IV and RPX shows. And just as the automotive industry has learned from the smartphone experience with patents, other sectors will look to car companies in navigating the legal challenges posed by becoming part of the Internet of things.
Read more from: