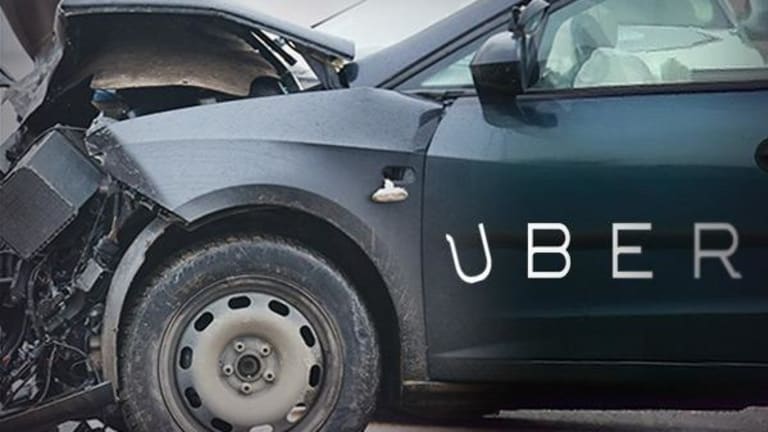 What Mutual Fund Mark-Downs Say About Uber
Write-downs of the value of mutual funds' holdings of Uber may be just the start of investors' doubts about the company.
Uber Technologies Inc.'s lofty valuation built over the course of its nine-year history as a private company is starting to look shaky. 
As of June, Uber has raised $15.1 billion, giving it an implied valuation of $69 billion, based on a multiple of net revenueused by analysts.The valuation makes it the most valuable startup in the world, according to CB Insights. But that number is coming to look questionable, as investors' confidence has been tested by Uber's string of recent controversies. On top of that, the true scale of its total addressable market could soon come into question. All of that that raises serious questions about the company's future.
The latest indicator that Uber may be overvalued: Several mutual funds that have invested in the company slashed the value of their Uber holdings by 15%, according to a series of filings made public beginning at the end of July. Vanguard Group Inc., Principal Financial Group Inc. and Hartford Financial Services Group Inc. marked down the value of their Uber shares by 15% from the previous quarter, the filings showed. T. Rowe Price Group Inc., meanwhile, cut its share price value by 12%.
Fidelity Investments LLC maintained its valuation at last year's levels, while BlackRock Inc. (BLK) - Get BlackRock, Inc. Report boosted its valuation by 10%.
Mutual funds typically don't disclose the reasoning behind fluctuations in investments, but generally determine the value of illiquid shares by examining a company's financial information, the value of publicly traded competitors and what investors paid in previous funding rounds, according to The Wall Street Journal.
SBA Communications, Quintiles IMS Holdings to Be Added to S&P 500
While it may be easy to link the moves by mutual funds to Uber's internal turmoil, it could be due to other factors, said Santosh Rao, director of research at Manhattan Venture Partners. Mutual funds may make adjustments to their holdings based on the health of the public markets, he noted.
"Say the market is down, they pull it down by whatever percent the market is down," Rao explained. "But then if the market goes up, they'll upgrade their investments. It all flows with the market."
Other times, it may be tied to company-specific factors, like increased competition in the market or perceived shortcomings in a company's financials. To be sure, Uber has been navigating an especially tumultuous year, ravaged with controversies tied to systemic issues of sexual harassment and discrimination, the departure of several key executives, an investigation from former attorney general Eric Holder's law firm and the resignation of former CEO Travis Kalanick, among other things.
Rao said most of those issues are tied to corporate culture and likely have had little impact on Uber's business at the ground level. Not everyone thinks so, however. Benchmark Capital, which owns 13% of Uber and controls 20% of the voting power, sued Kalanick in August to force him off of Uber's board and to prevent him filling three board seats. The venture capital firm argues that Kalanick is controlling Uber's board for his own "selfish needs" and could stand in the way of Uber's success. 
"This isn't about Benchmark versus Travis," the firm wrote in a letter to Uber employees. "It's about ensuring that Uber can reach its full potential as a company. And that will only happen if we get rid of the roadblocks and distractions that have plagued Uber, and its board, for far too long."
Consumers are still using Uber, as evidenced by Uber's second-quarter financials, which showed that losses are narrowing, revenue is up and global trips and gross bookings, or total money collected by fares, jumped year-over-year. That's despite Uber experiencing a viral #deleteUber campaign in February that caused 200,000 customers to remove the Uber app.
"What [former CEO] Travis Kalanick does in the office doesn't impact the driver," Rao said. "It's all cultural issues, not operational issues."
Simply put, Uber's corporate problems aren't manifesting outside of the corporate level—at least for now. Uber's board room fights and thorny search for a CEO could start to trickle down to employees, which might hurt workplace morale and make it harder for them to focus on research and development, as well as hire and retain talented people.
Uber Is Running on All Cylinders Even Without a CEO, Big Investor Says
"What I hear from people at Uber is that everything is fine, they're making amends, being proactive, trying to tell employees that they're back on track," Rao noted. "But there's also a fight going on—a lot of back and forth in the board room. Some people I spoke to said they're thinking about other [jobs] because they're not sure how it's going to end."
At that point, these factors might become an issue that could threaten to hurt Uber's valuation. If employees can't readily focus on projects developing "cutting edge technologies" like autonomous vehicles, Rao said Uber could be in trouble. Many investors are betting on the fact that Uber will be at the forefront of self-driving car technology that could power an autonomous ride-hailing service. This is a huge value proposition for Uber, as drivers represent the bulk of its overhead costs.
Uber's self-driving car program is also threatened by a lawsuit from Alphabet Inc.'s (GOOGL) - Get Alphabet Inc. Class A Report Waymo, which alleges that the startup stole trade secrets.  If successful, the lawsuit could cripple Uber's lead in autonomous technology. Uber and Waymo are due in court in early October. 
It's also becoming increasingly clear that Uber may not be able to rapidly scale its business internationally like some had hoped. The startup has ceded overseas markets like Russia to search engine giant Yandex, sold its "bleeding" China business to Didi Chuxing and faces stiff competition from local ride-hailing outfits in developing markets, Rao noted. Developing markets are much more fragmented among several players, rather than being a winner take all environment like the U.S. or Europe.
Those markets also have unique challenges that don't exist in more developed countries, such as fewer credit card owners, which makes the payment processes a lot less seamless. Uber's app relies on automatic payment processing via credit cards.
Uber's $70 billion valuation was likely determined before it sold off the China business, Rao explained. Since it has pulled out of China, it might be worth significantly less. Rao has previously estimated that Uber might worth close to $53 billion, based on discounted estimates of future cash flow. 
"Since they pulled out of China, I think their market opportunity or total addressable market has come down," Rao said. "They're going to be focused more on North America and Western European countries."
With a smaller total addressable market, it also lowers the likelihood that Uber can sustain its rapid growth rates (global trips spiked 150% year-over-year in the most recent quarter). And if Uber's growth is going to slow, it needs to show investors that it can quit hemorrhaging cash and demonstrate that it's on a path to profitability. For now, it remains unclear when that might happen. 
In the meantime, Uber's future is dependent upon investors willingness to bankroll its future. The company burned through $600,000 in the second quarter alone (vs. $2 billion last year), while bringing in $1.75 billion in revenue. At that rate, it may not be much longer before the company runs out of cash. 
Taking into account all these risks, Rao said it makes Uber's current valuation seem all that much more unrealistic.
"A lot of factors need to be proven for valuation to come true," he added. "Right now, Uber's valuation is definitely ahead of itself." 
Google is a holding in Jim Cramer's Action Alerts PLUS Charitable Trust Portfolio. Want to be alerted before Cramer buys or sells GOOGL? Learn more now.
This article was originally published by The Deal, a sister publication of TheStreet that offers sophisticated insight and analysis on all types of deals, from inception to integration. Click here for a free trial.
More of What's Trending on TheStreet:
The 30 Nastiest Storms in Recent U.S. History Have Caused Mind-Blowing Damage
Editors' pick: Originally published Aug. 25.