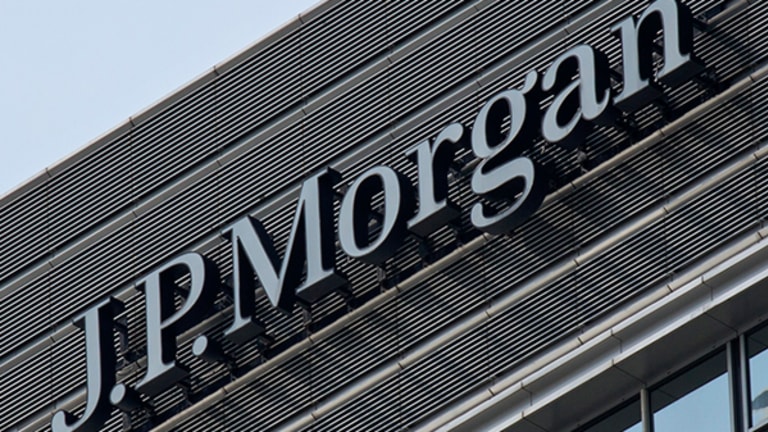 [video] What JPMorgan's $13 Billion Settlement Means
Here are the details of JPMorgan's historic mortgage bond settlement.
NEW YORK (TheStreet) -- It's official. JPMorgan Chase (JPM) - Get JPMorgan Chase & Co. Report has agreed to the biggest regulatory fine in U.S. banking history, after New York State Attorney General Eric Schneiderman announced a $13 billion settlement between the nation's largest bank by assets and multiple government authorities. 
The settlement will include $4 billion in assistance to distressed homeowners and $9 billion in cash payments. Schneiderman said at a Tuesday press conference that the deal will cover all civil claims by government authorities related to residential mortgage-backed securities (RMBS) sales by JPMorgan, Bear Stearns and Washington Mutual before 2009.
Much of the settlement will be tax deductible for JPMorgan because regulators had agreed to treat Bear Stearns and Washington Mutual-related fines in a pre-tax manner. Overall, only $2 billion of the total $13 billion settlement will hit JPMorgan's after-tax earnings.
The deal leaves open all criminal investigations against JPMorgan and its employees.
At first glance, Tuesday's settlement will truly be considered tough if the Department of Justice eventually brings forward a criminal case against the bank or its employees for RMBS securities it sold during the housing bubble.
What the Settlement Means
JPMorgan is clearing the books on civil litigation brought forward by a slate of federal and state authorities for its pre-crisis mortgage bond sales.
Tuesday's deal resolves actual and potential civil claims by the Department of Justice, the Federal Deposit Insurance Corporation, the National Credit Union Administration and the Federal Housing Finance Agency relating to residential mortgage-backed securities (RMBS) activities by JPMorgan Chase, Bear Stearns and Washington Mutual. The deal also resolves similar claims brought forward by a handful of states, including New York, California, Illinois, Massachusetts, and Delaware.
For JPMorgan investors, the settlement is likely to be seen as a positive development for the bank, which saw its third quarter earnings wiped out by provisions set aside to cover legal claims.
JPMorgan said on Tuesday that it is "fully reserved" for Tuesday's groundbreaking settlement. In October, the bank reported having $23 billion in litigation reserves as of Sept. 30, and said in a filing with the Securities and Exchange Commission on Nov. 15, that "the firm believes it is appropriately reserved for this and any remaining RMBS litigation matters."
What the Settlement Accomplishes
In terms of a price tag, JPMorgan's MBS settlement is the biggest fine in regulatory history, as New York Attorney General Schneiderman and U.S. Attorney General Eric Holder made clear on Tuesday.
The deal, however, has implications that go far beyond the $13 billion sticker price.
JPMorgan is not admitting guilt to any charge of fraud or misrepresentation, something that could jeopardize the bank's standing with regulators such as the Office of the Comptroller of the Currency. The company, however, is admitting a "statement of facts" that alleged JPMorgan misrepresented crucial information to investors of mortgage securities the bank issued.
"We do acknowledge the statement of facts but obviously don't admit to any violation of law," JPMorgan CFO Marianne Lake said on a conference call with investors.
Admitting a statement of facts may be an important differentiation from admitting misrepresentation or fraud. It also contains the bank's admissions to a narrow set of securities listed in the DoJ's complaint.
"JPMorgan acknowledged it made serious, material misrepresentations to the public -- including the investing public -- about numerous RMBS transactions," Schneiderman said on Tuesday.
Mike Mayo, a banking analyst at CLSA, said that after consulting legal experts he believes the deal is far more damning or onerous than a typical bank settlement. 
Regulators achieved many major breakthroughs.
JPMorgan is agreeing to take on liabilities from its crisis-time acquisitions such as Bear Stearns and Washington Mutual. In the case of WaMu, JPMorgan is accepting exposure to legal liabilities from the failed bank's FDIC receivership.
Meanwhile, the bank's admissions and payments won't stop federal authorities from bringing criminal claims against the bank or its employees.
Thomas Gorman, a partner at law firm Dorsey Whitney and former senior counsel of the SEC's Division of Enforcement, said the admissions made by JPMorgan "would be helpful to any private litigant because they should establish the basic facts for what the bank did or didn't do in issuing [residential mortgage] securities" prior to the financial crisis.
"This is a very significant victory for the Justice department," Gorman said in a Tuesday telephone interview. "For JPMorgan it certainly doesn't get them what they wanted -- which is peace," he added.
The Sticking Points
A major sticking point between JPMorgan and the Justice department was the language under which the company would be expected to admit some fault in its mortgage securitization and sales activities.
Gorman of Dorsey Whitney said that JPMorgan's admission of a statement of facts was typical of a civil case, in contrast to harsher admissions of fraud and guilt that often accompany criminal cases. Earlier in November, SAC Capital Advisors admitted guilt in a sweeping criminal insider trading case brought by the DoJ against the hedge fund.
Issues that stalled a settlement into November included JPMorgan's acknowledgement of liabilities surrounding the bank's acquisition of Washington Mutual from the FDIC's receivership. As a result, the FHFA, which governs Fannie Mae (FNMA) and Freddie Mac (FMCC) , announced its part of the $13 billion settlement weeks ago.
In late October, JPMorgan and subsidiaries agreed to pay a total of $5.1 billion to the FHFA to settle the government sponsored enterprises' loss claims on mortgage-backed securities sold to them by JPMorgan Chase and its subsidiaries.
In response to questioning by TheStreet, Schneiderman acknowledged that the delay between the FHFA's settlement and Tuesday's deal was, in part, a result of negotiations surrounding JPMorgan's assumption of WaMu's legal liabilities from the FDIC's receivership.
JPMorgan did reserve its right to go against the receivership for any WaMu-related losses. Furthermore, the deal doesn't include WaMu's issuance of private label securities, prospective fines JPMorgan would "likely go after both the FDIC and the Receivership," according to Credit Suisse analysts.
While government authorities didn't get JPMorgan to admit guilt in its settlement, the Department of Justice said criminal probes of JPMorgan's mortgage sales activities are ongoing. JPMorgan continues to cooperate with federal investigators in those ongoing probes, the bank said.

What a Relief?
Of the total settlement, $4 billion will come in the form of JPMorgan's assistance to distressed homeowners. That includes $2 billion in principal write-downs, as well as $2 billion in financial relief for borrowers and communities, including refinancing mortgage loans at lower rates, donation of repossessed properties, and new mortgage loans to low-and moderate-income families harmed by the financial crisis.
This means some of the government's work will alleviate financial burdens some families continue to carry from the financial crisis. Attorney General Eric Holder indicated relief could come to thousands of borrowers.
A portion of the settlement going to New York State will include "$613 million in cash and approximately $400 million in consumer relief for struggling New Yorkers." Some of the $613 cash payment would be "directed to provide additional legal services and housing counseling for those affected by Superstorm Sandy," according to Schneiderman.
Bill Cheney, CEO of the Credit Union National Association, said in a Tuesday telephone interview he was pleased that credit unions would see some restitution for shaky mortgage securities they bought from JPMorgan.
"One could certainly argue that it could have been more," Cheney said. "Having said that, we are happy with the settlement," he added.
The Analysts
"Issues remaining include an ongoing criminal DOJ investigation, as well as several civil issues, such as monoline claims, FHA insurance-related claims and other litigations. We would note that the company likely has nearly $10bn of litigation reserves available post these actions. Overall, the financial aspects of these effects are already largely accounted for," Moshe Orenbuch, a banking analyst at Credit Suisse, said in a Wednesday client note.
"The aggregate settlement of $13B, together with the previously announced $4.5B Gibbs & Bruns settlement tied to certain RMBS, was squarely within expectations," Sterne Agee analyst Todd Hagerman, said in a Tuesday client note.
"The announcement represents an important step in formally reducing JPM's legacy mortgage-related exposures. Although the magnitude of the legal settlements in recent weeks has been staggering in the very least, our sense is investors will now begin to hang their hats on the notion that the largest banks, including JPM, are clearly in the later innings in resolving legacy mortgage-related exposure," Hagerman added.
JPMorgan shares were falling less than 1% in early Wednesday trading, to $55.94.
Interested in more on JPMorgan Chase? See TheStreet Ratings' report card for this stock.
RELATED STORIES:
5 Cheapest A-Rated Bank Stocks
Geithner Mum on Private Equity Leverage Ahead of Crisis
GE's Card Spinoff Is a Great Deal for Investors
Capital One, Discover Are Bargains as Industry Resumes Growth
-- Written by Antoine Gara in New York