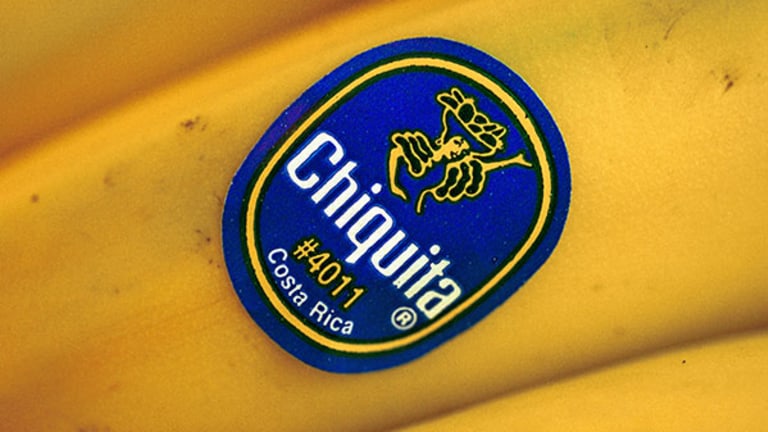 What Chiquita Brands Isn't Talking About in Fyffes Merger
Another corporate inversion may present a subtle opportunity to shareholders.
Another corporate inversion may present a subtle opportunity to shareholders.
NEW YORK (TheStreet) -- Chiquita Brands (CQB) , in merging with Dublin, Ireland-based foods distributor Fyffes is arguing that pre-tax synergies of at least $40 million by 2016 will be a key strategic merit to the all-stock deal that will create the world's largest Banana seller. What Chiquita Brands isn't talking about -- tax synergies -- may also be an important rationale for the merger.

WATCH: Shares of Chiquita Go Bananas on News of Merger with Fyffes
Chiquita Brands didn't specify any tax synergies when announcing its deal with Fyffes on Monday, however, it did say that ChiquitaFyffes, the new name of the combined company, would have generated earnings before interest, taxes, depreciation and amortization (EBITDA) of approximately $214 million in 2013, implying net debt of 2.7 times EBITDA.
"Moving forward, the combined company will also have the potential for further reductions in leverage," Chiquita Brands said in a Monday press release, without disclosing specifics.
Taxes could be one area where Monday's merger could pay off beyond Chiquita and Fyffes' initial guidance. The combined ChiquitaFyffes is expected to be headquartered in Ireland, meanwhile Chiquita Brands currently carries a near $300 valuation allowance against its deferred tax assets that could be realized in coming years.
On both fronts, the deal could help what once was Chiquita Brands realize tax benefits from the merger. For now, the company doesn't foresee a big impact. Spokesperson Ed Loyd said in an e-mail correspondence with TheStreet that such merger-related tax benefits would have a "very de-minimus impact" on Chiquita's tax rate and its deferred tax assets.
Another Corporate Inversion
Monday's merger is effectively a corporate inversion for Chiquita Brands. Chiquita Brands shares represent 50.7% of the combined ChiquitaFyffes, while Fyffes shares will represent 49.3% of the pro-forma company. However, Chiquita Brands will move its corporate headquarters from Charlotte, N.C. to Dublin, Ireland, the current headquarters of Fyffe.
Ireland carries far-lower income tax rates than the United States. A string of recent mergers between U.S. and Ireland-based companies in the pharmaceutical industry and simultaneous corporate inversions that moved U.S. headquarters to Ireland has generally been taken by investors as a quick way to lower those company's tax bills.
Chiquita Brands' merger with Fyffes may prove to be similar. "This is an inversion transaction." Robert Willens, an independent tax expert, said in a Monday telephone interview. Willens cited Actavis (ACT) - Get Report, Perrigo (PRGO) - Get Report, and Endo Pharmaceuticals (ENDO) as other companies to orchestrate inversions in the past 12-to-18 months. "The idea here is to eventually begin shifting income from the U.S. to Ireland," he added.
There is a twist to Chiquita's inversion, however, that may be different from comparable transactions in the pharmaceutical sectors. Chiquita Brands currently carries a $298 million valuation allowance against its deferred tax assets that can be realized if the company turns solidly profitable.
Deferred Tax Assets
Often mergers and accompanying synergies -- for instance the guidance Chiquita provided on Monday -- can help loss-making companies turn to profitability and eventually realize their net operating loss carry forwards, or NOLs. That may be the case in Monday's merger given Chiquita and Fyffes disclosure that the pro-forma company would have earned $214 million in 2013 EBITDA.
Willens, the tax expert, sees a different opportunity for Chiquita to quickly realize its NOL. Were Chiquita to distribute its U.S. based brands and trademarks to the company's Irish parent and license those assets it would face a hefty tax bill. However, Chiquita's NOLs could be used to offset taxable income from any transfer of title from the U.S. to a lower tax jurisdiction in Ireland.
"Having NOLs is a good thing when doing an inversion. It allows you to move intangible assets to an Irish subsidiary on a tax-free basis," Willens said.
The Chiquita spokesperson played down the impact. 
"The projected synergies do not include or require any reduction in taxes," Loyd said. "On the NOLs there is minimal impact and the opportunity to access them over time," he added of the impact of Monday's merger.
As of 2013, Chiquita counted U.S. federal net operating loss carry forwards of $395 million, U.S. state NOLs of $373 million and foreign NOLs of $620 million.
On its balance sheet, the company had $93.8 million in net deferred tax liabilities, which included $369 million in total deferred tax assets, a $298.7 million valuation allowance and $164.1 million in deferred tax liabilities.
Chiquita's U.S. state NOLs will expire between 2014 and 2034, while most of its foreign NOLs will expire between 2014 and 2029, with $163 million holding an indefinite life.
"The company's overall effective tax rate may also vary significantly from period to period due to the level and mix of income among domestic and foreign jurisdictions and the creation or release of valuation allowance. Many of these foreign jurisdictions have tax rates that are lower than the U.S. statutory rate, and the company continues to maintain full valuation allowances on deferred tax assets in some of these foreign jurisdictions," Chiquita said in its 2013 10-K filing with the Securities and Exchange Commission.
Chiquita, like many other U.S. conglomerates, also counts billions in foreign profits it has been unwilling to repatriate to the United States. Undistributed earnings from Chiquita's foreign subsidiaries were approximately $1.7 billion as of the end of 2013, have been permanently reinvested in foreign operations.

ChiquitaFyffes
If the merger is completed, ChiquitaFyffes will become the largest global entity in the banana category with sales of more than 160 million boxes annually and global revenue of $4.6 billion. Monday's transaction will be subject to a U.S. regulatory review and approval by the High Court of Ireland.
Ed Lonergan, Chiquita Brands CEO, will serve as chairman of the combined company and David McCann, Fyffes executive chairman will become CEO of the combined company. ChiquitaFyffes will remain listed on the New York Stock Exchange, the company said.
Senior executives at the combined company will be located in corporate offices in Charlotte and Dublin, while the combined company's Board of Directors will reflect an equal combination of directors from both companies and one mutually agreed upon director.
Given $40 million in pre-tax synergies, the merger is expected to be accretive to shareholders of both companies on a net income basis in the first year after the transaction is completed.
Chiquita Brands shares were rising over 11.9% in early Monday trading at $12.13. Shares in the company have gained nearly 80% over the past 12-months, amid restructuring efforts. The company narrowed its annual loss from $405 million in 2012 to just $15.8 million in 2013.
-- Written by Antoine Gara in New York