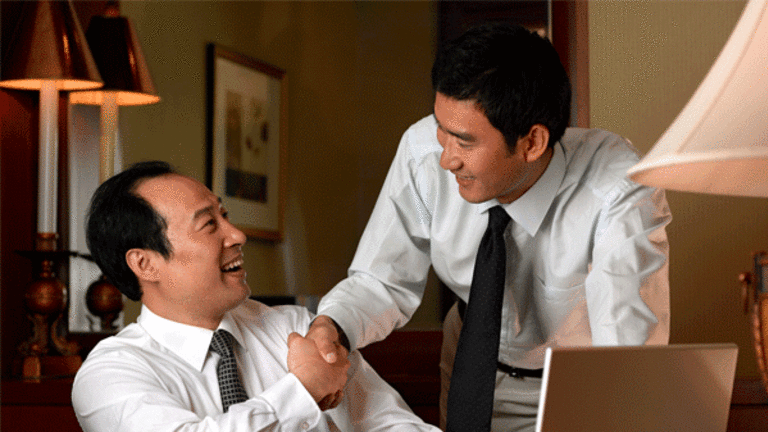 EnCap Flatrock Midstream-backed oil and gas transporter and processor Nuevo Midstream LLC said late Tuesday that it agreed to be sold to Western Gas Partners LP (WES) - Get Western Midstream Partners LP Report for $1.5 billion in cash, implying at least a five-times return for Nuevo investors and moving Western Gas into a new basin near an affiliate's oil and gas properties.
An EnCap Flatrock spokeswoman wouldn't comment on the return, which is based on $300 million in commitments ("commitments is not the same as actually invested," she wrote in an e-mail), but noted that Nuevo, EnCap Flatrock and EnCap Flatrock's institutional investors were "extremely pleased" with the result.
Western Gas has offered a 50% interest in Nuevo to another unnamed third party as part of a pre-existing agreement between former parent Anadarko Petroleum Corp. (APC) - Get Anadarko Petroleum Corporation Report and the third party. That party has 30 days to respond and 30 days after that to fund its portion of the deal if it wants it, although Western Gas is willing to buy Nuevo on its own tapping $1 billion available under its credit facility.
Western Gas president and CEO Don Sinclair said in a separate statement that the price represents a multiple of 8.5 times Ebitda expected for 2016.
"We are buying an early stage asset that we believe will deliver significant growth as the basin continues to develop," he said. "Both the current robust level of drilling activity and Anadarko's recent success in the area fuel our optimism regarding the further potential of the Delaware Basin, which has quickly become one of the most prolific resource plays in North America."
Western Gas also reported earnings were up 30% in the third quarter to $102.7 million, or 60 cents per unit, on a 19% sales increase to $326.5 million — both surpassing analyst estimates.
Global Hunter Securities Inc. analyst Sunil Sibal wrote in a note Wednesday that assuming a $1 billion investment based on $500 million in growth capital expenditures on the $1.5 billion asset purchase and 50% participation by the third party, he expects the transaction to be potentially 4% accretive to limited partner units and 6% accretive for general partner distributions.
"While we see this as being moderately accretive in the near term, it could grow into a big growth leg for WES [Western Gas] if Anadarko Petroleum's 600,000 gross acres in the basin prove to be prolific," he said.
Anadarko has agreed to fund $750 million — essentially all of the consideration if the third party exercises its rights — in the form of C-class units, which will be pay-in-kind and not result in an increase in incentive distribution rights until the end of 2017, Sibal said. So this means no additional equity may be needed to close the transaction, which is expected by the end of the fourth quarter if it clears regulators.
Formed in 2011 with an initial $65 million equity commitment from EnCap Flatrock and management, Nuevo develops and operates natural gas gathering, compression, processing, treating, transportation and marketing services to oil and gas producers in the Delaware Basin, which is located in West Texas and southeast New Mexico. Equity commitments to Nuevo ultimately reached more than $300 million from investors led by EFM Funds I and II, management and Wells Fargo Energy Capital, implying a five times return on investment if the commitments were tapped in full.
Anadarko formed Western Gas to own, operate, acquire and develop midstream energy assets to serve Anadarko and other third-party producers and customers.
Nuevo's operations began in August 2011 when the company recommissioned a small refrigerated Joule-Thomson processing plant near Orla, Texas. Its assets now include 300 million cubic feet per day of operational cryogenic processing capacity at its Ramsey processing complex in Reeves County, Texas; 1,800 gallons per minute of treating capacity; four field compressor stations; and a 275-mile gas gathering system covering a five-county area.
Nuevo is also building 30 miles of gathering pipeline with an additional 400 million cubic feet per day of processing capacity set to be in service by next year.
Nuevo's gathering and processing system is supported by long-term acreage dedications of 150,000 acres and volume commitments from 47 producers operating in an area with multiple, stacked pay zones. Nuevo said many of its producer customers are shale developers who have large drilling and development programs on the dedicated acreage and have identified the Delaware as a significant driver of future production growth.
Nuevo president and CEO Jay Lendrum said in a statement that the company's strategy was to enter the Delaware Basin early, execute quickly to get enough infrastructure ahead of drilling schedules and continue building on its first-mover advantage. "EnCap Flatrock provided us with the capital to establish and expand our system, allowing us to create significant value in return," he said.
Dennis Jaggi led the deal from EnCap Flatrock, which was formed in 2008 to invest in the midstream industry and manages $6 billion in investor commitments. It raised a third fund in May amounting to $3 billion. At that time, it had invested in 16 companies and had four exits since 2008 totaling almost $4 billion
Its recent investments include Gravity Midstream Corpus Christi LLC, which last month agreed to buy assets from bankrupt Trigeant Ltd. for $100 million in cash and certain liabilities; Tall Oak Midstream LLC, which raised $300 million to build a 250-mile natural gas gathering and processing system in the central northern Oklahoma Woodford play; and RiverRock Energy LLC, which attracted $125 million to develop and acquire gathering, transportation and storage assets in underserved basins like North Dakoka's Bakken, Colorado's Niobrara, Wyoming's Powder River and South Texas' Eagle Ford Shale.
Western Gas Partners has assets in East, West and South Texas, the Rocky Mountains, north-central Pennsylvania, Kansas and Oklahoma.
Barclays' Lee Jacobe, Keith Burba and Jose Briceno advised Nuevo while Vinson & Elkins LLP provided legal advice, including Chris Collins, John Bell, John Lynch, Jason McIntosh, Larry Pechacek, Stephen Jacobson, Scot Dixon and Neil Imus. Thompson & Knight LLP's Sarah McLean, Roger Aksamit and Van Wiltz counseled EnCap Flatrock. Akin Gump Strauss Hauer & Feld LLP assisted Western Gas, including John Goodgame, Andy Lehman, Thomas Weir, Paul Hewitt, David Quigley, Bob Lian and Rolf Zaiss.
Western Gas' special independent committee — which approved the Class C unit issuance — received advice from Evercore Partners' Ray Strong, Eric Bauer, Alex Jeffries and Bradley Belasco and Bracewell & Giuliani LLP's Gary Orloff and Dan Witschey.
This article is commentary by an independent contributor, separate from TheStreet's regular news coverage.