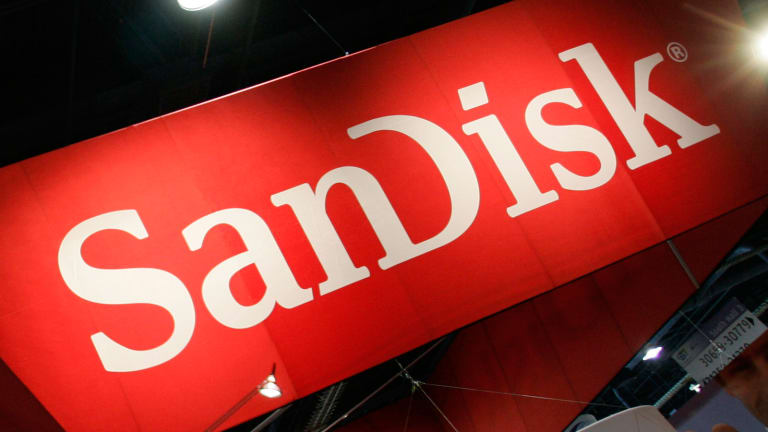 Western Digital, SanDisk Merger Hinges on Unisplendour's OK
Unisplendour's investment in Western Digital is expected to close by the first quarter. But it could complicate the Western Digital buyout of SanDisk.
Western Digital's (WDC) acquisition ofSanDisk (SNDK) for $19 billion offers a tricky arbitrage trade.
The merger announced Wednesday is, in part, conditioned on the completion of an investment in Western Digital, announced Sept. 30, by China-based Unisplendour, which is making a $3.8 billion equity investment in Western Digital at $92.50 per share, which would give it a 15% stake in the memory company. That deal puts Unisplendour on the Western Digital board and includes lock-up and standstill restrictions.
Tsinghua University is a controlling shareholder of Unisplendour and the investment in Western Digital will be under review by the Committee on Foreign Investment in the U.S. But Western Digital does not expect the CFIUS review to raise an issue because the 15% ownership falls below the "control" standard under the national security panel's rules. Western Digital expects the investment to close by the first quarter of 2016.
If the Unisplendour deal closes, Western Digital pays $85.10 per share in cash and 0.0176 of a share for each share of SanDisk. If the Unisplendour investment does not close, the deal terms adjust to $67.50 in cash and 0.2387 of Western Digital share for each SanDisk share.
The variance makes the deal a challenge for risk arbitrageurs to hedge.
According to one trader, the optimal approach is to short more than the base 0.0176 of a Western Digital share but less than the full 0.2387 share issuance should the Unisplendour investment not close.
If Western Digital trades down during the pending of the deal, the short is not an issue. Based on the current spread, at a hedge of 0.1 to 0.13 of a Western Digital share for each SanDisk share the trade should work even if Western Digital shares trade up to $100 per share, the trader said.
The theoretical hedge is 0.13, the trader said.
SanDisk shares traded Wednesday for $77.30 at a spread of about $9, or 11.7%, to the terms assuming the Unisplendour investment closes. The spread offered an annualized 14% if the deal closes in August.
There is a possibility of a rival bid. Micron Technology (MU) was recently reported to be courting SanDisk also. Micron stock fell 95 cents, or 5.6%, to $16.14 on Wednesday morning on news of Western Digital's deal.
Summit Research Partners analyst Srini Sundararajan suggested that Micron, Samsung Electronics or Seagate Technology (STX) could attempt a spoiler offer.