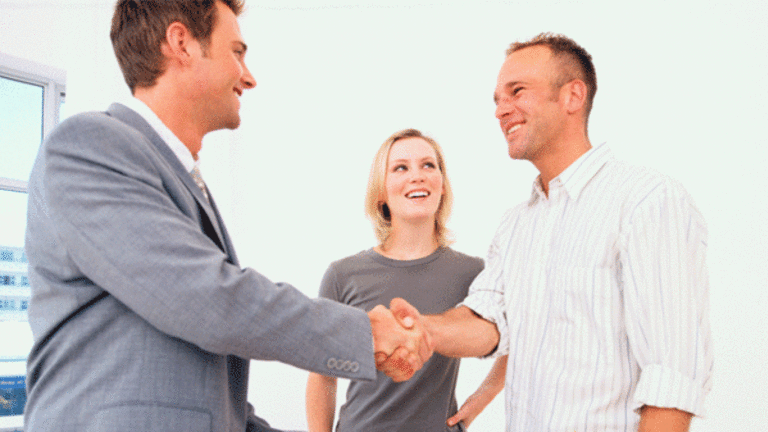 WellPoint's Deal for Amerigroup Is Landmark 'Obamacare' Merger
WellPoint is buying Amerigroup for $4.9 billion, in the first major health care merger after the Supreme Court upheld 'Obamacare.'
Updated to include Moody's rating downgrade, Fitch and S&P actions.
NEW YORK (
) -- Obamacare has its first major merger, after health care giant
WellPoint
(WLP)
said on Monday that it will buy
Amerigroup
( AGP), a managed health care company with 4.5 million customers of state sponsored health care programs, for $4.9 billion, or $92 a share in cash.
The deal, which comes at a 43% premium to Amerigroup's Friday closing share price, is the first major health care sector merger since President Obama's Affordable Health Care Act was narrowly upheld by the Supreme Court in late June and adds to a trend of consolidation within the industry.
For WellPoint, which ended 2011 with 65-plus million health care customers including those under Blue Cross and Blue Shield private plans that it is a licensee of, Amerigroup's mostly Medicaid customers will help the company push into state sponsored health care plans that are most impacted by the health care act and court ruling.
Forget the SCOTUS decision, the market has already changed for healthcare stocks
"We believe that this combination will create an industry leader in the government sector serving Medicaid and Medicare enrollees," said WellPoint CEO Angela Braly in a statement. Braly added that the merger, which focuses on Medicaid recipients like the poor and the elderly, is an opportunity to "position our companies for future growth as the health insurance industry changes and as we prepare for health insurance exchanges."
With Amerigroup, WellPoint's Medicaid footprint will be in 19 states, gaining 4.5 million accounts and some dual eligible managed care accounts. The company projects that it will also gain access to $105 billion in annual dual eligible spending opportunities in the four largest states where it's gaining such a presence.
Amerigroup shares rose nearly 40% to over $89.84 a share in early Monday trading on news of the deal, while WellPoint shares climbed nearly 3% to $61.64 a share. Prior to the deal, both companies' shares had declined on the Supreme Court's ruling in June 28.
News of the deal caused some Medicaid-focused healthcare providers such as
Centene
(CNC) - Get Centene Corporation Report
,
Molina Healthcare
(MOH) - Get Molina Healthcare, Inc. Report
and
WellCare Health Partners
(WCG) - Get WellCare Health Plans, Inc. Report
to surge over 10% in early trading, as some expect continued consolidation.
"Expect other companies with government exposure to see greater investor interest," wrote Credit Suisse analyst Charles Boorady in a note to clients, highlighting Centene, Molina Healthcare,
Humana
(HUM) - Get Humana Inc. (HUM) Report
,
Coventry Healthcare
( CVH) and
Health Net
(HNT)
as other healthcare providers with highe Medicaid and Mecidare exposure.
While WellPoint executives indicated on a conference call outlining the deal that they would have done the merger with or without the expansion of healthcare reform, Bank of American Merrill Lynch analyst Kevin Fishbeck said that a key to the merger will be gaining access to dual eligible customers of Medicare and Medicaid, who can be among the costliest to insure.
"
The company highlighted that new business wins in the duals could be dilutive initially, and then ramp up," Fishbeck in a note to clients, who supported WellPoint's announced synergy and earnings projections from the deal.
As investors position on the Supreme Court's landmark health care decision, they may be wise to spend their time understanding how consistent M&A trends are already consolidating the health care sector, with deals like WellPoint's acquisition of Amerigroup expected in coming quarters and years.
Already, some companies have used recent mergers to position themselves for key earnings opportunities, amid the prospect that profit margins fall throughout the healthcare sector.
"There is a very basic level of consolidation that is taking place," said Marc Cabrera, head of the healthc are investment banking practice at Morgan Joseph TriArtisan, of widespread health care sector M&A efforts, in a late June interview that came before the court's ruling.
Cabrera highlighted a consistent drum of mergers among physician practices, hospitals and pharmacy benefits managers as indicative of the needs for companies in the health care sector to grow their scale in the face of margin pressures.
Some companies thought to be most impacted by Obamacare and the Supreme Court's decision have already scaled into new business lines. Last October,
Cigna
(CI) - Get Cigna Corporation Report
bought
HealthSpring
( HS), a health care provider with a big pharmacy unit, in a near doubling of its PBM unit.
In late June, the court confirmed the Act's ability to force Americans to carry health insurance and compel insurers to cover people with pre-existing health conditions. The Supreme Court, however, limited the extension of Medicaid, deeming it unconstitutional for the federal government to withhold money from states that don't comply with the Act.
The Supreme Court's maintenance of the Affordable Care Act signals that Medicaid will expanded to some extent -- with the biggest
to Medicaid HMOs like Amerigroup,
Molina
(MOH) - Get Molina Healthcare, Inc. Report
and
Centene
(CNC) - Get Centene Corporation Report
.
Nevertheless, for companies tied to health care plans subsidized by Medicaid and other government programs or unsubsidized private market plans for corporations and individuals, Cabrera said he sees a relatively similar set of challenges to grow their scale and earnings, regardless of how the Supreme Court ruled.
Companies will be pressured to figure out a way to grow the bottom-line in a health care market that's likely to become far more cost-competitive. "We do not see that the cost trend today is sustainable, therefore to be a winner in the future you need to be bigger and have economies of scale," said Cabrera.
Recent deals like dialysis specialist
DaVita's
(DVA) - Get DaVita Inc. Report
$4.42 billion acquisition of privately held physician practice
HealthCare Partners
and health-insurer
Humana's
(HUM) - Get Humana Inc. (HUM) Report
acquisition of hospital chain
Concentra
in 2010 highlight how health care sector players are scaling their operations, noted Cabrera.
According to preliminary
Dealogic
second-quarter M&A data, the health care sector represented the third most active market for mergers, surpassed only by the tech and energy sectors.
DaVita's growth in the dialysis market and a similar market share held by German giant
Fresenius Medical Care
(FMS) - Get Fresenius Medical Care AG & Co. KGaA Sponsored ADR Report
makes additional large-scale consolidation in that piece of the health care sector less likely. Fresenius cut one of the largest health care deals of 2011, when it bought
Liberty Dialysis Holdings
for $1.7 billion. Big consolidation efforts in the PBM space are also challenged after
CVS Caremark
(CVS) - Get CVS Health Corporation Report
and
Express Scripts
(ESRX)
cut transformational deals in recent years.
However, in June,
Walgreen's
(WAG)
of European pharmacy giant
Alliance Boots
highlighted big changes to the earnings prospects of drug store and pharmacy benefits manager giants -- the companies that fill drug prescriptions -- through a
.
Some estimate that between 16 million to 20 million new Americans would be eligible to enroll in Medicaid through the Affordable Care Act.
For WellPoint, its acquisition of Amerigroup will to add to its earnings per share in 2013, when the deal is expected to close, when accounting for new revenue and integration costs. The company didn't change its 2012 EPS expectations but said its earnings may grow by $1 a share in 2015 as a result of the merger. WellPoint will use both its cash, commercial paper and new debt to fund the near $5 billion cash deal.
Moody's downgraded WellPoint's senior debt rating a notch to Baa2 from Baa1 on Monday, noting that the debt financing of the deal will limit the company's financial flexibility. The deal also signals WellPoint's willingness to cut debt acquisitions and tolerate increasing leverage, Moody's also noted in the downgrade.
Still, the agency sees benefits of the acquisition. "The combination of AMERIGROUP's strong Medicaid platform with WellPoint's Medicare experience should make the company very competitive as states begin the bidding process for this business," noted Moody's Senior Vice President Stephen Zaharuk. Fitch Ratings and Standard & Poor's cut their outlooks on WellPoint's debt, but left their ratings unchanged.
Other risks also remain for WellPoint. Monday's deal could be indicative of the company's geographic and market challenges as it searches for businesses with operating margins above the mid single digits -- and not a panacea.
"This transaction will bring questions regarding WellPoint's ability to operate a strong Medicaid provider in states where it does not have a blue license, notably Texas and Florida," wrote Wells Fargo analyst Peter Costa in a note to clients.
For more on investing in drug stores and pharmacy giants see Express Scripts could be
sandbagging synergies
in its mega-deal for Medco Health Solutions.
-- Written by Antoine Gara in New York