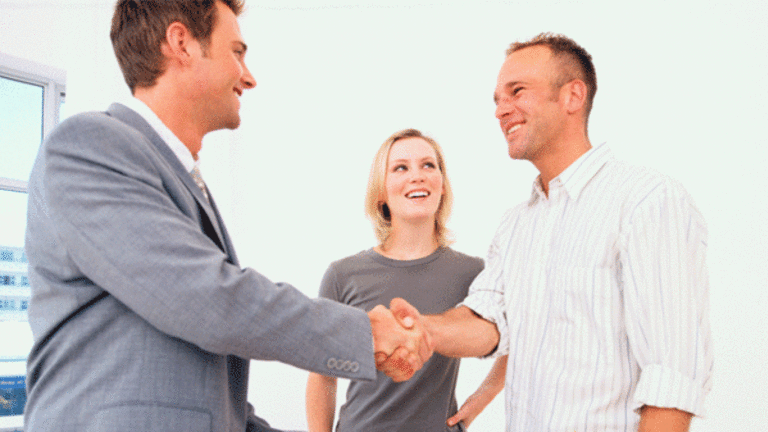 Weight Watchers Turnaround Still a Heavy Sell
Debt traders worry that competition and poor financials are too much of a load on the company.
NEW YORK (The Deal) -- Some hedge fund investors still think Weight Watchers International's (WTW) - Get Report turnaround story is a little thin and that the trading range of the weight-loss company's debt in the 70s still represents too much risk for the opportunity.
Maglan Capital LP co-founder and portfolio manager Steven Azarbad, for example, has considered investing in Woodbury, N.Y.-based Weight Watchers but isn't convinced the time is right.
"It's a pretty challenging story," Azarbad said by phone.
Azarbad is wary of the two term loans trading in the secondary market, even at 70 cents on the dollar, because of the company's disappointing results and projections.
"It's still pretty expensive," he asserted, noting that the debt is trading at 7.5 times Ebitda. "Things will get worse before they get better."
Weight Watchers reported $366.1 million in revenue for the 2013 fourth quarter, ended Dec. 31, an 11% decrease compared to the same quarter in 2012. The company's number of weeks of paid service declined by 8.5% last year. And 2014 will be even worse.
"While we have strong confidence in this team's ability to execute a successful transformation, we knew that 2014 would be a very challenging year," CFO Nicholas Hotchkin said during the Feb. 13 fourth-quarter earnings call.
"It's so hard to model where this thing is going," said Maglan's Azarbad. "We're literally at the first or second inning in the turnaround. You typically want to invest in a turnaround in the fourth or fifth inning."
The effect of competition from phone applications and websites specifically dealing with dieting creates a lot of uncertainty about Weight Watchers' future. Azarbad compared Weight Watchers to retailers adjusting to the "Amazon[.com] effect" and videogame makers dealing with competition from mobile applications.
Another hedge fund source said Weight Watchers is on a campaign to pitch the resilience of its business model, but he is still on the fence.
"The concern is, is it different this time?" the hedgie wondered. "Is there some kind of secular change where people don't want to sit through meetings anymore?"

The company forecasts a mid-teens drop in paid weeks during the first quarter of 2014 and a high-teens decline for the full year, with revenues falling to $1.4 billion.
Weight Watchers has highlighted a goal of $150 million in cost-cutting, a new effort to bring in male customers, and persistent increases in obesity rates as factors that will help its turnaround efforts.
"As the number of overweight and obese people worldwide grows, we believe our global presence and brand awareness uniquely position us to capture an increasing share of the global weight management market through our core meetings business and our WeightWatchers.com business," the company said in its fourth-quarter earnings report.
The hedge fund source who requested anonymity agreed with the reasoning.
"Go look around," the source said. "There are plenty of fat people, and that's not changing."
Luxembourg-based investment manager Artal Group SA holds 50.95% of the Weight Watchers' equity, and Artal's Raymond Debbane serves as Weight Watchers' chairman.
Weight Watchers ended 2013 with $175 million in cash, $2.39 billion in debt, $1.41 billion in assets, and $2.88 billion in liabilities.
The company's debt structure includes a $300 million senior secured term loan due April 2, 2016, priced at Libor plus 300; a $2.1 billion senior secured term loan due April 2, 2020, priced at Libor plus 275; and a $250 million senior secured revolving credit facility due April 2, 2018. The loans maturing in 2016 and 2020 are trading in the secondary market in the 70s.
Moody's Investors Service downgraded Weight Watchers' corporate rating to B1 from Ba2 on Feb. 21, citing the "unexpectedly poor operating results in early 2014 - in particular, accelerating declines in meeting recruitment, paid weeks and attendance."
Weight Watchers uses endorsements from celebrities such as Jessica Simpson, Jennifer Hudson, and Marie Osmond to advertise its service. The core program includes in-person meetings to discuss weight-loss goals, recipes, online support and a mobile app.

Meanwhile, Weight Watchers' rival, Jenny Craig is also undergoing a transformation. Health-focused private equity firm North Castle Partners acquired the Carlsbad, Calif., diet company from Nestle on Nov. 7, promising to revitalize its business through a combination with North Castle's portfolio company, Curves International, a women's gym chain.
"It's obviously a very competitive environment and time in weight loss, where digital and free products are helping the consumer," said North Castle managing director, Jon Canarick. "Whether or not he or she gets results from the free services - time will tell."
Digital competitors include a slew of free weight-loss apps, such as Lose It!, Calorie Counter & Diet Tracker, and Livestrong's MyPlate Calorie Tracker Lite.
"As for Weight Watchers, they're an iconic brand and a great business," Canarick said. "I'm sure they will turn the corner."
The hedge fund investor who requested anonymity agreed with the positive long-term outlook.
"The big picture here (is), the meeting system does work, and ultimately, it's going to go back to what really works," the source said.
"Some of the online stuff is faddish."
The source believes Weight Watchers' debt buyers will get recovery at par value, although the coupons aren't high and the maturity dates are far out.
A Weight Watchers spokeswoman declined to comment, as did an Artal spokeswoman.
The company's shares closed Thursday at $20.41, still far short of the $40s range it was selling in a year ago.