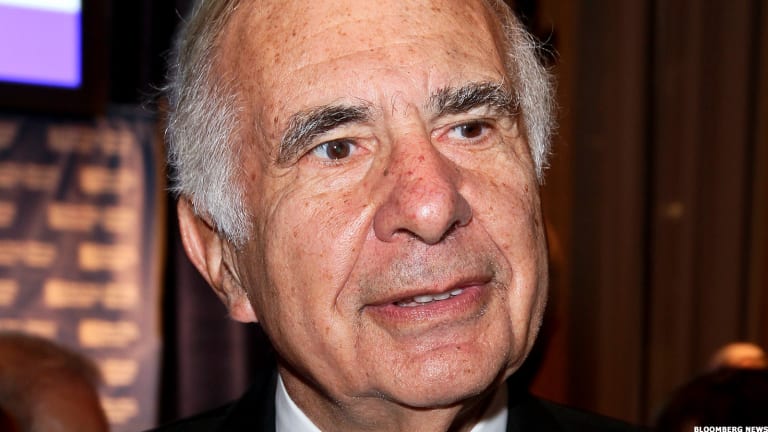 Warren, Democrats Write Icahn About Advising Trump
Sen. Elizabeth Warren and six other lawmakers sent a letter to the billionaire corporate-raider turned activist arguing that he may be breaking federal conflict of interest laws.
Seven Senate Democrats including Senator Elizabeth Warren on Monday send a letter to Carl Icahn arguing that the billionaire corporate raider turned activist may be breaking federal conflict of interest laws because of his position as special adviser to the Trump Administration for overhauling federal regulations.
President Trump tapped Icahn for the role in December, arguing that he's "one of the world's great businessmen" and "not only a brilliant negotiator but someone who is innately able to predict the future especially having to do with finances and economics."
However, the role has raised questions among Democrats, some of whom have been arguing for weeks that Icahn's ownership of specific companies and stakes, in oil refiner CVR Energy, Herbalife (HLF) - Get Herbalife Nutrition Ltd. Report and Bristol-Myers Squibb (BMS) - Get Bemis Company, Inc. Report , for example, raises "alarming" questions about how the billionaire investor is handling his conflicts of interest.
"Your multi-billion dollar commercial holdings are vast and riddled with conflicts of interest, and, yet, you have not divested from these holdings since taking your position in the White House," the letter said.
The letter raises concerns that Icahn was intimately involved with the selection of Trump's pick for key regulatory posts, including the White House's choice of Wall Street lawyer Jay Clayton to head the Securities and Exchange Commission, an "agency that is or has been involved in multiple investigations of companies you own." It noted that the SEC is investigating Herbalife - Icahn owns about a 25% stake -- for potential violations of the Foreign Corrupt Practices Act. The agency also recently settled claims against CVR Energy, where Icahn owns an 82% stake, the letter notes.
At his confirmation hearing last week, Clayton was pressed by Warren over his relationship with Icahn. The SEC nominee acknowledged that he met with Icahn, but only after he was nominated for the job of heading the regulatory agency. Clayton added that no discussion of SEC regulations or Icahn's investments came up. "We talked about Mr. Icahn's view on the importance of activist investors and how through their methods drive the performance of public companies," Clayton said.
Clayton added, to chuckles from the audience, that "he [Icahn] thinks they do well for the markets."
Warren alleged that Icahn might recently have taken a state in Bristol-Myers Squibb recently based on some sort of inside information he could have obtained about potential changes to regulations for the large multinational drug company. The Wall Street Journal reported in February that Icahn acquired a Bristol-Myers stake and thinks the drug giant could become a target for a takeover down the road. The Deal in January identified Bristol-Myers as a potential activist target, arguing that Pfizer could be interested in buying it. 
"He purchased a stake months after he was appointed a special adviser to Trump on regulatory policy," Warren said. "If Mr. Icahn had insider information on federal policy affecting Bristol-Myers-Squibb and he chose to buy shares based on that info is that potentially a violation of securities laws?"
However, Clayton declined to venture an opinion, arguing that the question of the scope of securities laws around insider trading is a facts and circumstances analysis.
In the letter, Warren and other senators asked Icahn to provide more specific details about his official position as an adviser to the Trump Administration, and whether he was required to divest holdings or recuse himself from any discussions. The letter also asks whether Icahn received any waivers from ethics requirements.
Icahn did not return a request for comment.