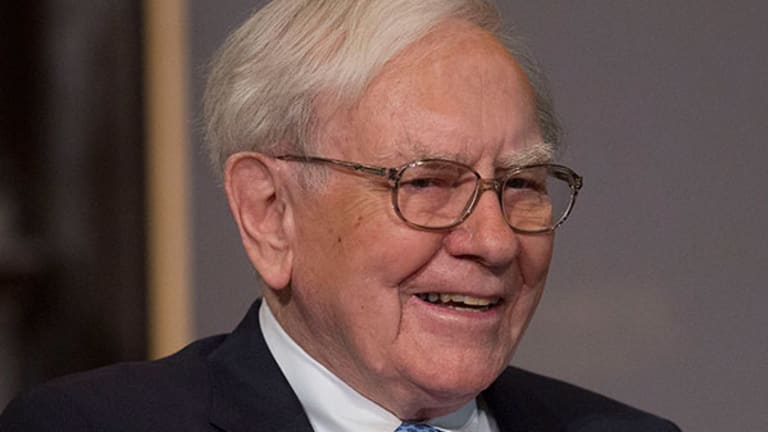 Warren Buffett's Warrants Shine in Media General Deal
Berkshire Hathaway is one of the biggest beneficiaries of Media General's merger with Lin Media.
NEW YORK (TheStreet) - As Media General (MEG) works to merge with LIN Media (LIN) - Get Linde plc Report, forming the nation's second largest pure-play TV broadcasting company, Berkshire Hathaway (BRK.B) - Get Berkshire Hathaway Inc. Class B Report continues to make money off of a newspaper deal it cut with Media General in 2012.
In May 2012, Berkshire Hathaway bought 63 newspapers from Media General for $142 million in cash and agreed to provide the nationwide TV broadcaster with a $400 million term loan and a $45 million revolving credit line, as the company worked to repair its balance sheet.
As part of the newspaper purchase and its loan to Media General, Berkshire also received penny warrants for approximately 4.6 million of Media General's Class A shares, about 20% of its outstanding stock at the time.
Berkshire's loans, which carried an interest rate of 10.5%, and its warrants, quickly paid off.
The Warren Buffett-run company converted its penny warrants to Media General common stock in the third quarter of 2012, filings with the Securities and Exchange Commission show.
In August 2013, Media General and Young Broadcasting agreed to a merger that refinanced the company's outstanding debts at far lower interest rates than its deal with Berkshire Hathaway. In the refinancing, Media General took out a $60 million five-year revolving credit facility and a $885 million seven-year term loan at an interest rate of LIBOR plus 3.25%, with a 1% LIBOR floor.
The deal appears to have cut Media General's financing costs by as much as 50% -- it also paid off for Berkshire.
Media General used the refinancing to repay $30 million in revolving loans and $301.5 million in outstanding term loans under its deal with Berkshire Hathaway, and gave the investing conglomerate a $43.8 million prepayment premium. Berkshire, however, retained its common stock holding in Media General. Those warrants have paid off handsomely, and continue to rise as Media General seeks additional consolidation in its announced merger with LIN Media on Friday.
Berkshire Hathaway is currently Media General's fifth largest investor, and the company hasn't sold a single share it picked up in its May 2012 warrant agreement, SEC filings show. The stake, which likely came at little cost to Berkshire Hathaway, currently is worth nearly $85 million.
Media General's shares were trading below $4 apiece when the company executed its newspaper sale and financing arrangement with Berkshire Hathaway. Currently, shares trade at $18.44, after gaining over 400% in 2013 as the company pursued consolidation and lower-cost financing.
Berkshire, through its stake in Media General is now a significant investor in broadcast TV. The company also recently acquired a Miami-based TV station valued at $364 million as part of a stock swap with Graham Holdings (GHC) - Get Graham Holdings Co. Report that could allow Berkshire to exit its highly profitable investment in the former parent company of The Washington Post without paying taxes.
Berkshire May Avoid $400 Million in Tax in Graham Deal
-- Written by Antoine Gara