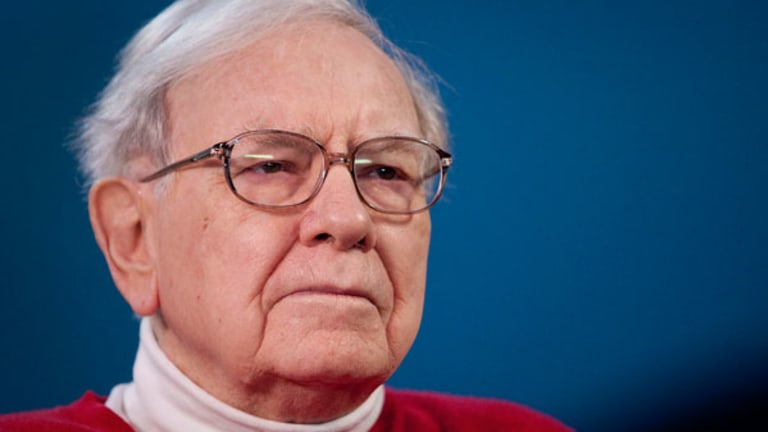 Warren Buffett's Elephant Gun Hits Heinz (Update1)
After a dry spell, the Oracle of Omaha comes through with one of his biggest-ever deals.
After a dry spell, the Oracle of Omaha comes through with one of his biggest-ever deals.
(Adds analyst comments, additional data.)
NEW YORK (
) -- After alluding to a $20 billion deal for nearly a year, Warren Buffett of
Berkshire Hathaway
(BRK.A) - Get Report
aimed his "elephant gun" at
H.J. Heinz
(HNZ)
in one of his largest acquisitions ever.
Berkshire on Thursday announced a deal to buy the iconic ketchup maker for $72.50 a share in cash, in a transaction that values the company at about $28 billion when counting debt.
To buy Heinz, Berkshire will be teaming up with private equity firm
3G Capital
, an emerging leader in the food and restaurant industry.
The deal may put to rest months of speculation about where Buffett would invest Berkshire Hathaway's impressive cash hoard next. In 2009, the Oracle of Omaha, as he's known, cut his biggest-ever deal in buying railroad
Burlington Northern Santa Fe
for $26.5 billion and roughly a year later Berkshire bought chemicals giant
Lubrizol
in a $10 billion acquisition.
Previously, industrial giants like
Deere
(DE) - Get Report
and
Cummins
(CMI) - Get Report
were seen as being a good fit for Buffett's cash stockpile, which stood at over $47 billion as of the third quarter.
At Berkshire Hathaway's annual meeting last May, Buffett fanned speculation about his next large acquisition, announcing the company had come close to cutting a $22 billion deal during the last quarter of 2011. In January,
CNBC's
David Faber reported that Berkshire was in the running for the
New York Stock Exchange
(NYX)
until a competitor bourse,
IntercontinentalExchange
(ICE) - Get Report
,
prevailed with a higher bid
.
In a
CNBC
interview Thursday, Buffett said he'd been studying Heinz for decades, but formal negotiations started only two months ago. Buffett said Berkshire's partner on the deal, 3G Capital, will split the equity investment and likely take a larger role in running Heinz once the transaction is completed.
With 3G Capital, owner of
Burger King Worldwide
(BKW)
and a large investor in
Anheuser-Busch InBev
(BUD) - Get Report
, Buffett is expanding Berkshire's reach into the food industry. Always eager to invest in businesses with stable earnings and enduring products, Buffett teamed up with
Mars
to finance its acquisition of
Wm. Wrigley Jr. Co.
in 2008 for $23 billion.
Within Berkshire Hathaway's stock portfolio,
Coca-Cola
(KO) - Get Report
remains a top holding, and Buffett has been seen eating
Dairy Queen
burgers and ice cream sundaes, another Berkshire-owned company.
McLane Industries
, another Berkshire holding, is a large food distributor.
"Immediately it gave me flashbacks to the Wrigley and Mars deal," Brian Sozzi, chief equities analyst at NBG Productions, said of Thursday's acquisition.
"Longer term, you are going to see more consolidation in the
food and beverage space, chiefly because of inflation," he said, highlighting companies including
Hershey's
(HSY) - Get Report
or
Campbell Soup
(CPB) - Get Report
that could have been Berkshire targets.
"Heinz has strong, sustainable growth potential based on high-quality standards, continuous innovation, excellent management and great-tasting products," Buffett said in a statement announcing the deal. "Their global success is a testament to the power of investing behind strong brand equities and the strength of their management team and processes. We are very pleased to be a part of this partnership."
Credit Suisse analyst Robert Moskow wrote in a client note that Campbell,
Unilever
,
Nestle
and
Kraft Foods
( KFT) have been considered candidates for a merger with Heinz. However, he didn't see the prospect of those companies or a private equity firm topping the $72.50-a-share bid.
A team of Deutsche Bank analysts noted the acquisition might be an indication that "Heinz's earnings power was not being fully recognized by the market."
The Heinz deal will be financed through a combination of cash provided by Berkshire Hathaway and 3G Capital, a rollover of existing debt, and financing commitments from
Wells Fargo
(WFC) - Get Report
and
JPMorgan
(JPM) - Get Report
.
Morningstar analyst Greggory Warren
Berkshire and 3G will own $4 billion of Heinz's equity, while Berkshire will also hold preferred shares worth $8 billion that carry a dividend of 9%.
The proposed deal values Heinz at about a 20% premium to its Wednesday closing price. Shares in the company, which continues to breach record highs, had risen nearly 17% in the 12 months prior to Thursday's transaction.
"With Heinz stock recently at an all-time high and 30 consecutive quarters of organic topline growth, Heinz is being acquired from a position of strength," William Johnson, Heinz chairman and CEO, said in a statement.
-- Written by Antoine Gara in New York