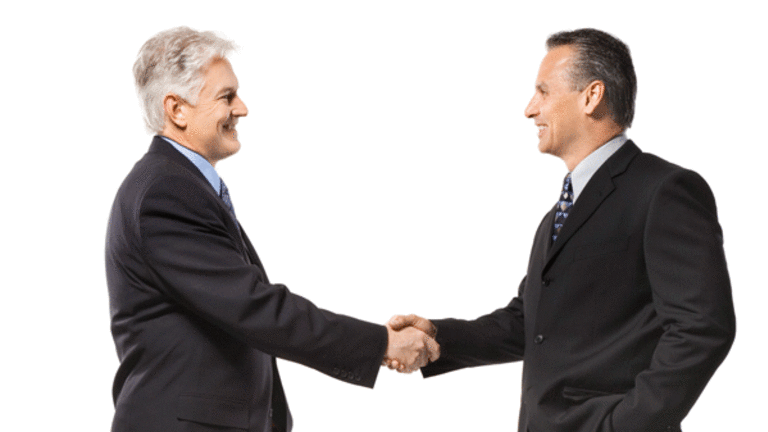 Warren Buffett's Elephant Gun Could Target Utilities Deals
Berkshire Hathaway has earmarked $100 billion in spending for MidAmerican Energy, and that could include some acquisition hunting by Warren Buffett.
NEW YORK (
) -- Did Warren Buffett give a not so subtle hint that his "elephant gun" is targeting utilities, a sector where
Berkshire Hathaway's
(BRK.A) - Get Berkshire Hathaway Inc. Class A Report
MidAmerican Energy is already one of the largest players in the U.S.?
Buffett fanned speculation at last weekend's Berkshire Hathaway annual meeting about another big acquisition when he said Berkshire had come close to cutting a $22 billion deal during the last quarter of 2011. Buffett said that the deal fell apart because of a disagreement on price and his unwillingness to sell any of his stock investments, nevertheless, he expressed confidence that in the future Berkshire will be able to bag M&A prey as large or larger than Berkshire's $26.5 billion acquisition of
Burlington Northern Santa Fe
.
Buffett's elephant gun is nothing new, and the never-ending question is what companies could Berkshire buy?
The universe of potential deals to speculate over is expansive, given Berkshire's financial might and the number of sectors in which the company already has exposure and a predilection for deals. However, Buffett's statement that the firm is looking to invest $100 billion in MidAmerican Energy may be worth a focus.
Investing Berkshire Hathaway's cash faster than the company generates it has become a major issue for Warren Buffett as Berkshire's cash stockpile sits at above $37 billion and the company draws in $1 billion a month in free cash flow. This cash "problem" has spurred the legendary value investor to put his money behind consistent-returning but capital intensive businesses like railroad BNSF in 2010 and chemicals giant
Lubrizol
in 2011.
It is also behind the comment made by Berkshire Hathaway vice chairman Charlie Munger at the shareholder meeting, "MidAmerican Energy may have an opportunity to deploy as much as $100 billion over the next 10 to 15 years at very reasonable rates." Much of that spending is likely to consist of capital expenditures, but the $100 billion estimate leaves room for strategic deals, and the figure came as one of the biggest surprises to Berkshire watchers at the shareholder meeting.
"That was far north of what I would have previously estimated," says Tom Lewandowski, an analyst with Edward Jones, adding, "Regulated returns are pretty attractive."
"Clearly
utilities is a sector he is ready, willing and able to make very large investments in," says Whitney Tilson, the founder of T2 Partners and the Tilson Mutual Funds. "I don't see anything in the current
stock portfolio that Warren Buffet is likely to make a bid for," adds Tilson. Buffett had purchased increasing equity stakes in Burlington Northern shares on three occasions leading up to pulling the trigger on the acquisition.
PG&E
(PCG) - Get PG&E Corporation Report
, for example, with a market cap of $18.8 billion, would roughly be in line with the $22 billion sized-deal when assuming a premium, and it's in a sector already seeing consolidation as regulated merchant power businesses look for cost synergies to overcome falling natural gas prices and others look to pick up regulated customers.
MidAmerican Energy's previously tried to cut large deals, offering $4.7 billion for
Constellation Energy
( CEG) amid a broad market slump in September 2008. However, MidAmerican withdrew the bid in December after Constellation divested some nuclear businesses to
Électricité de France
for $4.5 billion.. Constellation Energy was eventually sold to
Exelon
(EXC) - Get Exelon Corporation Report
, in a deal that received
Department of Justice
.
On Tuesday, a search of companies by
Bloomberg
Deere
(DE) - Get Deere & Company Report
,
Henkel
,
Cummins
(CMI) - Get Cummins Inc. Report
and
Mosaic
(MOS) - Get Mosaic Company Report
as some companies that fit within Warren Buffett's stated M&A parameters and an elephant sized deal.
Even if Berkshire continues to make large equity investments such as his recent $10 billion stake in
IBM
(IBM) - Get International Business Machines Corporation Report
and a preferred stake in
Bank of America
(BAC) - Get Bank of America Corp Report
at its 2011 share price low, Berkshire hasn't cut enough deals like Burlington Northern and Lubrizol -- which didn't even top $10 billion -- to quell concerns that cash is burning a hole in the company's pocket.
The issue of cash was on the minds of Berkshire shareholders at the annual meeting. Amid annual cheers for Berkshire and his value investing approach, analysts and investors still pushed for further clarity on Buffett's repurchasing of Berkshire Hathaway shares. During the town hall meeting, Whitney Tilson questioned whether Buffett should raise the valuation where he would consider buying back shares. Currently, Buffett says that he won't repurchase Berkshire shares if they trade for more than 1.1 times the company's book value. Currently, Berkshire has a price-to-book ratio of roughly 1.2.
"Berkshires shares have trailed the return on the S&P over the last few years, having a $30 billion cash position doesn't help," says Lewandowski of Edward Jones. Still, investments like Bank of America and crisis-time stakes in
Goldman Sachs
(GS) - Get Goldman Sachs Group, Inc. Report
and
General Electric
(GE) - Get General Electric Company Report
prove the wisdom in carrying a little spare cash. "I think stock repurchases make sense, but if you have volatility, distressed investments also could make sense," Lewandowski said.
For more on utilities M&A, see Fitch Ratings pick of
10 dividend rich, deal ready utility stocks
and why
Duke Energy's
(DUK) - Get Duke Energy Corporation Report
mega utilities deal to buy
Progress Energy
(PGN)
could still go dark
.
For more on Berkshire Hathaway, see what
Buffett knows about bank investing that you don't
and how Wells Fargo may
again.
-- Written by Antoine Gara from New York.