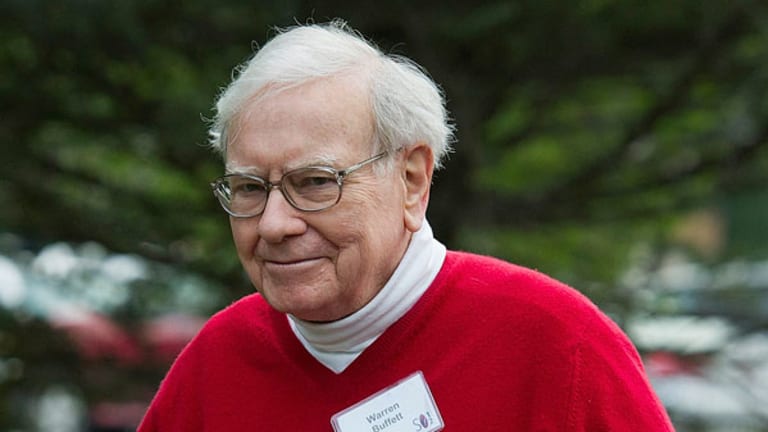 Warren Buffett's Berkshire Hathaway Has the Most Cash in America
Berkshire Hathaway has the most cash in America of any large U.S. corporation, surpassing both Apple and Verizon since the second quarter of 2014.
Berkshire Hathaway has the most cash in America of any large U.S. corporation, surpassing both Apple and Verizon since the second quarter of 2014.

WATCH: More feature videos on TheStreet TV
NEW YORK (TheStreet) - As of the middle of this year, Berkshire Hathaway (BRK.A) - Get Report had the most cash located in the U.S. of any corporation based in this country, surpassing both Apple (AAPL) - Get Report and Verizon (VZ) - Get Report. The data, while it comes with a few caveats, makes clear that Berkshire's Warren Buffett may be in the strongest position of any U.S. chief executive to make another big bet, presumably on the U.S. economy.
In the second quarter, Berkshire's overall corporate cash grew to $55.5 billion, a surge of almost $20 billion year-over-year. Since Berkshire's earnings are generated in the U.S., the company doesn't hold its cash overseas. In contrast, companies such as Apple, Microsoft (MSFT) - Get Report and Cisco (CSCO) - Get Report have higher overall cash balances but hold at least 80% of their funds abroad. Foreign cash that is invested in the U.S. is subject to repatriation tax, meaning corporations will do just about anything to keep their cash offshore.
Data compiled by TheStreet show that at this time last year, both Apple and Verizon had higher U.S. cash balances than Berkshire Hathaway's $35.7 billion. But a combination of Berkshire's strong earnings, Verizon's $130 billion acquisition of Verizon Wireless and Apple's rising dividend and share buyback activity have rearranged the leader board.
Verizon reported about $5.7 billion in cash and cash equivalents in the second quarter while Apple disclosed in a government filing that of its total holdings of $164.5 billion in cash and cash equivalents, only $26.8 billion was held in the U.S.
What to Make of the Data?
Berkshire's leading U.S. cash hoard is the fruit of Warren Buffet's decision to "buy American" in the wake of the financial crisis. Buffett bought railroad BNSF Railways in 2009, a deal he characterized as an "all-in wager on the economic future of the United States." Since the crisis, Berkshire's also cut big deals for Lubrizol, NV Energy and a minority stake Heinz, while spending billions on bolt-on acquisitions for the company's operating subsidiaries. 
Now, Berkshire's U.S. cash stockpile signals the company has a comparative advantage to its peers if Buffett was to consider another large bet on the U.S. It also appears that Buffett is ready to spend. "America's best days lie ahead," he said of his investing strategy in Berkshire's 2013 letter to shareholders.
Possible Deals
It is routine to speculate upon what Berkshire and Buffett will buy next. TheStreet has noted that utilities are a particular point of focus for Buffett and Charlie Munger. John Deere (DE) - Get Report, Aflac (AFL) - Get Report, Cummins (CMI) - Get Report and Dover (DOV) - Get Report are also often speculated as Berkshire targets. Perhaps, the rise of activist investors and corporate split-ups will create new buying opportunities for Buffett. 
The Inversion Debate
While Buffett is a somewhat of a savant when it comes to minimizing his U.S. tax bill, as evidenced by recent deals with Graham Holdings and Phillips 66, he is not part of a widespread moment across Corporate America to minimize U.S. tax bills through a shell game of holding cash abroad.
Pharmaceutical companies are undergoing in a wave of consolidation to invert their ownership abroad as a means to lower their U.S. tax bills and deploy foreign-earned cash. Technology companies, meanwhile, have simply parked most of their cash abroad, creating hundreds of billions of dollars in foreign tax liability.
A Few Caveats
As with any headline-grabbing data set, there are a few caveats to Berkshire's record U.S. cash stockpile.
Technically, Berkshire is a financial company, meaning its cash holdings are compared against banks that have to keep large cash holdings to fund their daily operations. Bank of America (BAC) - Get Report reported over $152 billion in cash and cash equivalents in the second quarter. Rest assured, they won't be bidding against Berkshire on Buffett's next deal.
Richard Lane, an analyst at Moody's who compiles data on corporate cash also notes in a Monday e-mail that the vast majority of Berkshire's cash and liquidity is owned by its insurance operations, precluding the company from being considered a non-financial firm.
Finally, Buffett has committed to keeping Berkshire's consolidated cash holdings in excess of $20 billion as a matter of financial prudence, meaning that, at most, he only has $35 billion to play with. 
Nonetheless, Berkshire leads the pack when it comes to the company with the most money to put to work in the U.S.
Here's a list of Berkshire's closest competitors:
Apple is The Cash King
As of the second quarter, Apple had America's most cash-rich corporation with $164 billion, of which $137 billion is held overseas.
Recent deals, such Apple's $3 billion purchase of Beats Music are indicative of the company's relatively small focus on M&A. Beats also technically is an Irish corporation, meaning Apple was able to put its overseas cash to work in the deal without incurring a tax charge.
Story the Same with Microsoft
Microsoft is America's second richest non-financial company with $85.7 billion in cash, 91% of which is held overseas.
While the company takes a more aggressive approach to M&A than its competitor Apple, recent deals such as an $8.5 billion purchase of Skype and its purchase of Nokia's handset business also involve overseas companies that utilize Microsoft's overseas cash.
Google Has More to Spend
Google's cash holding is less than a third the size of Apple, but the company has a comparable amount of cash in the U.S. The web search giant had $61.4 billion of total cash as of the second quarter, with just over $20 billion parked in the U.S.
Google is also one of the most acquisitive tech companies in Silicon Valley, buying Israel-based Waze, Nest Labs, Dropcam, Skybox Imaging and Motorola Mobility in recent years.
Cisco... Guess What?
Cisco, America's third leading cash holder holds 91% of its $50.5 billion in total cash abroad.
As with its tech sector peers like Microsoft, Cisco has used M&A as a means to spend the company's foreign cash holdings in recent years. The company's biggest acquisition in the past five years, the $5 billion purchase of NDS Systems, targeted an Israeli-based company. 
-- Written by Antoine Gara in New York