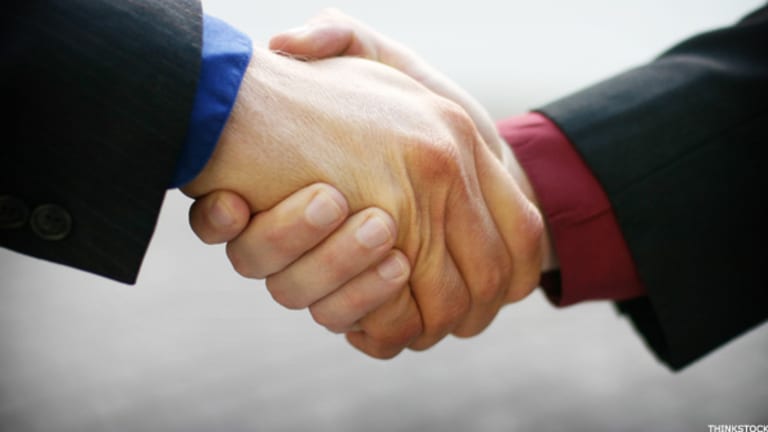 Warren Buffett Quietly Reshaping Berkshire Hathaway
Passing on Transatlantic and buying into IBM, signals a changing Berkshire investment strategy.
NEW YORK (
) --
Berkshire Hathaway
(BRK.A) - Get Report
rarely loses a deal fight, which makes Monday's news that the legendary investor was outbid for reinsurer
Transatlantic Holdings
( TRH) seem like a strange sight.
However, the fact that Berkshire lost out in a hotly contested bid to a competitor a nearly a tenth of its size in
Alleghany Corporation
(Y) - Get Report
should not be so surprising given the Omaha, Neb.-based holding company's move away from its traditional reinsurance and insurance base and its shift to a more diversified portfolio of industrial companies.
After Berkshire's $9 billion acquisition of chemicals company
Lubrizol
earlier this year, adding to its $26.5 billion purchase of railroad
Burlington Northern Santa Fe
in 2009 and $4.5 billion acquisition of industrials conglomerate
Marmon
in 2007, the company has altered a quarter of its overall revenue and profit.
"This isn't an insurance company anymore, it's a defensive conglomerate," says Tom Lewandowski an analyst at Edward Jones about Berkshire's transformation through recent deals.
While the billions spent on takeovers in recent years may look like a tack in strategy from minority investments and an insurance focus, Lewandowski says, "Berkshire has got where they are today because they haven't really changed a lot." Berkshire, as an investment management company, simply is sticking to its style of buying companies that need a giant funding source and have an attractive risk return, even if the nature of its investments are changing, says Lewandowski.
>>View Warren Buffett's Portfolio
Overall, the company, which may soon generate $20 billion in annual cash from its operations, needs to put that money to work for its shareholders who've grown accustomed to seeing shares rise faster than the
S&P 500 Index
. Signaling the need to make new types of industrials takeovers and bank investments, the company's total insurance group's revenue and profitability is still below pre-crisis levels.
With quarterly cash stockpiles over $34 billion, Berkshire's been able to spend billions in new types of investments as the global economic slump has turned many of America's blue chips into attractively priced, even distressed investments.
In 2008, Buffett played hero to the U.S. financial system by taking a $5 billion stake in
Goldman Sachs
(GS) - Get Report
and a $3 billion stake in
General Electric
(GE) - Get Report
, allowing both companies to raise capital in the most tense moments of the financial crisis. This August, as uncertainty besieged
Bank of America
(BAC) - Get Report
, the second largest bank in the U.S., Buffett made a similar investment. Recently, Berkshire's even entered into a new sector altogether with a $10.7 billion share stake in
IBM
(IBM) - Get Report
.
Even with new types of investments with an industrial and distressed focus, Berkshire's shares are lagging the S&P 500 in 2011, after outperforming the index for most of the company's history.
The question is whether plowing cash into industrial takeovers and an array of new types of minority investments have added to Berkshire share returns?
"I would say it's not been tremendously successful," says Meyer Shields an analyst with Stifel Financial about Berkshire's recent diversification. In doing its biggest ever deal by taking over Burlington Northern, Berkshire paid a 30% premium - and it made a similarly pricey acquisition in Lubrizol at $135 a share. Recently, Berkshire's stake in IBM comes at a time when the IT giant's stock hovers near all-time highs above $175 a share.
Meanwhile, Berkshire's bank investments, while a boost to the global financial system, aren't guaranteed to provide a similar lift to its shareholders.
Currently, Berkshire's warrants in GE and Goldman Sachs are underwater and it has sold back preferred share stakes in the companies below market prices paid. Berkshire did see overall gains on the stakes because of stipulations in the deals like fat dividends and premiums. With its Bank of America stake, Berkshire's returns are less certain. Currently its share purchase at $7.14 a share is well above current trading prices at below $5.16.
The new investment style, whether its banks, tech or industrial company takeovers is not just about Berkshire putting its prolific cash to work in deals that only it can make. It's also about the small returns in its insurance business. "If there were profit opportunities similar to the likes of Lubrizol and Burlington Northern in insurance, then I'm sure he'd be happy to buy an insurance company," says Shields of Stifel. He adds, "The underlying profitability of the insurance business now is much weaker than it was years ago."
To boost shares, it's unclear whether Buffett's next move will be in continued bank share stakes, company takeovers or simple stock buybacks. In a recent
Bloobmerg
interview in Japan, where he was surveying the country's post-earthquake investing landscape, Buffett said, "On the Lubrizol transaction I think we spent about $8.7 billion. We'd love another one like that -- we can handle that. We can manage somewhat larger. We can handle a $10 billion deal very comfortably."
The setting of Buffett's interview in an earthquake revaged country, along with a revival in his investments amid the financial crisis begs the question of whether Berkshire may look at using its cash in uncharacteristic ways such as distressed investments. When pressed about what the Transatlantic deal said about Berkshire's investment style, Lewandowski of Edward Jones said that Berkshire's obstinacy in engaging in a bidding war or holding the insurance unit as a standalone entity illustrates how its investing tactics haven't changed over the years. About the types of investments Berkshire is willing to make, Lewandowski says, "I think that Buffett is generally indifferent." It's the style that doesn't change.
As that indifference has pushed Berkshire Hathaway into investing in distressed banks, industrial companies and, more recently, technology, it won't be a surprise if the legendary investor switches gears once again if debt-crisis stricken companies provide attractive new ways to spend cash.
--
Written by Antoine Gara in New York
.