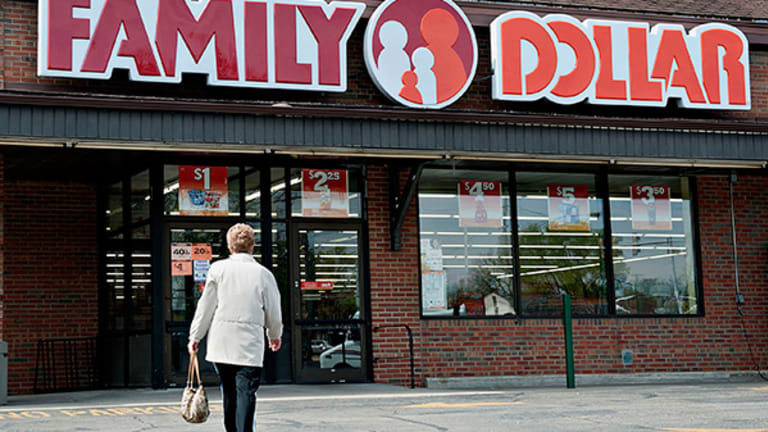 Icahn Sees New Buyers for Family Dollar After $8.5 Billion Dollar Tree Bid
Dollar General remains a better buyer of Family Dollar, even after the latter said on Monday it would merge with Dollar Tree in a $8.5 billion cash and stock deal.
Updated from 2:25 p.m. EDT with analysts' comments

NEW YORK (TheStreet) -- Dollar General (DG) - Get Dollar General Corporation Report remains a better buyer of Family Dollar (FDO) according to investors and analysts, even after the latter said on Monday it would merge with Dollar Tree (DLTR) - Get Dollar Tree, Inc. Report in a $8.5 billion cash and stock deal. But it will take some major fireworks on Wall Street to keep a bumper dollar store trade going.
Family Dollar CEO Howard Levine, the son of company founder Leon Levine, launched a strategic review in the winter of 2013 and after considering a number of bidders and alternatives for the struggling retailer, he began negotiating a merger with Dollar Tree in March. Family Dollar's brand will survive under Dollar Tree with Levine at its head, and Monday's deal is expected to generate large cost savings, helping the company complete a turnaround it began last year.
Both companies' boards of directors and, crucially, hedge fund Trian Management, a long-time investor in Family Dollar that gained a seat on the company's board in 2011, approved the merger. While Carl Icahn, Family Dollar's largest shareholder with an over 9% stake wasn't privy to the company's sale process, on Monday he voiced some support for the deal.
"This is a big win for all shareholders of Family Dollar and yet another validation of the activist investment philosophy," Icahn said in a statement. Nonetheless, he continued to press for an alternative deal, noting that other buyers may achieve greater cost cuts. He is "hopeful" that Dollar Tree's offer draws a competing bid.
Wall Street Hopes for More Dollar Store Action
Dollar Tree and Family Dollar's merger began taking shape before the Icahn took his stake in Family Dollar and called for the company's immediate sale, preferably to Dollar General. He wasn't privy to the negotiations that ensued, even if Trian Management, by way of board director Edward Garden, was.
Trian and CEO Levine, who combined own 16% of Family Dollar, will vote in favor of Dollar Tree's offer.
Now, analysts believe Dollar General could yet emerge as a bidder for Family Dollar after years of on-and-off speculation. Such is the extent of Wall Street's craze with dollar stores since the financial crisis.
Dollar General, under then CEO Rick Dreiling, passed on Family Dollar after a cursory look at a merger last fall, according to FBR Capital Markets analyst Dutch Fox. If Family Dollar had run a strong sale process, one that Icahn wouldn't poke holes through, it likely would have informed Dollar General of its emerging deal with Dollar Tree. Meanwhile, Monday's deal comes with a $305 million breakup fee, a steep price for a private equity or strategic buyer.
More Synergy?
Still, like Icahn, analysts hold out hope that a bid from Dollar General emerges. "[W]e see the possibility of a competing bid from Dollar General, so Dollar Tree may have to pay more if it really wants the asset," Credit Suisse analysts wrote on Monday.
Credit Suisse gives Family Dollar shares an $80 price target, above Dollar Tree's $74.50 cash and stock offer, which values the company at $8.5 billion, or 11.3 times its trailing 12-month earnings before interest, taxes, depreciation and amortization (EBITDA). To reinforce its perspective, Credit Suisse downgraded Dollar Tree to "neutral" on Monday.
JPMorgan is advising and providing financing to Dollar Tree, while Morgan Stanley is advising Family Dollar, leaving plenty of other Wall Street firms looking for a piece of any counter-offer.
Bank of America Merrill Lynch analysts see the fit of Family Dollar with Dollar General as so strong it could boost the company's earnings per share by 50% in the first year after a deal is closed. That projects synergies in excess of $500 million, well above the $300 million synergy target Dollar Tree believes it can achieve within three years of its Family Dollar acquisition.
"In our view, Dollar Tree and Family Dollar's models, customer bases, locations and assortments are very different, with limited overlap and, therefore, limited opportunity to obtain synergies," Bank of America wrote.
If Dollar General does emerge as a bidder, it might be able to quickly trump Dollar Tree.
According to FBR analyst Fox, a combined Family Dollar and Dollar Tree would carry $7.5 billion of debt, potentially putting overall annual interest expense near $300 million. That debt may constrain Dollar Tree's ability to increase its offer in the face of a competing bidder.
FBR's Fox never believed Dollar General would want to buy Family Dollar and involve itself in the turnaround of a worse-performing competitor. Antitrust hurdles are also seen as higher for Dollar General, given its larger geographical overlap with Family Dollar.
The Dollar Store Craze
It appears Wall Street is expecting a few more fireworks to hit Family Dollar and its CEO Howard Levine.
Levine took over the company's reins from his father in 1998 and for about a decade, he was seen as a savvy manager of the homegrown company -- then Wall Street came knocking.
KKR (KKR) - Get KKR & Co. Inc. Report bought Dollar General in 2007 and sold its investment within a few years at a huge profit after the company's 2009 IPO. Hedge fund investors turned their sights to Family Dollar, and Levine has been under attack ever since. A poor pricing strategy, over-expansion and infrastructure issues across Family Dollar only added to the pressure in recent years.
Now, Levine has figured out a way to pass Family Dollar on, and in a transaction that Icahn acknowledges comes at a significant premium. In fact, Levine was given a seat on Dollar Tree's board of directors and it appears he will continue to have sway over Family Dollar.
However, with shares trading at just above their record highs, the question is whether there is a bit more money to be squeezed from a great dollar store trade during the Great Recession? Wall Street certainly thinks so.
Family Dollar, Dollar Tree and Dollar General declined to comment. Carl Icahn couldn't immediately be reached for comment.
-- Written by Antoine Gara in New York