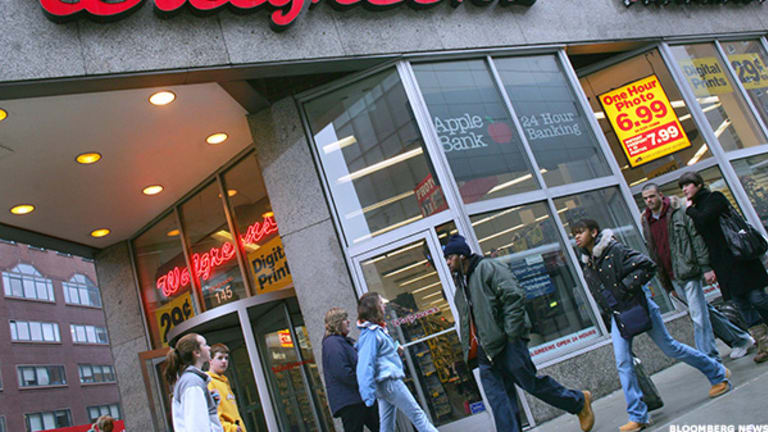 Wall Street Is Getting Ready for a Tanking of the Walgreens-Rite Aid Merger
Fight or flight? Analysts split over the path Walgreens will take if FTC says no.
Fight or flight? Analysts split over the path Walgreens will take if FTC says no.
Walgreens Boots Alliance Inc.  (WBA) - Get Report shares were up Wednesday after Wall Street analysts issued notes speculating what the company's next moves might be if the Federal Trade Commission challenges the company's plan to acquire rival pharmacy chain Rite Aid Corp. (RAD) - Get Report .
Cowen analyst Charles Ryhee said the FTC decision on the merger is too murky to forecast, but predicted in a note that Walgreens will litigate a decision to seek a judge's ruling stopping the merger. Why would Walgreen's go to the mat to defend the deal? He asserted that although Rite Aid will struggle if it is forced to continue on its own, its value to Walgreens makes the merger worth fighting for. In fact, he estimated that the value to Walgreens is well above the deal price range.
According to Ryhee, Rite Aid is worth $9.21 per share to Walgreens based on synergies of $7.65 per share and a $2 standalone value subtracted by $0.44 in divestitures.
Although he reiterated his outperform rating on Rite Aid shares, he lowered his price target to $4.70 from $6.75.
Walgreens shares were up 86 cents, or 1.07%, to $81.02 Wednesday. Rite Aid's were down 5 cents, or 1.45%, to $3.41.
Walgreens has given the FTC until July 7 to reach a decision on their pending merger, after which the companies are free to merge unless the commission files a lawsuit challenging the deal before that date.
Walgreens agreed to acquire Rite Aid for about $9.7 billion back in October 2015. In January Walgreens and Rite Aid cut the price after it became apparent the FTC would require way more stores to be divested for antitrust approval than the companies originally expected. The new agreement obligates Walgreens to divest up to 1,200 Rite Aid stores and certain additional related assets if required for FTC approval. The original merger agreement capped Walgreens' divestiture obligation at 1,000 stores.
The exact per share of Walgreen's offer will be determined based on the number of required store divestitures. If 1,000 stores or fewer are required for divestiture, Rite Aid shareholders will receive $7 per share. They will get $6.50 per share if 1,200 stores are required for divestiture. If the required divestitures fall between 1,000 and 1,200 stores, the per share price will be set according to pro-rata adjustment.
The buyer for the divested stores is slated to be Fred's Inc. . A big issue for the FTC is apparently whether Fred's will be strong enough to operate the huge number of stores it would be acquiring. If 1,200 outlets are ordered spun off that would be be nearly twice Fred's current 650-store footprint, which is mainly in small and mid-size towns across southeastern states. The purchase would give Fred's a larger footprint in urban areas and build it up as a viable competitor to a combine Walgreens-Rite Aid or even Woonsocket, R.I.-based pharmacy giant CVS Health  (CVS) - Get Report .
Another analyst, Jefferies' Brian Tanquilut predicted Walgreen shares would climb from current levels regardless of whether the Rite aid deal closes. "If the FTC blocks the deal, we expect WBA to put through a sizeable repurchase; and if the deal is approved, we continue to expect EPS accretion beginning" in calendar year 2018.
Jim Cramer, which owns WBA through his Action Alerts PLUS Charitable trust, recently weighed in on the Walgreens-Rite Aid merger stating that he likes Walgreens not matter how the merger actually pans out. 
"Although the merger uncertainty puts a ceiling on the stock, the potential also provides a floor," he wrote in note to subscribers on May 17 urging folks to buy in the $80 range.
Tanquilut updated his accretion estimate for the Rite Aid deal, which if approved he acknowledged would be saddled with an order to sell 1,000 or more stores. "We now estimate that the $1 billion synergy opportunity translates to $0.47 in EPS accretion by FY2020, or 7% EPS accretion.
Longer-term, he predicted that even if Rite Aid stores were brought up to only 80% of Walgreen's typical store productivity, that would add another $0.41 to EPS.
And if the FTC blocks the deal, he predicted share buybacks will resume, providing support to Walgreen's shares.
Unlike Cowen's Charles Ryhee, Tanquilut doubted Walgreens will bother to fight an FTC challenge in court. Instead, he predicted the company will deploy capital toward share repurchases.
A $5 billion share repurchase authorization is reasonable, he said, given Walgreen's free cash flow outlook and the excess cash generated since the Rite Aid deal was announced. At that level, "We believe the company could increase EPS by $0.17 (3%) & $0.46 (7%) in FY18 & FY19," Tanquilut wrote in his note.
He also doubted that a negative FTC ruling will have much downside to Walgreens stock because synergies from Rite Aid are not yet backed into the Walgreens shares. As a result, "combining WBA currently below-average PE/G valuation and the elimination of the overhang related to the RAD deal, we see WBA shares going higher in the next few months."
Walgreens Boots Allianceis a  holding in Jim Cramer'sAction Alerts PLUS Charitable Trust Portfolio.Want to be alerted before Cramer buys or sells WBA? Learn more now.
Click here for the latest business headlines.
Read More Trending Articles:
Why We Might Not See Another Nasty Recession Until 2024
Biotech Movers: Synergy Pharmaceuticals Explodes 15%, and Bluebird Bio May Be Next
Jim Cramer -- Canada Goose and Workday Are Killing It, and Critics Have Now Stopped Laughing