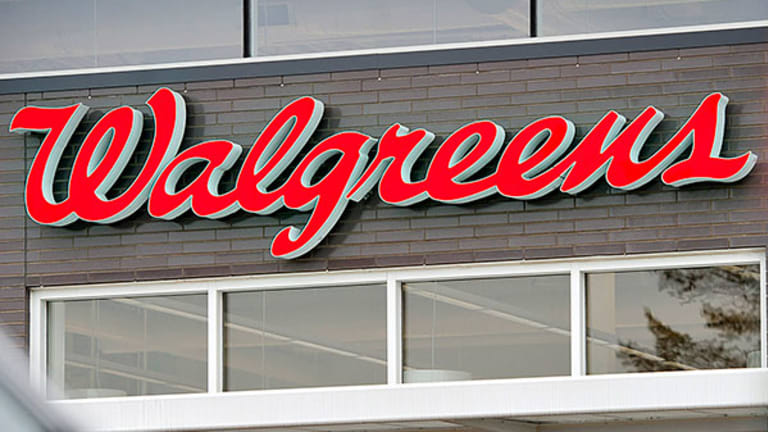 Walgreen's U.S. Fate Could Be Sealed by Labor Day
Expect Walgreen's to give further color on whether the company will move its headquarters outside the U.S. in an effort cut its corporate tax rate. That expected color comes after a handful of large Walgreen's investors began pressing the company to consider a move to a lower-tax jurisdiction as part of its acquisition of European pharmacy giant Alliance Boots.
NEW YORK (TheStreet) - Expect Walgreen's (WAG) to soon say whether the company will move its headquarters outside the U.S. in an effort cut its corporate tax rate. That expected color comes after a handful of large Walgreen's investors began pressing the company to consider a move to a lower-tax jurisdiction as part of its acquisition of European pharmacy giant Alliance Boots.
>> Read More: Hedge Funder Sees KKR's Next Deal In Washington Mutual's Shell
Walgreen's purchased 45% of Alliance Boots from private equity firm KKR in 2012 for $4 billion in cash and $2.7 billion in stock. The company also agreed to an option to buy the rest of Alliance Boots, in coming years, for $9.5 billion.
While Walgreen's didn't chose to use the first leg of the transaction to invert its ownership abroad for tax purposes, the second leg of the transaction is nearing and investors as prominent as Jana Partners are now pressing for such a move.
That has come to a boiling point in recent months, as operating performance at Walgreen's core business in the U.S. has stalled, and management publicly expressed no interest in a move to a lower-tax jurisdiction.
Read: Vapor Group Defends Position as Stock Continues to Slide
On a fourth quarter earnings call, Walgreen's CEO Gregory D. Wasson said, "[Just] to reiterate, as I said on the last call, we have no plans to do an inversion." In that earnings release, Walgreen's forecast its tax rate to be about 37.5%, while Alliance Boots would be around 20%.
Within weeks, shareholders such as Jana Partners then requested a meeting with management to express their frustration, as the Financial Timesfirst reported.
Jana and other investors at the meeting pitched their views on the merit of an inversion and Walgreen's appears to have taken the message, Crain's Business Chicago noted in a report that speculated Walgreen's management might lose its grip of the company through the Alliance Boots deal.
At a Barclays analyst conference on April 30, Walgreen's management changed its tune on an inversion. Such a tax move is being considered, the company said.
"We're evaluating all of that. We are aware of all of the inversions that are happening and certainly all of that is being investigated in Part II," Walgreen's investor relations head Rick J. Hans said. "We've never been a proponent to pay more taxes than we have to. We try to optimize that. It creates value," he added, while noting that there could be costs and benefits to such a move.
Read: Twitter Insiders Are Selling Shares
Obvious costs would include increased public scrutiny of a move abroad, possible customer defections and government reaction, especially because the pharmacy benefits operations of Walgreen's are a recipient of Medicare and Medicaid-related drug prescription dollars. Benefits would include a tax rate that could drop as low as 20%, according to tax expert Robert Willens.
A part of Walgreen's changing commentary that hasn't been reported on is how quickly a decision may be made. Hans, the Walgreen's IR executive, said at the Barclays conference investors should expect a decision on the possible inversion by late summer or early fall, when the company files its annual proxy to shareholders.
"[You'll] have that certainly by the time we come over the proxy," Hans said of whether or not Walgreen's will pursue an inversion. "You'd see some details on that," he added, while noting the proxy is slated for late summer or early fall.
Inversion Not Guaranteed
If Walgreen's is weighing costs and benefits of a tax-related move abroad, there is reason to believe the company may now have the ability to make the decision it wants.
Pfizer's (PFE) - Get Report recent plan to acquire AstraZeneca (AZN) - Get Report and shift its headquarters to Britain, and the subsequent outcry in Washington and London, may mean Walgreen's could sneak a similar inversion without the same scrutiny, according to Willens, the tax expert.
Willens said in a telephone interview that when the Alliance Boots deal was first announced he didn't believe an inversion would be possible, given customer and political backlash. Now he's not so sure.
Aside from properly assessing any political fallout, there are practical reasons why an inversion may be complicated.
An inversion would now require a re-working of the transaction so that Alliance Boots is the acquirer of Walgreen's. Furthermore, Walgreen's already owns 45% of Alliance Boots stock, meaning that capital gains on those shares would be taxable if the stake was transferred between parties.
Willens said that an inversion now carries so-called "hook stock" and would break new ground in what is already a widening array of tax-avoiding M&A transactions. Still, if Walgreen's and Alliance Boots have a plan in place to shift a growing percentage of U.S.-based earnings abroad, Willens said the maneuvering may be worth it.
Read: What Pigs and Cement Tell Us About China's Economic Strategy
Jana's Plan
An inversion may not turn out to be an absolute must-do move in the eyes of Walgreen's increasingly vocal shareholders. Jana Partners, at a recent activist investing conference, disclosed an range of changes at Walgreen's that it believes can drive value at the company as it completes the Alliance Boots deal.
For instance, a plan to better optimize the front-end of Walgreen's stores where non-pharmacy goods are sold such as beer, deodorant and the like, could help improve the company's margins. Compared with peers, Walgreen's appears to be lagging, with EBIT (earnings before interest and taxes) margins about a third lower than its biggest rival, CVS Caremark (CVS) - Get Report. Alliance Boots EBIT margins, meanwhile, are roughly double those of Walgreen's.
Synergies in the merger, meanwhile, are forecast to reach $1 billion by 2016, with those estimates possibly on the conservative side.
As with most recent activist investment plays, there also appear ways Walgreen's can better use its balance sheet to return capital to investors through rising share buybacks and dividends.
There are other plans. Alliance Boots is led by Stefano Pessina, an executive who orchestrated the construction of Alliance UniChem Group and merged it with Boots in 2006 The combined company was quickly swooped up by private equity firm KKR in a $22 billion deal at the height of the credit bubble.
Pessina stuck around at Alliance Boots and has helped the company through some lean years in the wake of the crisis. He, according to the terms of the Walgreen's merger, will become the combined company's single largest shareholder. Investors such as Jana, which now holds roughly $1 billion worth of Walgreen's shares, want to see Pessina and his executive team play a significant role in the combined company.
Perhaps the decision to either invert or remain headquartered in the U.S. will be an early read on the extent of change brewing at Walgreen's.
The quiet may not last until Walgreen's files its proxy. Walgreen's has a busy slate of public presentations, including earnings calls and investor conferences. Tax-related issues, in addition to boardroom intrigue, are on the minds of most investors and analysts following the company.
Jana declined to comment. Walgreens did not provide comment beyond its public statements.
Bottom Line: Walgreens may or may not decide to move its headquarters abroad. Regardless, expect some drastic change to the long-time family run company.
>> Read More: Pfizer Can Stay in Dow After British Move
>> Read More: TheStreet's Top 5 Dealmakers
-- Written by Antoine Gara in New York