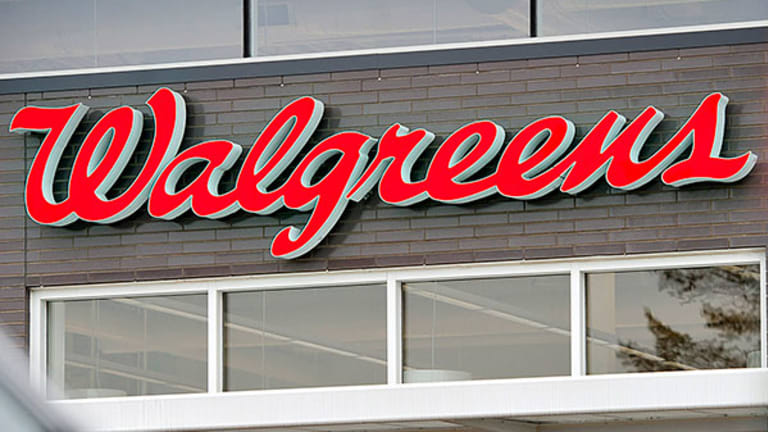 Walgreens Turnaround Could Make Alliance Boots Deal Exciting Again
Walgreens has been one of the most disappointing stocks in the second half of 2014, but the company could return to its darling ways when it reports earnings on Tuesday.
NEW YORK (TheStreet) –- Walgreens (WAG) has been one of the most disappointing stocks in the second half of 2014, having fallen 17% since mid-year. But the Deerfield, Ill.-based drugstore chain could once again excite investors when it reports fourth-quarter earnings on Tuesday. Positive commentary by Walgreens on issues impacting its business such as health care reimbursement rates and generic drug price inflation could significantly shore up Wall Street's confidence as the company closes its acquisition of European pharmacy giant Alliance Boots.
So far, Walgreens acquisition of Alliance Boots has been a messy process and analysts and investors still don't have a handle on what type of earnings or valuation to expect out of the combined company. Analyst estimates and Walgreens own internal financial forecasts indicate expectations for the company could move higher as clarity sets in and Walgreens transforms itself into an international powerhouse that will be the largest buyer of pharmaceutical drugs globally.
Deutsche Bank analysts believe Walgreens will provide a meaningful update on Tuesday. If the company's guidance gels with bulls like Deutsche Bank, it could turn investor conversation back to the expected synergies and growth opportunities presented by the Walgreens-Alliance Boots deal and other recent moves, such as a partnership with Amerisource Bergen (ABC) .
"We believe there is the potential for earnings estimates to increase if management has overestimated the long-term margin pressure or increases cost savings," Deutsche Bank said of Walgreens outlook in a Sept. 19 note. Shares of Walgreens were gaining 0.5% to $61.40.
Changing the Conversation
In early August, Walgreens sharply cut forecasts for the company's earnings in 2016 as it absorbs Alliance Boots, in a disclosure that sent the company's stock tumbling to multi-year lows.The company forecast between $126 billion and $130 billion in sales by 2016, and earnings of between $4.25 and $4.60 a share. Those figures amounted to an about 20% cut from Walgreen's initial targets for its Alliance Boots deal in 2012.
CEO Gregory Wasson and Alliance Boots head Stefano Pessina blamed Walgreens new guidance on a changing reimbursement landscape and generic drug price inflation. Analysts were left scratching their heads with some calling the guidance "shocking" and "extremely disappointing," while others viewed the disclosure as evidence of deterioration in the company's business.
Nonetheless, analyst estimates betray optimism for the combined operation, which will be renamed Walgreens Boots Alliance.
Walgreens is forecast to earn $127 billion in revenue and $4.58 in adjusted EPS by 2016, according to analyst estimates compiled by Bloomberg. Forecasts for 2015 are less clear. Internal projections from a recent SEC filing indicate company could earn $4.03 in 2015 EPS; however, that figure assumes the close of the Alliance Boots deal on Sept. 1. The deal is now forecast by the company to close in the first quarter of 2015. 
Investor Outcry Could Cool
As Walgreens worked to close its Alliance Boots deal in two steps, the company came up against vocal hedge fund investors in 2014. In April, Jana Partners and other funds back-channeled with Walgreens to have the company consider dramatic management, board and operational change. The hedge fund also called for Walgreens to consider a so-called inversion that would shift the company's headquarters abroad for tax savings.
That debate spilled out into the press and top Washington circles. Illinois senator Dick Durbin decried Walgreens possible move abroad and the company quickly became a poster-child for tax-dodging deals on Wall Street. Ultimately, Walgreens decided to remain headquartered in the U.S.
Still, change abounds at Walgreens. Top Alliance Boots executives will take key roles in the combined company and in early September, Walgreens took Barry Rosenstein, founder of Jana Partners, onto its board of directors, in addition to another yet-to-be named director.
Investors may be reassured by the growing influence of Alliance Boots top brass like Pessina within the combined company, and Jana Partners has a very strong record of creating value for shareholders once it gains the ear of management.
While the media focused almost exclusively on Jana's now-dead recommendation for an inversion, the hedge fund also laid out a detailed plan to improve the front-end of Walgreens stores and a recommendation that the company consider increased share buyback activity and a more aggressive capital structure.
TheStreetreported in late August it is those areas where investors may focus and which may create room for improvement at Walgreens. Walgreens also recently vowed to give investors greater insight into its financial outlook, business strategy and capital structure when it closes the Alliance Boots deal.
In the meantime, earnings on Tuesday earnings could go a long way in shoring up investor confidence. With August's guidance cut in the rear mirror, any indication that bad news is behind Walgreens could help the company return to outperformance.
Walgreens initially tumbled when it announced plans to buy Alliance Boots in 2012 as analysts questioned the logic of the deal. However, Wall Street quickly changed its tune and shares in Walgreens more than doubled within 18-months. 
Bottom Line: Investors and analysts still like the Alliance Boots deal, and the positives of the acquisition may ultimately carry the day for Walgreens.
-- Written by Antoine Gara in New York
Clarification: An earlier version of this story did not mention that the projection by Walgreens of $4.03 EPS in 2015 was based on the Alliance Boots deal closing on Sept. 1, a point the company clarified in a Sept. 19 SEC filing.