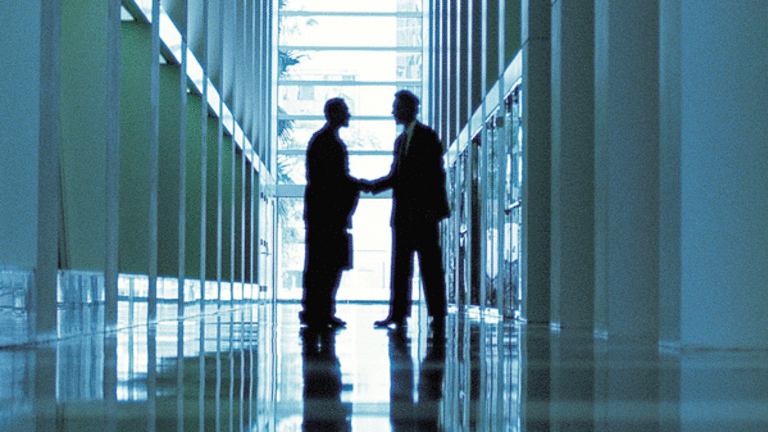 Walgreens Tumbles on Costly Global Deal (Update 1)
Walgreens shares tumbled near 52-week lows after the company took a stake in Alliance Boots for $6.7 billion.
Updated to include CEO comments and additional analyst reactions
.
NEW YORK (
) -- Amid a contract standoff with competitor
Express Scripts
(ESRX)
and sales losses to
CVS Caremark
(CVS) - Get CVS Health Corporation Report
,
Walgreens
(WAG)
, the largest drugstore chain in the U.S., is hitting back after taking a 45% stake in European pharmacy giant
Alliance Boots
for $6.7 billion, in a cash and stock deal.
For Walgreens, the deal could transform the company into an international pharmacy powerhouse with a top presence in the U.S. and Europe, while giving it a growth and M&A strategy that differs from competitors Express Scripts and CVS Caremark who have scaled their U.S. presence through large deals in recent years.
However, analyst reactions and Walgreens tumbling shares signal that the company has to prove now is the time to invest in an international and European growth push, and that it can offset prospective market share losses in the fast-consolidating U.S. pharmacy industry.
With Alliance Boots, Walgreens will become one of the world's top drug store and pharmacies with over 11,000 stores in 12 countries, primarily in North America and Europe. For both companies, the deal fills a big strategic need; however, it comes at a big cost.
Walgreens will pay $4 billion in cash and $2.7 billion in its stock for a 45% stake in Alliance Boots and will have the option to buy a remaining 55% stake in Alliance Boots for $9.5 billion in coming years. That prospective $16.2 billion takeover valuation also comes with roughly $11 billion in Alliance Boots debt after its 2007 private equity buyout led by private equity giant
KKR
(KKR) - Get KKR & Co. Inc. Class A Report
.
Already, Walgreens has lined up $3.5 billion in bridge financing from Goldman Sachs and Bank of America Merrill Lynch to pay for the first leg of the deal.
Faced with a standoff on a $5 billion drug prescriptions contract with Express Scripts, and key customer losses to CVS Caremark, Tuesday's stake acquisition gives Walgreens a growth plan to counter quarterly sales losses. Meanwhile, Alliance Boots has found an entry into the U.S. after its chairman and part owner Stefano Pessina said that he would look for a "transformational" deal to turn the company from a European powerhouse into an international player.
The question is whether the timing of Walgreens bold international push and the strategy can add to the company's earnings, which may be hit by its Express Scripts standoff and customer losses.
"It is not surprising to see Walgreens pursue a substantial investment to mitigate the risk of lost Medco Health Solutions business and its limited opportunity to recover Express Scripts business," wrote Bank of America Merrill Lynch analyst Robert Willoughby, in a note to clients. Willoughby re-iterated an underperform rating on Walgreens and a $26 a share price target, citing continued U.S. market share losses to Express Scripts and CVS Caremark.
Walgreens said that the deal may add up to 27 cents to its diluted earnings per share after the deal closes, on an expected $150 million in annual cost savings and up to $1 billion in synergies through 2016.
In spite of a tough economy, Walgreens chief executive Gregory Wasson said the deal was done at "the right time," stressing that Alliance Boots generates the bulk of its revenue from stable European countries and that pharmacies historically perform well in a tough economy. Synergies will come from procurement and the introduction of Alliance Boots beauty brands to Walgreens stores, Wasson added.
"The synergy numbers are very real," says GAMCO Investors analyst Jeff Jonas, highlighting verticals like drug procurement and Boots' beauty products. Still, Jonas calls the deal "defensive" and says that, as a result, Walgreens paid a full price of roughly 10-to-11 times Alliance Boots' expected earnings.
"There is certainly no discount for Europe," says Jonas of the deal, adding that upside will hinge on continued double digit growth at Alliance Boots. "It's really execution at this point... and the global economy." Jonas adds that an alternative would have been for Walgreens to take a profit hit on a settlement with Express Scripts and use its cash to boost share buybacks.
Guggenheim Securities analyst John Heinbockel questions the timing of the EU push and cautions that the deal may not offset a prospective earnings loss if Express Scripts takes its existing Medco contracts, after their merger.
"
We always thought that such expansion efforts would occur further down the line, be relatively modest in scale, and be initially centered on the faster growing Latin American markets," writes Heinbockel.
Walgreen also said it would increase its quarterly dividend to 27.5 cents per share from 22.5 cents.
In Tuesday trading, Walgreen shares tumbled nearly 6% to $30.09, near 52-week lows hit in pre-market trading. The Deerfield, Ill- based company's shares are off nearly 10% in 2012, underperforming double digit 2012 stock gains by Express Scripts and CVS Caremark.
The deal has benefits, such as creating new growth opportunities for Walgreens and its shareholders. "We applaud Walgreen management for no longer sitting on its hands from a strategic perspective given the ongoing Express Scripts impasse," wrote UBS analyst Jason DeRise in a Tuesday note to clients.
"Our sense is that investors will now begin to refocus on Walgreen as more of a growth investment opportunity as opposed to trading opportunity around a potential resolution (or lack thereof) to the ESRX dispute."
Separately, Walgreens reported fiscal third quarter earnings per share of 62 cents, meeting street estimates; however, a sales fell 3.4% year-over-year to $17.8 billion, slightly missing estimates. Last month, Nottingham, England -based Alliance Boots reported a 12% increase in annual profit, on growth at its wholesale pharmaceuticals business
In a sense, the deal marks a second attempt to buy Alliance Boots and turn a profit. In 2007, KKR and Alliance Boots Chairman Stefano Pessina took the company private in $12 billion pound buyout that was the largest private equity deal at the time. Since then, KKR says that Alliance Boots profits have surged 88%.
As part of 45% stake acquisition by Walgreen, KKR will receive $2 billion in cash and stock for roughly half of its Alliance Boots stake after it made a $2.45 billion investment in 2007. The private equity giant will also gain a seat on Walgreen's board.
"We are looking forward to working with Alliance Boots to leverage our combined strengths and provide an even broader range of innovative, cost-effective products and services to patients and customers across the healthcare landscape," said Walgreens chief executive Gregory Wasson, of Tuesday's stake acquisition.
"Together we will be ideally positioned to expand our customer offerings in our existing markets and become the health and wellbeing partner of choice in emerging markets."
That strategy counters other long-speculated options for Walgreens, including a takeover of debt-laden pharmacy and drug store giant
Rite Aid
(RAD) - Get Rite Aid Corporation Report
.
In November, Susquehanna Financial Group analyst Joseph Stauff wrote in a note to clients that Rite Aid could be a target of Walgreen, the largest U.S. drugstore chain. With Rite Aid, Walgreen would further bolster its near 30% market share, distancing it from
CVS Caremark
(CVS) - Get CVS Health Corporation Report
, the industry second, noted Stauff.
In March, Credit Suisse analyst Edward Kelly said that a Rite Aid acquisition would help Walgreen push against drugstore competition by pharmacy benefits managers like CVS Caremark and Express Scripts, which completed a $29 billion 2011 acquisition of
Medco Health Solutions
(MHS)
.
Tuesday's deal counters those expectations and Walgreens previous M&A history, as it shifts its strategy internationally. In 2010, Walgreen spent $1.1 billion to buy New York-based drug-store chain Duane Reade from private equity firm Oak Hill Capital and was a bidder for Longs Drug Stores, another U.S. chain that was eventually bought by CVS Caremark.
For more on investing in drug stores and pharmacy giants see why Rite Aid's earnings
and why Express Scripts could be
sandbagging synergies.
-- Written by Antoine Gara in New York