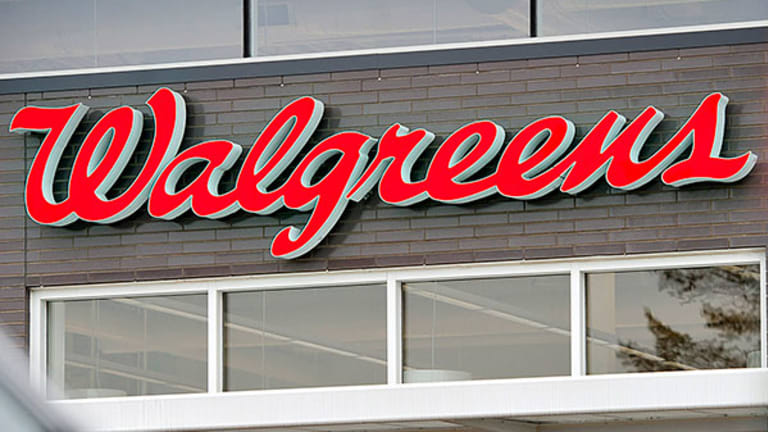 Walgreens Never Said It Would Do an Inversion
Walgreens may be staying in Chicagoland but who's in control of the drugstore retailer anyways?
Updated from 10:08 a.m. ET to include additional comments from Walgreens and analysts.
NEW YORK (TheStreet) -- Who's in control of Walgreens (WAG) ?
The drugstore's decision Wednesday to remain headquartered in the suburbs of Chicago rather than move to Switzerland as it completes the acquisition of European pharmacy giant Alliance Boots, indicates that Walgreens' management may have retained its grip of the once family-run company amid investor scrutiny.
Shares of Walgreens were tanking, dropping nearly 14% to $59.50. News that the retailer will remain in Deerfield, Ill. hit Walgreens stock on Tuesday evening. A sharp cut to the company's guidance on Wednesday morning as it completes its Alliance Boots deal caused a further selloff. 
Walgreens CEO Gregory Wasson initially dismissed the notion that the company could use the phase step of its acquisition of Alliance Boots to shift its tax headquarters abroad. Then, when hedge fund investors such as Jana Partners and Corvex Management pressured Walgreens to pursue such a move along with sweeping operational, financial and management changes, the company changed its tune.
Walgreens said in late April it was "evaluating" a tax inversion transaction and would update shareholders by the end of the summer. Some even speculated that Alliance Boots management, with the backing of investors, might quickly take the reins of Walgreens as both companies merged.
However, Wasson never said the company would actually go through with an inversion. On Wednesday morning, Wasson said that after analyzing the political, legal and consumer reaction to such a maneuver, the company decided to keep its tax headquarters in the U.S. That decision may have large ramifications on a growing trend among U.S. businesses to consider similar inversion transactions.
Spokesperson Michael Polzin said to complete an inversion Walgreens would have had to amend its Alliance Boots deal in a fundamental manner to avoid anti-abuse rules with the Internal Revenue Service. Instead, the company decided to accelerate its purchase of Alliance Boots without risking a legal limbo, CEO Wasson said on a call with analysts.
Perhaps, Walgreens' decision to remain in the U.S. signals that Wasson has a firm grip on Walgreens and the support of its board of directors, even if hedge fund investors have publicly said they would prefer the management team of Alliance Boots.
Wasson will remain CEO of the combined company, and Walgreens independent chairman James Skinner will be non-executive chairman the new company, which will be called Walgreens Boots Alliance.
Stefano Pessina, the head of Alliance Boots whom has tremendous support from hedge fund investors, will hold a role as executive chairman of Alliance Boots and executive vice chairman of the combined company. Pessina will report to Wasson and be tasked with strategy and M&A, in addition to chairing a strategy committee for the combined company.
Walgreens top brass, it appears, hold the reins of the combined Walgreens Boots Alliance. At the executive ranks, the story is the same.
Four of the nine-member member management team will be comprised of legacy Alliance Boots executives. However, Jefferies analysts note that Alliance Boots will have a prominent role in the combined company.
Alex Gourlay, a former Boots executive, will become president of Walgreens, while Ornella Barra, another Alliance Boots executive, will become CEO of global wholesale. Walgreens spokesperson Polzin said that new Alliance Boots executives may bring expertise in health and daily living to the combined management team, while Walgreens may bring new ideas Alliance Boots' retail pharmacy business.
Tim McLevish, an outside executive from Kraft Foods (KRFT)  who was announced as Walgreens new CFO on Monday, will run the finances of the combined company.
"This combination is a true partnership, further evidenced by the composition of the future management team of Walgreens Boots Alliance," Pessina said in a Wednesday statement.
It is unclear whether Walgreens hedge fund shareholders who advocated an inversion, operational change and a significant influence of Alliance Boots management within the combined company will find Wednesday's moves to be sufficient.
Jana declined to comment. Corvex didn't return a call for comment.
No Inversion
CEO Wasson said on Wednesday that Walgreens thoroughly considered the tax implication of an inversion, in addition to political fallout and a consumer backlash. At the end of the day, the company decided a move abroad was untenable.
"[T]he company concluded it was not in the best long-term interest of our shareholders to attempt to re-domicile outside the U.S.," the company said.
Walgreens is buying a remaining 55% interest in Alliance Boots for $5.29 billion at current exchange rates, and about 144.3 million shares of Walgreens stock. In 2012, Walgreen's purchased an initial 45% stake in Alliance Boots from private equity firm KKR in 2012 for $4 billion in cash and $2.7 billion in stock.
Lowered Guidance
Walgreens shares tumbled about 5% on Tuesday evening as reports emerged wouldn't shift its tax headquarters abroad. On Wednesday morning, shares entered a free-fall after the company disclosed a new guidance for its Alliance Boots transaction, lowering near-term targets by as much as 20%.
When combined, Walgreen and Alliance Boots are forecast to earn $126 billion to $130 billion in revenue and adjusted earnings per share of $4.25 to $4.60. The company also announced $1 billion in cost savings, while reiterating a target of over $1 billion synergies.
Nonetheless, those financial targets indicate an about a $2 billion drop in Walgreens earnings before interest and taxes (EBIT) guidance, versus forecasts the company gave when it initially announced the Alliance boots transaction in 2012. Deutsche Bank said Wednesday's announcement "at best could be considered extremely disappointing."
While Walgreens attributed the drop in guidance to falling healthcare reimbursements, some analysts characterized the falling guidance as "shocking," and indicative of the company's limited visibility into its revenue. Barclays said Walgreens rising synergy forecasts and cuts to guidance may indicate an unforeseen deterioration in Walgreens core business.
Walgreens wasn't able to provide new EBIT targets, and said its forecasting has shifted to earnings per share targets, which should grow by double digits in coming years. The company also authorized a $3 billion share repurchase program through the end of fiscal 2016, and a 7.1% increase to the company's quarterly dividend to 33.75 cents a share.
-- Written by Antoine Gara in New York