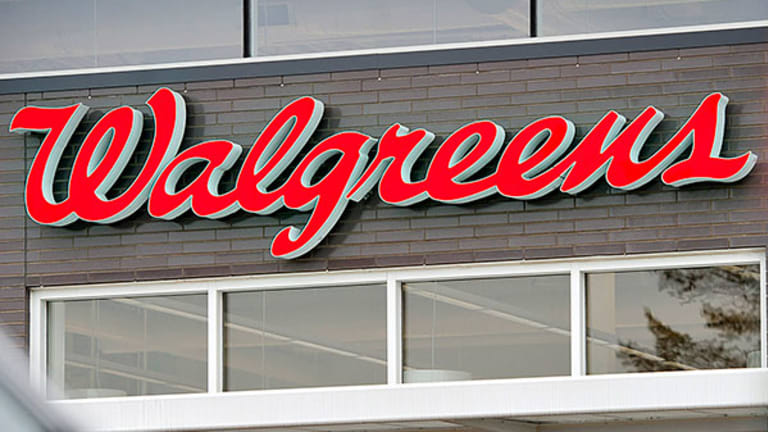 Publish date:
Walgreen Investors Focus on Buybacks with Inversion Now Dead
Walgreen is being pressed by investors to increase its share buyback activity, sources close to the situation told TheStreet.
Walgreen is being pressed by investors to increase its share buyback activity, sources close to the situation told TheStreet.
NEW YORK (TheStreet) – Walgreen (WAG) is being pressed by investors to increase its share buyback activity, sources close to the situation told TheStreet, with some analysts stating the company could buy back up to 130 million shares through a leveraged recapitalization of its balance sheet.
These shareholder complaints stem from Walgreen's guidance for the second leg of its acquisition of Alliance Boots, which stipulated that the pharmacy giant will keep its headquarters in the Chicago area, shake up its board and executive ranks, and buy back up to $3 billion worth of stock by 2016. Large investors, some of whom had initiated calls for Walgreens to consider shifting its headquarters abroad as part of its Alliance Boots acquisition, continue to focus on changing the company's capital structure as the Alliance Boots deal moves to completion, the sources said.
Barclays Capital analyst Meredith Adler characterized Walgreen's buyback plans as a "disservice to shareholders" on an Aug. 6 conference call and said the company could buy back $3 billion in stock this year. In June, Adler said in a report Walgreens could spend north of $14 billion on a leveraged recapitalization of its balance sheet so long as it also provided a debt reduction plan to bond rating agencies.
While Walgreen's financial outlook soured in August, the company's capital structure and share buyback activity remains an area where investors may have the biggest influence now that the inversion debate is dead.
Read More:
Walgreens Never Said it would Do an Inversion
Despite speculation of a potential inversion, the company never actually said it would make such a move. Meanwhile, vocal investors weren't just calling for a tax move abroad; they also lobbied to have Alliance Boots management take a substantial role within the combined company, and for Walgreens to improve its capital allocation policy.
Walgreens appears to have generally met investor demands by putting key Alliance Boots executives such as CEO Stefano Pessina, Alex Gourlay and Ornella Barra in top roles within the combined company, now called Walgreens Boots Alliance. But, Walgreens disappointed investors and also the analyst community when it came to earnings guidance and the company's thinking on capital structure.
Investors believe Walgreens has the ability to use cash on its balance sheet and new debt to meaningfully increase its share buyback activity, even as it works to close the Alliance Boots transaction and refinance higher-cost debts.
Currently, Walgreens operates at a debt level of just one times earnings before interest, taxes, depreciation and amortization (EBITDA). While Walgreens is forecast to take on roughly $8.5 billion in debt with Alliance Boots, a formerly KKR-owned company, it is forecast by Deutsche Bank analysts to have debt of just 1.9 times EBITDA by fiscal 2015 and 1.4 times EBITDA by 2016. Investors have long looked at those low debt levels, in addition to balance sheet cash as a missed opportunity to create value.
However, Walgreens left its capital structure and buyback activity largely intact on Aug. 6 when announcing the second phase of its Alliance Boots purchase. The company said it will buy back $3 billion in stock through 2016. Investors and analysts think Walgreen's is capable of a leveraged recapitalization and those total buybacks annually.
A difference of opinion on the importance of maintaining current bond ratings appears to be driving a wedge between Walgreens and its investors.
Walgreens said on Aug. 6 its stock buyback plans hinge on maintaining investment grade credit ratings. Treasurer Jason Dubinsky said Walgreens did not want top drop below mid-BBB ratings at both Standard & Poor's and Moody's, citing the company's emphasis on financial flexibility and continued access to commercial paper markets.
"[W]e've adequately sized the share repurchase capacity to keep us in that zone, and we're confident that that's the right place to be for us right now and for the longer term," Dubinsky concluded. To Dubinsky's point, Moody's Investor Service placed Walgreen's Baa1 rating on review for a downgrade on Aug. 6, citing the company's buyback plan.
Investors, however, disagree with Walgreens and they have voiced their concerns to the company.
"Subsequent to our investor call on Aug. 6, we have received feedback from several shareholders regarding our overall capital allocation policy that we set forth on the call," Walgreens spokesperson Michael Polzin said in an e-mail to TheStreet.
"We are always open and receptive to shareholders' views, and we will accordingly ensure that our board has received this feedback and will keep it in mind as it considers future activity," Polzin added, while declining to name the investors who had spoken to Walgreen's or to elaborate on their demands.
Jana Partners, one of Walgreen's most vocal hedge funds shareholders, will remain a large investor in the company and continue to express its views on capital allocation to management, a source with knowledge of the fund's thinking told TheStreet. Jana Partners, in addition to other shareholders such as Och-Ziff Management, Viking Global Management and Corvex Management, declined to comment for this article.
It Was Never Just About Taxes
In an April presentation in Manhattan, Jana Partners said Walgreens could improve its capital allocation and long-term EPS targets through significantly larger share repurchases funded by cash on hand and debt. The fund was also the first to speak publicly about an inversion and the prospect that Alliance Boots executives should play a prominent role within the combined company, helping to improve store layouts and efficiency.
Jana said Walgreens could better optimize the front-end of its stores where non-pharmacy goods such as beer, deodorant and food are sold, giving a boost to margins. Compared with peers, Walgreens appears to be lagging, with EBIT (earnings before interest and taxes) margins about a third lower than its biggest rival, CVS Caremark (CVS) - Get CVS Health Corporation Report . Alliance Boots EBIT margins, meanwhile, are far higher than Walgreen's.
With Alliance Boots top management like taking a prominent role within the combined company, it won't be surprising to see positive change at the Walgreens store level.
Alex Gourlay, a former Boots executive, will become president of Walgreens, while Ornella Barra, another Alliance Boots executive, will become CEO of global wholesale. Walgreens spokesperson Polzin said in an Aug. 6 telephone interview new Alliance Boots executives may bring expertise in health and daily living to the combined management team, while Walgreen's may bring new ideas to Boots' retail pharmacy business.
Analysts also like the strategic merit of the Walgreens and Alliance Boots combination, with many expecting significant procurement and operational synergies as the company becomes the biggest drug buyer in the world. Walgreens expects $1 billion in synergies and another $1 billion in cost savings as the acquisition closes. However, inflation within Medicare prescription drug plans sharply undercut the company's guidance for coming years.
Walgreens now expects 2016 revenue to be between $126 billion and $130 billion, with earnings between $4.25 and $4.60 a share, inclusive of the company's planned share buyback activity. That amounts to an about 20% cut to EPS guidance from Walgreen's initial targets in 2012.
Perhaps, if Walgreen's can recover from what appears to be a major forecasting error on prescription drug prices, the case for an expanded buyback program is stronger than ever. Share buybacks also are most likely to be the focus of Walgreen's investors, who've seen their shares tumble nearly 15% in value over the past month.
-- Written by Antoine Gara in New York