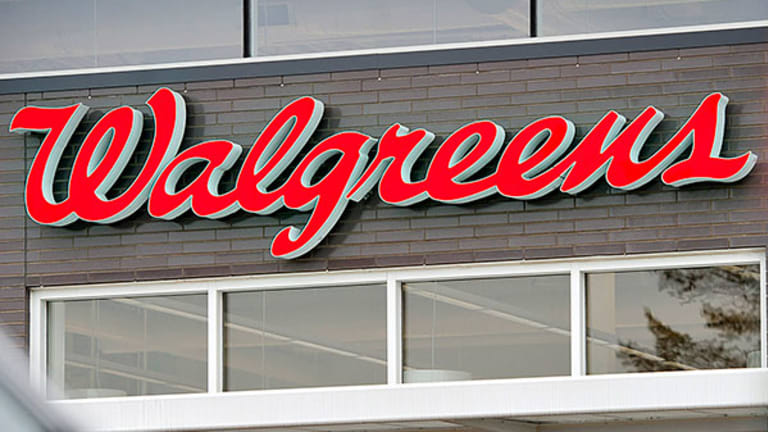 Walgreen Shakeup From Investor Pressure Due by August
As the deal to buy Alliance Boots proceeds, Walgreen will disclose how it expects to operate and be managed in July or early August.
NEW YORK (TheStreet) -- Walgreen (WAG) will give investors an update on its strategy by late July or early August, as the company completes its acquisition of European pharmacy Alliance Boots and tries to close a performance gap with competitors such as CVS Caremark (CVS) - Get CVS Health Corporation Report.
That disclosure will shed light on the future of Walgreen after CEO Gregory Wasson took the company's reins in 2009, and will show whether the Deerfield, Ill.-based company will pursue so-called inversion transaction that would shift its headquarters to a lower tax jurisdiction abroad.
Walgreen's US Fate Could Be Sealed By Labor Day
Behind the scenes, Walgreen is facing pressure from activist hedge fund investors like Jana Partners to use its two-step acquisition of Alliance Boots to dramatically change the way the company operates amid a tough environment for drugstores and pharmacy benefit manager profit margins. At the most extreme, Jana and other investors would like Walgreen to use the purchase of a remaining 55% stake in Alliance Boots to invert its ownership structure, shifting its headquarters abroad.
Jana, which recently disclosed a near $1 billion stake in Walgreen shares, has also advocated that Walgreen take a significant number of Alliance Boots management into its ranks. Stefano Pessina, CEO of Alliance Boots, is already Walgreen's largest investor and his overall ownership could grow in excess of 16% of the company's outstanding stock when phase two of the transaction closes.
Pessina orchestrated the construction of Alliance UniChem Group and merged it with Boots in 2006. The combined company was quickly bought by private equity firm KKR in a $22 billion deal at the height of the credit bubble. Jana and other investors believe Pessina team could greatly improve performance throughout Walgreen. However, it is Walgreen that is buying Alliance Boots.
Could Alliance Boots ultimately wind up buying Walgreen as part of an inversion transaction and Pessina be working on a bit of a management coup of the U.S. pharmacy giant? That remains to be seen. Walgreen's outlook later this summer will show the extent that investors are influencing the company's decision making. Barclays analyst Meredith Adler recently said Walgreen investors are in the driver's seat.
"Walgreens' management and Board appear to have begun to internalize the constructive criticisms of increasingly vocal shareholders. We believe the Board is actively considering changes that could materially boost earnings and the stock price. Potential initiatives include reducing expenses and optimizing the capital structure, which can be implemented at any time, as well as inverting the existing corporate structure to achieve tax savings, which is a more complicated undertaking," Adler wrote in a June 18 client note.
Not Just about Inversions
Perhaps an inversion will prove too complicated and it is possible that investors are not completely wedded to such financial engineering. Other issues like gross margins, store volumes and share buybacks could prove more important to investors, especially after Walgreens disappointing third quarter earnings.

WATCH: More market update videos on TheStreet TV | More videos from Keris Alison Lahiff
In its May-ended quarter, the drugstore chain recorded net income of 91 cents a share, 3 cents short of what analysts surveyed by Thomson Reuters expected. Revenue of $19.4 billion missed expectations of $19.48 billion.
Investors like Jana want Walgreen to consider expanded stock buybacks and changes to the company's retail operations and balance sheet as a means to improve overall profitability.
Jana believes better performance in the front-end of Walgreen's stores where non-pharmacy goods are sold such as beer, deodorant and the like, could help improve the company's margins. Compared with peers, Walgreen's appears to be lagging, with EBIT (earnings before interest and taxes) margins about a third lower than its biggest rival, CVS Caremark. Alliance Boots EBIT margins, meanwhile, are roughly double those of Walgreen's.
It is still unclear what changes Walgreen is willing to consider and what may prove too complex or risky in the eyes of the company's board of directors. On Tuesday, Walgreen said it would detail operational, management and capital structure changes this summer.
"Walgreens board of directors is moving forward toward consideration of the second step in the Walgreens-Alliance Boots strategic transaction, including determination of timing and structure, combined management teams, cost reduction initiatives and potential changes in the company's future capital structure," Walgreen said in its fiscal third earnings on Monday.
The most controversial decisions are likely to surround management decisions of the combined company and whether or not to incorporate abroad. Walgreen CEO Gregory Wasson wouldn't directly say whether the company announces an inversion transaction in July or August.
"We are looking at everything. It is complex and it is all interdependent," Wasson said of the company's future.
Because Walgreen will be unveiling what may amount to sweeping change later this summer, the company is suspending its fiscal 2016 guidance. However, Walgreen did confirm synergies in its merger with Alliance boots will exceed $1 billion by 2016. Jana, at a recent conference, noted that the initial $1 billion synergy guidance appeared to be conservative.
Walgreen shares were trading over 2% in early Tuesday trading on the company's weak third quarter results. Shares, however, have gained over 25% year-to-date and 50% over the past 12 months.
>> Read More: Hedge Funder Sees KKR's Next Deal In Washington Mutual's Shell
>> Read More: Pfizer Can Stay in Dow After British Move
>> Read More: TheStreet's Top 5 Dealmakers
-- Written by Antoine Gara in New York