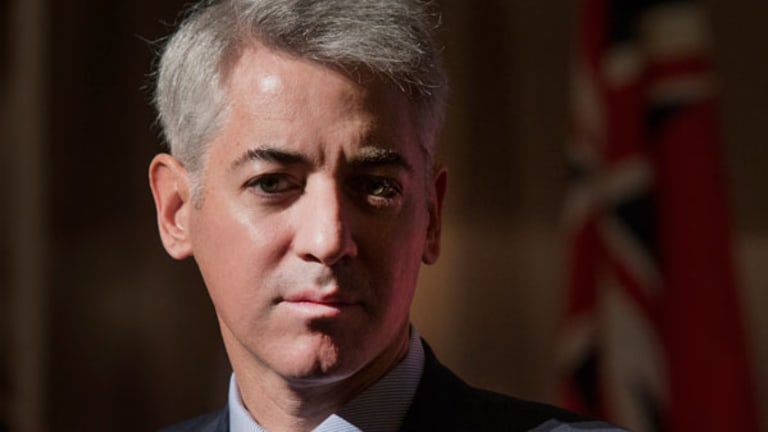 Wachtell Sees 'Threat' in Ackman's Allergan Bid
Activist investor critic Wachtell Lipton said hedge fund Pershing Square Capital Management's role in Valeant Pharmaceuticals $45 billion bid for Allergan was a new threat to Corporate America.
NEW YORK (TheStreet) -- Law firm Wachtell Lipton, perhaps the most established critic of activist investors, called hedge fund Pershing Square Capital Management's involvement in a bid by Valeant Pharmaceuticals (VRX) to buy Allergan (AGN) - Get Free Report "aggressive and self-interested," characterizing the move as a new threat to Corporate America.
Pershing Square And Valeant's Allergan Deal Is A Watershed For Activism
While the letter, co-signed by Wachtell founding partner Martin Lipton, may have important regulatory implications, it is more interesting within the context of a war of words between Carl Icahn and Lipton.
On Tuesday, Icahn spent the better part of a 40-minute presentation to investors attacking Lipton's criticism of activist investors. In fact, the activist billionaire went as far as saying Lipton has bridged a decade-long war of words between him and Pershing's Bill Ackman.
Whomever Marty Lipton disagrees with is a friend, Icahn said at the IMN Active-Passive Investor Conference on Tuesday. Lipton's criticism of Ackman's activist investing style and his sounding of an alarm about Pershing's role in the Allergan bid may bridge a relationship between the two investing titans that is marred by a fee dispute and an over billion dollar difference of opinion on the business model of Herbalife (HLF) - Get Free Report.
Icahn, a professional investor and an amateur comedian, however, was hamming it up for his audience of investors and journalists.
Wachtell Lipton, on the other hand, is dead serious about its critique of the Pershing and Valeant bid for Allergan.
The most novel part of the Allergan bid is Pershing's partnership with Valeant Pharmaceuticals. Pershing acquired nearly 10% of Allergan's stock worth about $10 billion after making a pact to support Valeant's merger effort. Valeant, a day after Pershing's stake was disclosed, offered Allergan about $45 billion in an unsolicited cash and stock deal.
"The activist however brings several favors to the party, in addition to some financing. One is the questionable hope that it can legally close on the options and thus control 10% of the target's stock (and votes) sooner than its strategic partner could. A second is a large megaphone, and the willingness to wield it in ways that a public company likely would not, to press the case for their deal. A third is that the activist hedge fund specializes in covert accumulations, a skill set that a strategic buyer would have to master," Wachtell said.
"But the most important thing it brings to the team is its willingness to bet billions of dollars without performing any due diligence beyond a basic review of the target's public documents. This is easier for an activist hedge-fund given its incentive compensation structure than for a public company," the law firm added.
The latter is a concern for Wachtell Lipton, which said Pershing and Valeant's bid is premised on a short-term profit mentality and is reliant upon an inherent conflicts of interest.
"Pershing Square is betting billions of dollars that it can 'knock over' Allergan. It doesn't care much who buys the target: it would apparently like Valeant to win, but it makes a fortune if someone else pays a higher price," Wachtell said.
The law firm even questioned whether the bid is good for American society.
"Allergan spends 17% of its revenue on research and development, compared to Valeant's 3%, and Valeant has said it plans to cut around 28,000 jobs in the merger. We do not believe that this is the sort of economic activity that policy-makers should be actively encouraging in their rule-making (or foot-dragging)," Wachtell said.
Wachtell's numbers may be off by more than a little. Allergan and Valeant only have about 28,000 workers and the company guided to an about 20% consolidation of the combined company's workforce, indicating roughly 5,000 job cuts.
Another possible error involves Wachtell's accusation that Pershing's flaunted the SEC's rules surrounding "early warning" disclosures by using options contracts to build its Allergan stake. Early warning requirements give investment funds 10 days to disclose a stake greater than 4.9%. Pershing appears to have conformed with the spirit of the law, given that it did make the investment public within the 10-day window.
The allegation of short-termism may also be unfair. Pershing has agreed to invest billions in a merged Valeant and Allergan for at least 12-months.
Wachtell concluded by asking investors to question whether bids like Valeant and Pershing's partnership have improved the "Nation's economy and its prospects, upon which the interests of investors ultimately depend."
Data compiled by Harvard University's Lucian Bebchuck indicates activist investors like Icahn and Ackman do play a helpful role in fixing companies with weak management and board directors. Joseph Perella and Peter Weinberg, in an op/ed, recently distinguished between activists that are helpful to Corporate America and those that aren't.
Perella and Weinberg highlighted Icahn's call to split Motorola as a positive, while they pointed to his campaign against eBay (EBAY) - Get Free Report management and Ackman's investment in J.C. Penney (JCP) - Get Free Report and Herbalife as negatives.
Bottom Line: At this rate, expect Carl Icahn and Bill Ackman to become golfing buddies.
-- Written by Antoine Gara in New York.