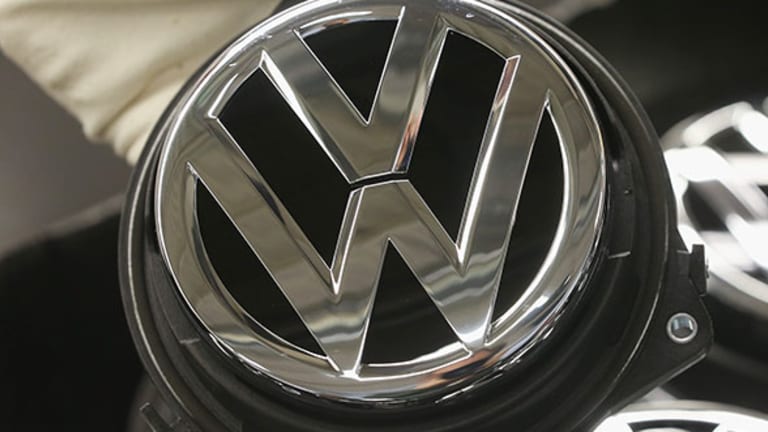 'VW2' looms over Daimler, Volvo and others
A record cartel fine by the EC against truck makers clears the way for wronged parties to seek damages in civil lawsuits against the manufacturers.
A record cartel fine by the EC against truck makers clears the way for wronged parties to seek damages in civil lawsuits against the manufacturers.
Truck manufacturers including Daimler (DDAIY) , Volvo (VOLVY) and Paccar's (PCAR) - Get Report DAF Trucks NV of the Netherlands owe a combined €2.93 billion ($3.28 billion) after admitting to fixing prices in Europe for more than a decade.
The record-high cartel fine, announced by the European Commission on July 19, followed a settlement that clears the way for wronged parties to seek damages in civil lawsuits against the manufacturers, similar to the cases filed against German carmaker Volkswagen AG stemming from the the diesel emissions scandal.
"This is VW2," said Laurent Geelhand, Brussels managing partner at Hausfeld LLP, a litigation firm that's busy preparing claims on behalf of fleet owners. He said the first cases could be settled as soon as the end of this year or early 2017, and estimates that manufacturers' exposure in Europe "will be certainly at least €10 billion and probably exceeds €20 billion."
In the cartel probe, VW-owned companies fared better with Brussels antitrust busters than their peers: As the group's tattletale, Germany's MAN SE escaped a fine, while Scania AB, of Sweden, opted out of the settlement to contest the EC's accusations in a probe that's still open. Just in case, though, Scania has set aside 3.8 billion Swedish kroner ($450 million) to cover possible penalties.
Others have to pay up by mid-October: Daimler is on the hook for the highest amount of around €1.01 billion, while DAF will have to cough up €752.7 billion and Volvo and Renault (RNO) will split a €670.4 million fine. Iveco, a Turin, Italy- based manufacturer owned by Netherlands-registered, London-based CNH Industrial Group, will have to fork over €494.6 million. Together they account for nine out of every 10 medium and heavy trucks produced in Europe.
The EC said it calculated the amounts based on the companies' truck sales in Europe and their high combined market shares, as well as the "serious nature" of the infringement and cartel's duration. By admitting to the wrongdoing, companies saw their tabs cut by 10%, in the 21st settlement since the EC introduced new procedures for cartels to speed up cases. The trucks case goes back to at least January 2011, when the EC under then-competition chief Joaquin Almunia carried out surprise raids across Europe.
Margrethe Vestager inherited the cases along with other high-profile ones in November 2014. Less than three weeks after taking office, she sent a formal charge sheet known as a statement of objections to the suspected cartel participants. She drove them to a dramatic finish this July with the regulator's highest-ever fine for a single cartel and twice the previous highest amount in 2012 against makers of cathode-ray tubes for TV and computer screens.
"Today's decision is important for safeguarding real competition in the truck sector in Europe," she told journalists in Brussels last month. "The fact that these truck makers took part in a cartel rather than fully competing with each other is a clear infringement of EU competition rules." She also said the fight against cartels would remain a priority, though she has been criticized for being less aggressive than Almunia against cartels. Trucks may be a turning point.
The illegal activity lasted from 1997 until 2011, and has all the makings of a Hollywood thriller: senior management level meetings at an undisclosed "cozy Brussels hotel" and in the margins of trade fairs, as well as phone calls and emails on coordinating gross prices for medium and heavy trucks. The companies also colluded on the timing for introducing new emission technologies for those vehicles to comply with increasingly strict European standards, then passing on the costs for those technologies to their customers.
Truck makers must pay the penalties by October- as if they didn't have enough financial woes already. Daimler Trucks, the world's biggest maker of commercial vehicles, in May downgraded its 2016 outlook, saying that unit sales will be "significantly lower" than last year's "very good levels" amid more intense competition in Europe despite higher demand, and low oil prices hurting demand in the Middle East. And despite seeing an uptick in European registrations, Volvo Trucks recently lowered its 2016 North America forecast on stagnant freight and expects the Brazilian market to shrink this year after a weak second quarter.
Cartel whistelblower MAN SE is in better shape. In July it forecast "significantly" higher operating profit and the operating return on sales this year after a strong start to the year for MAN Truck & Bus.
In relation to the trucks cartel settlement, Daimler has said that it "takes its responsibility with regard to competition law very seriously and has taken appropriate measures so that employees act in compliance with applicable law. Volvo CEO Martin Lundstedt said, "We have taken these events very seriously from the outset and our full cooperation with the [European] Commission resulted in a very substantial reduction in the fine."
As the EC's case against Scania continues, the companies that were fined will soon find themselves on the receiving end of lawsuits seeking compensation for the damages they suffered. "Obviously we have already been speaking to some of the largest fleets of Europe, for more than a year already," said Hausfeld's Geelhand, who sees litigation lasting over the next five to seven years. "I was hoping for a quiet summer, but we are getting a lot of requests."
The same is true for Dutch law firm BarentsKrans, which is working with Dublin-based Claims Funding Europe to round up clients. Both have extensive experience in bringing damages claims on behalf of businesses that have suffered harm as a result of cartels, like the ongoing air cargo case in Amsterdam - the biggest private enforcement damages action in Europe.
"With the air cargo case we had to hurry to file an action even before the Commission's decision [in November 2010] because there were so many unknowns," said BarentsKrans's Martijn van Maanen, who heads the firm's corporate litigation practice group. "This time we are no longer in such a hurry. Now what is much more critical is to have a good book-building effort to get as many injured parties on board as possible. You also have to select the appropriate jurisdiction for filing your claim."
So far the Netherlands, the U.K. and Germany have been the most popular jurisdictions for bringing antitrust-related damages claims. In the U.K., several retailers have cases pending against MasterCard (MA) - Get Report related to interbank fees for cross-border payment card transactions. While most of those cases are expected to settle, Sainbusry's Supermarkts Ltd. last month was awarded GBP 68.6 million ($88.9 million) in damages plus interest by the Competition Appeal Tribunal.
New EU rules due to be transposed in all 28 EU countries by late December should make it easier to bring claims anywhere in the bloc, and lawyers are already seeing an increase in filings.
"One reason is that we are getting more cartel decisions from the commission," explained Andrew Bartlett, a London-based commercial litigation partner with Osborne Clarke LLP. "And second, lawyers are becoming more and more familiar with these claims, and there is growing awareness amongst clients to litigate. There is also the trickle down effect from the United States, where there is a huge amount of this kind of litigation, which has inevitably spilled over into Europe."
One caveat from White & Case LLP's Assimakis Komninos on truck-related claims: "One should not expect any easy cases, and certainly the amount of fines means nothing at all for the potential damages awards."