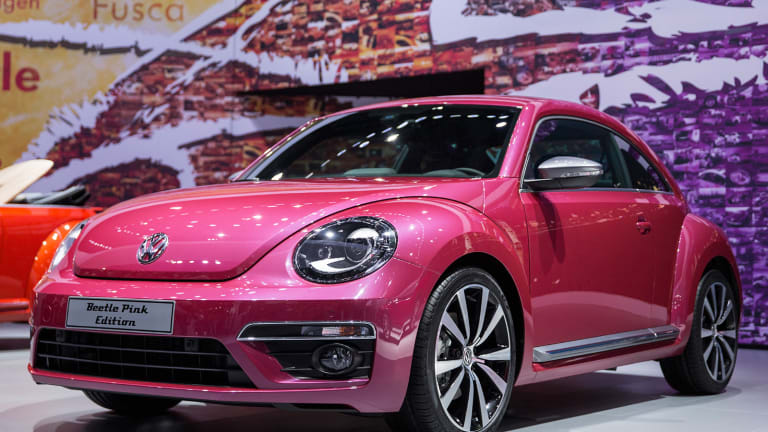 Volkswagen Scandal Opens Door to Possible Fiat Takeover
Fiat CEO Sergio Marchionne has been frustrated in his efforts to find a merger partner. With regulators out for Volkswagen's blood, the Fiat CEO might finally succeed.
Updated from 8:31 a.m. EDT to include resignation of Volkswagen's CEO.
NEW YORK (The Deal) -- Fiat Chrysler Automobiles (FCAU) - Get Fiat Chrysler Automobiles N.V. Report has vocally sought a merger partner. Volkswagen (VLKAY)  is suddenly reeling. Don't be surprised if Fiat CEO Sergio Marchionne makes a move.
Germany's VW has lost nearly $30 billion in market capitalization -- about one third of its total -- this week after admitting that more than 11 million vehicles had software installed that allowed them to cheat diesel engine emission tests. Volkswagen is already setting aside more than $7 billion to handle potential fines, recalls and vehicle buybacks, but analysts have warned that the damage could be more than twice that amount should regulators throw the book at the automaker.
Volkwagen CEO Martin Winterkorn stepped down Wednesday.
Enter Marchionne, the charismatic leader of Fiat Chrysler with a strong reputation as a problem solver and loads of investor credibility. Marchionne is also one of the industry's most vocal advocates for consolidation, arguing that combinations are needed to bring down overcapacity and help streamline some of the more than $100 billion in annual industry research and development spending that for now is driving down returns on invested capital.
Volkswagen, like Marchionne's primary target General Motors (GM) - Get General Motors Company (GM) Report , has previously rebuked suggestions of a merger by arguing that while a deal might be necessary for the smaller Fiat Chrysler it is not worth the considerable integration challenges to the larger company. Indeed $17 billion market cap-Fiat has very little technology that VW doesn't already have in house. And with the Porsche-Piech families owning more than half of VW, there's no chance of a deal happening unless the families are on board.
But the situation in Germany has obviously changed dramatically. It is worth noting that last summer reports surfaced that Ferdinand Piech, who was chairman of Volkswagen until losing a power struggle with Winterkorn earlier this year, had held talks with Fiat's controlling shareholders the Agnelli family about a potential combination.
Even before the crisis at Volkswagen, there was an argument to be made for combining the company with Fiat. The German automaker is among the world's largest but lacks a significant presence in the United States in part because it doesn't offer trucks or the kind of sport-utility vehicles that Americans crave.
Fiat Chrysler's Jeep SUVs and Ram trucks would be the perfect pieces to complete Volkswagen's global puzzle, and even if its Dodge and Chrysler brands are eventually deemphasized or wound down the company's large retail footprint in the U.S. would help Volkswagen expand its car operation there.
In Europe the two companies mostly overlap, but as Marchionne is quick to note there is a need on the Continent to scale back excess capacity. While the integration could be ugly -- with various labor groups and national interests squabbling over where the cuts would come -- there is also a sense of inevitability among European leaders that some industrial cuts are coming, and Marchionne at Fiat has a record of navigating potential labor quagmires.
In fact despite VW's previous arguments that there is not enough benefit in a deal with Fiat to make it worth the risk, today there is arguably more risk for Fiat Chrysler owners should the company try to catch the falling knife that is currently Volkswagen. While VW is believed to have the wherewithal to survive even the most brutal punishments, the company likely does not have the resources to pay a significant cash premium for Fiat until the current crisis is resolved.
Analysts including Credit Suisse's Alexander Haissl have warned that VW could find itself without the cash to pay its dividend should other issues -- say a continued slowdown in China -- materialize, an illustration of how uncertain the giant company's future is. There is also longer-term reputational risks of a now-soiled brand, perhaps another argument to combine with Fiat and adopt its Chrysler nameplate in the U.S. market.
But if Fiat Chrysler and Marchionne are committed to finding a deal, taking a risk with Volkswagen might be the best opportunity they get. The executive has gotten little traction in overtures to GM management, large holders and labor groups, and other large automakers are either family controlled or seemingly poor fits.
Just one month ago, the odds that Marchionne would find a major partner for Fiat Chrysler prior to his planned 2018 retirement seemed well under 50-50. An unexpected window of opportunity has opened for Sergio. If history is a guide, he's the type that will jump through it.
Read more from: