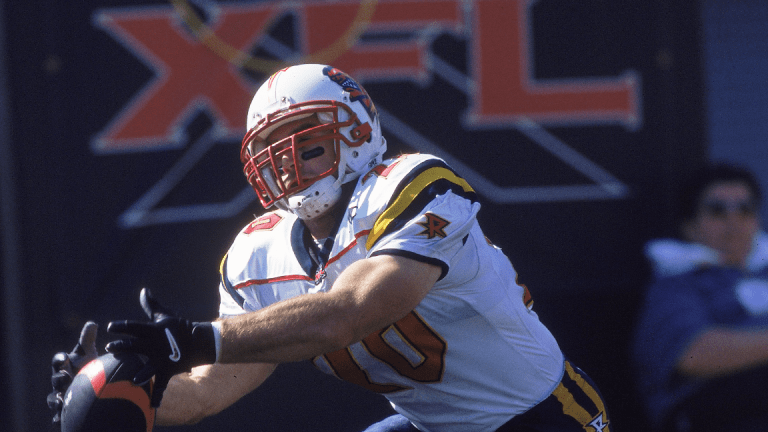 WWE Boss Vince McMahon Aiming for Football Rematch With NFL
After selling $100 million worth of WWE stock, Vince McMahon is relaunching the XFL. The league might drop half-time to shorten games, but the national anthem is staying.
World Wrestling Entertainment Inc. (WWE) - Get Report Chairman Vince McMahon is returning to the gridiron in 2020, with a reboot of the XFL that he vowed will be "shorter. faster-paced, family-friendly and easier to understand" than the National Football League.  
"This is going to be a different game, a fan-centric game," McMahon said in a web cast on Thursday, Jan. 25. The XFL wants upright players without so much as a DUI on their record, and will have "nothing to do" with politics or social issues -- which means everyone stands for the national anthem. 
The season will start end of January or early February in 2020, with eight teams playing 10 regular season games, followed by two semifinals and a championship. McMahon wasn't ready to name cities that would host teams, saying the XFL would gather data about demand.
The XFL plans to canvas players, coaches, medical experts, technology experts and fans for input about how to change the game. 
The league could customize streams for older and younger demographics, McMahon suggested. Games could be cut to about 2 hours. To speed things up the XFL might scratch halftime break, though it is keeping the national anthem. 
"In the XLF the quality of the human being is going to be as important as the quality of the player," McMahon said. Players would "not have any criminality whatsoever," not even a DUI. McMahon seemed to imply that Colin Kaepernick could play in the XFL, as long as he stands for the anthem. "Why not?" he said.
The old XLF held its first and last season in 2001. There were no fair catches and no extra points. Any punt of more than 25 yards was a live ball that either team could recover. Players could put slogans rather than their names on their jerseys. Rod Smart of the Las Vegas Outlaws famously wore "He Hate Me" on his back.
Opening weekend in February 2001 drew 140,000 fans to games in Las Vegas, Orlando, San Francisco and Birmingham, Ala. By May, WWE and NBC shut the league down. The WWE lost nearly $47 million on the XFL that year.
This time, McMahon is launching the league through a startup called Alpha Entertainment LLC to fund the league. The WWE Chairman and CEO raised $100 million in December by selling a 4.3% stake in the Stamford, CT, wrestling outfit, though he still holds 82.8% of the voting power.
Asked why he did not reboot the XFL through publicly traded WWE, he said "$100 million to start with is a little too rich as far as investment is concerned."
The most important lesson from the old XFL was to focus on "the quality of the play," McMahon said, suggesting that WWE and NBC put together the league too quickly. "We only had a very short time in the past to put everything together," he said. "We have two years now."
The XFL won't look like the NFL. Neither will it look like the WWE, with no wrestlers on the field or in the broadcast booth. Don't expect to see President Trump shaving McMahon's head on the field, as he did in the wrestling ring after a wager on a 2007 match. "This may be the last you see of me in terms of being out in front," McMahon said.
McMahon is married to Linda McMahon, current administrator of the Small Business Administration under Trump.
Even with the NFL, college football, the Canadian Football League and the Arena Football League, McMahon suggested there is still a market for a new professional football league. "Football is America's favorite sport," he said. "There are 7 months of no football on the gridiron."
The new-look XFL will "make its own demand," he suggested. 
More time, technology and data may help McMahon speed up games and make better decisions than he did in 2001. Keeping politics and social issues off the gridiron won't be so easy in 2018.
Editor's note: This article was originally published by The Deal, a sister publication of TheStreet that offers sophisticated insight and analysis on all types of deals, from inception to integration. Click here for a free trial.
More of What's Trending on TheStreet: