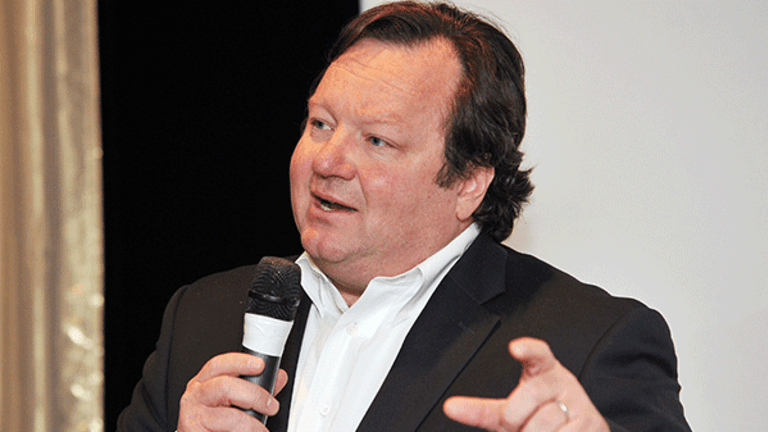 Viacom Would Have to Boost Debt for All-Cash Scripps Acquisition
If Viacom were to buy Scripps Networks Interactive, CEO Bob Bakish would have to depart from a deleveraging course.
Wall Street was already skeptical about the rationale for either Discovery Communications Inc. (DISCA) - Get Discovery, Inc. Class A Report or Viacom Inc. (VIAB) - Get Viacom Inc. Class B Report buying Scripps Networks Interactive Inc. (SNI) . An all-cash deal by the already heavily indebted Viacom is likely to spark an uproar.
Viacom shares were falling early on Wednesday, July 26, after Reuters reported that Viacom is preparing to make an all-cash offer for Scripps Networks, owner of the Food Network, DIY Network and HGTV. The deal likely would cause Viacom's debt to spike just as new CEO Bob Bakish has declared lowering the company's arrears a chief focus. Viacom did not immediately return a request for comment.
Since becoming permanent CEO in December, Bakish also has insisted that the owner of Nickelodeon, MTV and Paramount Pictures would focus on six core cable networks given that pay-TV operators are increasingly offering consumers packages with fewer networks at lower price points in an effort to staunch the decline in cable and satellite TV subscriptions. 
Bakish also has said Paramount Pictures would seek to use the fictional characters and personalities popular at its top networks for its own productions. It's difficult to see how the Food Network, HGTV or Travel Channel would provide subjects for Paramount films. 
Buying Scripps also would increase the exposure to advertising as a proportion of overall revenue at both Viacom and Discovery, a deepening concern considering that marketers are increasingly moving money to digital platforms. 
Viacom shares Wednesday morning were down 1.9% to $34.34 while Scripps stock was up 2.2% to $83.24. Discovery shares had added 0.8% to $26.14.
Wall Street analysts this week have questioned whether Viacom or Discovery would have more leverage negotiating fees with cable TV providers if they owned Scripps' networks. As pay-TV operators move increasingly to packages offering fewer channels, it's becoming increasingly difficult to make the cut into skinny bundles. Alphabet Inc.'s (GOOGL) - Get Alphabet Inc. Class A Report YouTube TV doesn't carry channels from any of the three companies, for example.
Commenting on Discovery's interest in Scripps Networks, Bernstein Research media analyst Todd Juenger wrote this week that it would "end up with increased vulnerability to the negative structural forces impacting cable TV networks."
In other words, owning more networks may not be better. Time Warner Inc. (TWX)  rejected Twenty-First Century Fox Inc.'s (FOXA) - Get Fox Corporation Class A Report advances in 2015, preferring to agree to merge with a distribution company, AT&T Inc. (T) - Get AT&T Inc. Report . That deal is under review at the Department of Justice's antitrust division.
Most importantly, paying all cash for Scripps would significantly add to Viacom's debt load, which stood at $12.19 billion at the end of March, Securities and Exchange Commission filings show. Moody's Investors Service Inc. downgraded Viacom's debt ratings in September, citing weaker operating performance and leverage of 4 times adjusted earnings, a level that exceeded the company's own goal of 3 times.
Viacom did secure some debt relief after agreeing in April to sell its 49.76% stake in the Epix premium cable network to MGM Holdings Inc., owner of Metro-Goldwyn-Mayer studios, for $597 million. Moody's projected in April that the Epix deal could lower Viacom's leverage to 4.5 times from 4.7 times for the 12 months ended Dec. 31, 2016. The ratings agency has a Baa3 rating on Viacom.
Former CEO Philippe Dauman's years of buying back Viacom's own stock while shares moved lower and lower is largely to blame for the debt predicament. Bakish has said that the company would remain focused on deleveraging.
Still, an all-cash offer for Scripps Networks likely would satisfy the other party at the table -- the Scripps family, which is said to be asking for at least 50% cash in any bid, CNBC reported on Tuesday. As for a takeout price, buying Scripps might require going as high as $95 per share, Wells Fargo Securities LLC media analyst Marci Ryvicker said, meaning a $12.3 billion price tag for the target's Class A and common voting shares plus $3.05 billion in assumed debt.
Viacom had $671 million in cash and equivalents on March 31 as well as a $2.5 billion revolving credit facility to fund a deal, while Scripps had $107.7 million in cash. It posted $199.9 million in net income on $855.1 million in revenue for the quarter ended March 31, compared with Viacom's $121 million in earnings on $3.3 billion in revenue.
Shares in the Chattanooga, Tenn., target, which operates many of its studios in New York, closed at $81.45 on Tuesday. Shares had added 21.5% over the past week before Wednesday's trading on merger speculation.
Of course, debt questions aside, Viacom would have to outmaneuver Discovery. The Discovery Channel, TLC and Animal Planet owner also covets Scripps Networks, which remain widely popular with women, making it easier for marketers to directly reach a large demographic. Likewise, Discovery is keen to own networks that have successfully sustained high ratings despite the overarching fragmentation of video consumption.
Nonetheless, Viacom may be able to squeeze greater savings out of a Scripps acquisition than Discovery, Barclays Capital media analyst Kannan Venkateshwar said. Total cost synergies in a Scripps-Viacom deal would be around $400 million, compared with Scripps-Discovery at $250 million to $350 million, although Viacom would need more savings given its debt load.
Acquiring Scripps would give Viacom and Discovery, which have both endured slumping ratings this year, more time to engineer their respective turnaround plans, Venkateshwar said, pointing to Scripps' higher-than-average free cash flow.
More of What's Trending on TheStreet:
Apple Moving Closer to Selling an American Made $1,000 iPhone, Trump Hints
How Birchbox Took on Macy's, J.C. Penney and the $500 Billion Beauty Counter