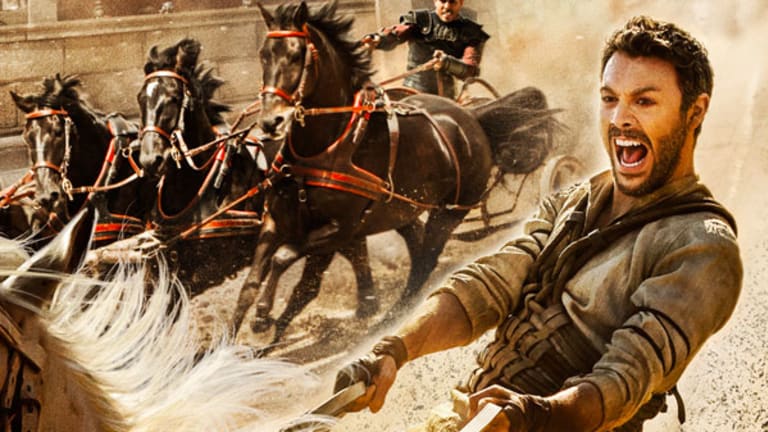 Publish date:
Viacom to Face Major Questions if Its $1 Billion Financing Deal for Paramount Falls Apart
The film studio could enter a financing squeeze if a New York Post story alleging that a deal with two Chinese media groups has fallen through proves true.
The film studio could enter a financing squeeze if a New York Post story alleging that a deal with two Chinese media groups has fallen through proves true.
As if Viacom (VIAB) - Get Report CEO Bob Bakish doesn't have enough problems.
The New York Post on Monday reported that a $1 billion film financing deal with two Chinese media companies had fallen through, raising tough questions about the immediate future of Viacom's Paramount Pictures studio. The Post, citing several Hollywood sources, said the deal announced in January with Shanghai Film Group and Huahua Media to help finance Paramount's film slate had collapsed.
"Paramount deal is dead," an unnamed source told the Post.
Viacom declined to comment on the story. Its shares fell 1.2% Monday and were down 0.9% Tuesday morning to $42.50 but remain up 20.5% over the past three months.
The transaction called for the two Chinese companies to invest roughly $300 million in Paramount films in 2017, Bakish said at an investor conference last month. The money is viewed as critical for a film division that lost $455 million in 2016 and has finished last among the six major Hollywood studios for five years in a row.
China's government, though, appears to be pushing back on the ability of Chinese companies to invest in Hollywood. Earlier this month, Eldridge Industries terminated a $1 billion sale of Dick Clark Productions to Chinese real estate and media conglomerate Dalian Wanda, asserting the suitor had failed to make scheduled payments as part of its agreement to acquire the Los Angeles film and TV production company.
Huahua, in a statement made public a week ago and distributed by Viacom, said the Paramount deal was anything but dead.
"Huahua will continue to bring quality films to audiences and further our long-term cooperation with Paramount," the media company said. "We have made active progress and have no doubts about the deal. The three-year slate deal with Paramount and other solid projects are progressing as planned."
A source close to the Dick Clark deal, though, in February notably said that transaction would close in the "next few weeks" after stories surfaced of the deal stalling or collapsing. Little more than two weeks later, it was dead, illustrating perhaps how quickly perspectives can change.
Viacom's inability to secure a long-term film financing commitment for Paramount may be making it hard for Bakish to hire a new chief executive for the studio. Brad Grey was dismissed last month from atop the studio after 12 years in the job.
Equally pressing, Bakish may be forced to consider selling a stake in Paramount, a proposal that was shelved after former CEO Philippe Dauman left the company in September. Dauman had made the sale of a 49% stake in Paramount a key plank of his plan to stabilize Viacom's debt, which had ballooned to $12.3 billion in June, saddling the company with a leverage ratio of 3.6 times the value of its total assets, higher than its own target of three times assets. After dipping slightly to $11.9 billion by the end of September, Viacom's debt returned to $12.3 billion at the conclusion of 2016.
In addition to righting Paramount, Bakish has reorganized Viacom's cable TV network group to focus on the company's six largest networks: Nickelodeon, Nick Jr., MTV, Comedy Central, BET and Spike. Viacom has more than 10 other networks that Bakish said will get less attention and funding from the company but would look to separately attract financing. 
After serving for a month as Dauman's interim replacement, Bakish was promoted to CEO in December after running Viacom's international group for 10 years.
Whether Bakish would entertain a sale of a minority interest in Paramount is unclear. Before losing a power struggle within Viacom to controlling shareholder Shari Redstone, Dauman was pushing for the company to sell a 49% stake in the studio for $4.9 billion to Dalian Wanda, the conglomerate controlled by China's richest man, Wang Jianlin, also involved in the abandoned Dick Clark deal. But Redstone never favored that transaction, and once Dauman was removed, it was shelved.
Paramount released 18 films in 2016, generating $76.8 million, placing it in last place among Hollywood's six major studios, according to ComScore. By comparison, Disney's (DIS) - Get Report film group posted $3 billion in sales, followed by Time Warner's (TWX) Warner Bros. with $1.9 billion. Yet as a reflection of how poorly the studio has performed in recent years, Paramount's box office total last year was actually a 30% increase over 2015.
Paramount's 2016 slate included Star Trek Beyond, Teenage Mutant Ninja Turtles: Out Of the Shadows and a series of clunkers including Zoolander 2, Ben-Hur (produced with MGM) and Allied.