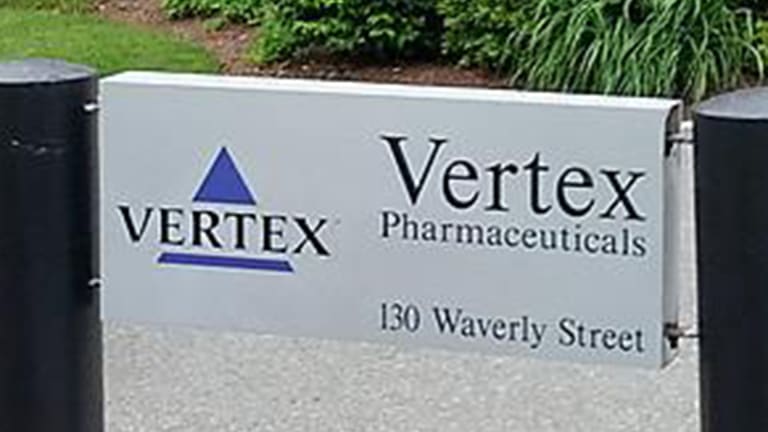 Vertex Undergoes FTC Scrubbing for Deal on CF Treatment
The key issue for the FTC is whether the deal kills competition between Concert's treatment and Vertex's Kalydeco.
Vertex Pharmaceuticals' (VRTX) - Get Vertex Pharmaceuticals Incorporated Report plan to acquire an experimental, longer-acting version of its cystic fibrosis drug Kalydeco from Concert Pharmaceuticals (CNCE) - Get Concert Pharmaceuticals Inc. Report is getting a longer look from the Federal Trade Commission.
Vertex disclosed Monday, May 22, that the FTC issued a request for additional information on May 19 regarding Vertex' pending acquisition of CTP-656 and other related assets from Concert.
A second request extends a federal antitrust review of a merger or asset purchase when U.S. competition reviewers decide a deal presents competition issues that merit further investigation beyond the mandatory 30-day review most deals get.
"We intend to work cooperatively with the FTC as it reviews the transaction," Vertex said in its securities filing Monday.
In a press release, Concert officials said their company also "intends to work cooperatively with the FTC as it reviews the transaction."
After dropping in early trading Monday, Vertex shares closed the day up 92 cents or 0.78%, to  $118.94. Concert shares were down nearly 3%, or 43 cents, to $14.04.
The key issue for the FTC is whether the deal is likely to kill potential competition between CTP-656, which is undergoing clinical trials, and Kalydeco, which is on the market already. Antitrust enforcers worry when a drug company acquires a potential competitor to a drug it already has on the market, fearing that the deal is simply a way to remove a threat to a proven money maker.
But Vertex officials say they are committed to CTP-656, because it can be administered once a day rather than twice daily as Kalydeco is. Developing once-daily treatments for CF patients is Vertex's long-term goal, they have said, and CTP-656 would be combined with other once-daily CF compounds Vertex has in its stable.
"Our proposed transaction with Concert is about creating a potential future once-daily regimen for the vast majority of CF patients," Vertex spokesman David Whitrap said in an emailed statement. "We remain committed to bringing transformative treatments to CF patients."
CTP-656 is essentially the same drug as Vertex's Kalydeco except hydrogen atoms are replaced by deuterium atoms to make it last longer in the body.
Right now Vertex is in late-stage testing for the use of Kalydeco with another Vertex drug, tezacaftor. Patients take a single tezacaftor/Kalydeco combination tablet in the morning and a second dose of Kalydeco by itself at night. CTP-656 could be combined into a single tablet with tezacaftor that patients would only need to take once per day without another pill at night.
Concert started a phase II study of CTP-656 late last year. Once the deal closes, Vertex will take over conduct of the phase 2 study and control future development of the drug.
Vertex's chief commercial officer, Stuart Arbuckle, laid out Vertex's plans for CTP-656 during the company's first quarter earnings call last month. "Ultimately, we would like to think about a combination pill to once a day regimen, and CTP-656 gives us that opportunity. That would be the best regimen for patients, as long as we have safety and efficacy and it will be the most convenience for patients and that is the plan."
Vertex officials have noted that CF patients' entire regimen often requires them to take 30 to 50 pills a day, so any move that reduces the number of treatments they must take would be an improvement in their lives.
Under the agreement announced March 6, Vertex will pay Concert $160 million in cash for all worldwide development and commercialization rights to CTP-656 and Concert's other cystic fibrosis assets. If CTP-656 is approved as part of a combination regimen to treat CF, Concert could receive up to an additional $90 million in milestones based on regulatory approval in the U.S. and agreement for reimbursement in the first of the United Kingdom, Germany or France.
Concert's stockholders will vote on the transaction Wednesday.
The companies have said they expect the transaction to close by Oct. 31.
R.W. Baird & Co. analyst Brian Skorney said it's simplistic to brush away competitive concerns just because CTP-656 can be taken once a day. "I can see them as competitors," he said. "Certainly if the CTP-656 program moved ahead on its own and was approved, it would be a direct competitor to Kalydeco and could be used in combinations that could be competitive to Vertex's combinations."
He added that Kalydeco wouldn't necessarily become obsolete if CTP-656 is approved either.
"We just don't know much about the clinical profile of CTP-656," he said.
To further complicate matters, he noted that CTP-656 could be considered a violation of Vertex's patents.
"It is an open question as to whether or not the deuteration of Kalydeco is non-obvious to achieve the differences that CTP-656 achieves," he said. "If CTP-656 were developed further outside of Vertex, it would almost certainly be subject to infringement suit by Vertex at some point (provided approval would occur before the expiration of the Kalydeco patents).
"There is definitely a competitive dynamic here. Is it sufficient that at this stage of development of CTP-656 the FTC would shut down the deal? I think that is very unlikely because all of the unknowns," he said.
A big unknown is the FDA's to put CTP-656 on clinical hold. "Anyone buying in here would be assuming numerous development/regulatory risks and it isn't as simple as Vertex just trying to take out a competitor," he said.