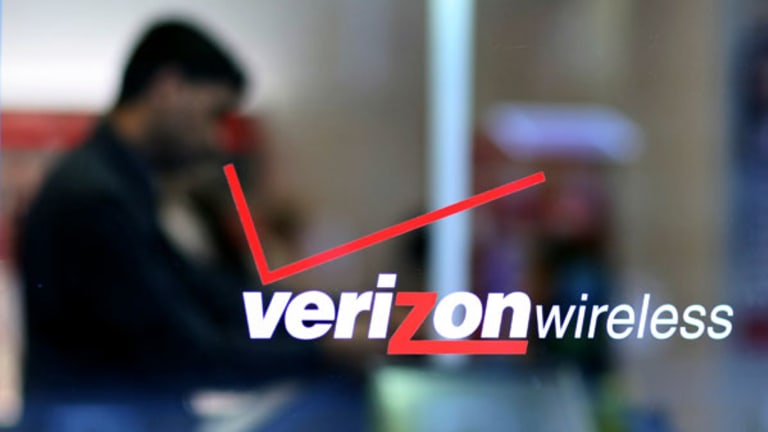 Verizon Playing Defense in $130B Verizon Wireless Deal
Verizon is trying to lock in a good price for its 45% stake in Verizon Wireless.
NEW YORK (
) -- Confirmation that
Verizon
(VZ) - Get Verizon Communications Inc. Report
is
Vodafone
(VOD) - Get Vodafone Group Plc Sponsored ADR Report
about buying its remaining 45% stake in Verizon Wireless may help shares in the telecom giant recover from their recent underperformance, however, a reported $130 billion acquisition could also pose long-term risks.
What appears to be a financially attractive deal for Verizon in today's still-low interest rate environment could also carry financial burdens that prove cumbersome to the firm's investors in coming years. Telecom sector profitability will have to hold up as the wireless industry matures and smartphone usage in the United States nears a saturation point for Verizon investors to truly see a benefit from any prospective deal.
Recent earnings reports, commentary and pricing plans from Verizon's low-cost competitors such as
T-Mobile
(TMUS) - Get T-Mobile US, Inc. Report
and
Sprint
(S) - Get SENTINELONE, INC. Report
cast doubt on the sustainability of record wireless profit margins posted by the likes of Verizon and
AT&T
in recent quarters.
T-Mobile saw its market share in the wireless industry grow for the first time in years in the second quarter, as the telecom firm
reported net subscriber additions
.
Sprint, meanwhile, forecasts that it will reverse chronic market share losses in 2014, as the company uses a recapitalization by
SoftBank
to complete its LTE network expansion. Sprint's second-quarter earnings also indicate that smartphone consumers are taking notice of the company's lower-priced unlimited data plans.
Both rivals could pose a big risk to Verizon's wireless profit margins, which eclipsed a 50% year-end target earlier in 2013. If one were to believe in the viability of T-Mobile and Sprint and the pricing of their wireless plans, it might indicate Verizon Wireless profit margins are near a peak.
Such a scenario would likely recast impressions of any potential deal with Verizon and Vodafone on the latter's 45% stake in Verizon Wireless. Verizon could be acting defensively in trying to acquire full control of Verizon Wireless and the near $10 billion in annual dividends that are paid to Vodafone as a minority owner. Verizon's margins could be nearing a peak and an acquisition of Verizon Wireless could be be seen as a way to engineer financially attractive earnings growth in coming years.
Share prices already say so much. Including Verizon's hefty 4%-plus dividend yield, the company's shares have underperformed the
S&P 500
this year and in the past 52 weeks, according to
Bloomberg
data. On Thursday, Verizon shares rose over 2% to $47.82 on reports that a deal may be struck as early as Labor Day.
After years of speculation among analysts and jaw-boning between Verizon and Vodafone about the ownership structure of Verizon Wireless, it appears a deal may finally be in the works.
In the near-term, a deal could provide a lift to Verizon's stalled share price.
Citigroup
analysts said, in March, that a stake acquisition would also look financially attractive at virtually any price, given near-historic low corporate bond yields.
Verizon's earnings per share and free cash flow could grow by 27% and 18%, respectively, in the first year after a deal is completed, Citigroup analysts Michael Rollins and Simon Weeden noted in a March 19 report that revived speculation of a deal between Verizon and Vodafone.
For Vodafone, selling its stake in Verizon Wireless could improve the company's valuation multiples by between 17% and 46%, given the prospect of a deal price between $105 billion and $135 billion, the analysts said. In June, Vodafone said it would buy
Kabel Deutschland
in a $10 billion deal that expands the company's wireline business in Europe's core economies.
Even at high valuation multiples, both parties appear open to a deal given low interest rates, favorable Verizon Wireless performance and moderate debt leverage at Verizon, the analysts added. Vodafone may see Verizon Wireless's current strong performance as a smart time for the firm to sell its minority stake.
Speculation about a deal reignited in October 2012 when
Bernstein Research
analysts, led by telecom sector bear Craig Moffett, noted pricing for Vodafone's Verizon Wireless stake may never be better.
"With Verizon trading at all time high multiples; US investors appearing to suspend disbelief on the impending deterioration of the US wireless market; and an urgent need for major strategic change in Europe, there may never be a better time for Vodafone to relinquish its 45% of Verizon Wireless," noted Bernstein Research in an Oct. 24 research report.
A large seller of Verizon Wireless, such as Vodafone, may very well consider doing so opportunistically, as the direction of margins in the ever-changing wireless market remain a question mark.
Moffett, who now heads independent research firm
Moffett Research
, cautions Verizon investors that any stake acquisition will come with long-term ramifications.
"Verizon would be doubling down at what feels to us to be a cyclical peak in both performance AND valuations; margins are at all-time highs, ARPU hasn't yet been impacted by Sprint's and T-Mobile's newly aggressive competition, and U.S. telecom stocks are levitating on interest rates rather than operations," Moffett wrote of a deal in mid-July after telecom firms posted their second results that indicated a
.
"Verizon's management would have to live with the price paid for decades to come," Moffett warned.
-- Written by Antoine Gara in New York.