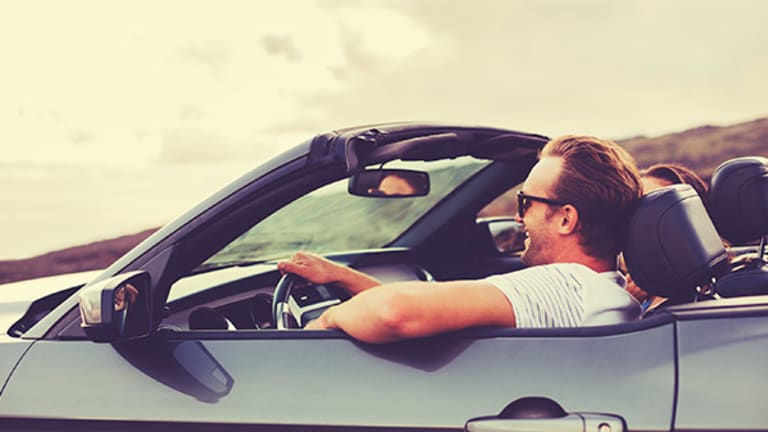 Verizon Picks Up Transportation Software Provider Telogis
Verizon adds VC-backed Telogis to its suite of transportation technology as sector heats up.
After opting out of an initial public offering, telematics provider Telogis Inc. has decided to sell itself to Verizon Communications (VZ) as deal activity in the transportation technology sector heats up.
Verizon announced Tuesday afternoon that it has agreed to purchased Telogis through its Verizon Telematics Inc. subsidiary for an undisclosed sum. 
The deal clearly isn't big enough to move the stock much, as Verizon's shares traded down 0.1% mid-day Wednesday to $54.06. But Teologis adds to the company's presence in transportation tech.
TheStreet's subsidiary, The Deal, reported in February that the venture capital-backed telematics provider had started to explore a sale of a minority stake or the entire company after opting out of an initial public offering.
Telogis has been seeking for a valuation of $1 billion--a lofty price for a company with around $120 million in revenue, sources suggested. Still, some observers acknowledged that a price tag that high wouldn't be completely out of the question given the target's scale, especially in a market where doubts are growing that whether high-quality fleet management software assets are running low.
Founded in 2001, Telogis has built a cloud-based fleet management software platform that optimizes driving by removing risks and tracking data.
In 2014, the company received an equity investment from General Motors Co.'s (GM) venture capital arm, General Motors Ventures LLC. The month prior, it received an undisclosed investment from Fontinalis Partners LLC. Kleiner Perkins Caufield & Byers injected $94 million in October 2013.
As for Verizon, the acquisition of Telogis will increase its footprint in the connected vehicle sector. Verizon Telematics currently operates in over 40 markets and offers services for consumers, enterprises, automakers and dealers.
The New York-based telco has been an active player on the M&A front, even as it continues to exit data centers via an auction led by Citigroup Inc. Verizon agreed to buy fiber network operator XO Communications Inc. in February from Carl Icahn for $1.8 billion.
Elsewhere, the transportation software sector continues to see active dealmaking across all levels of enterprise value.
Just last month, Brambles offloaded LeanLogistics to Kewill following a Barclays Capital-led auction while Abry Partners emerged as the winner of an Evercore Partners-led sales process for Safety Holdings, as The Deal predicted.
Earlier this year, GTCR LLC paid about $550 million for Lytx Inc. to emerge as a winner of a competitive auction via Rothschild and Morgan Stanley.
M&A levels should hold up, according to industry sources. Transporeon has been working with Jefferies on an auction, The Deal has reported. The Riverside-backed company also has been targeting an aggressive valuation target of about $300 million.
The acquisition of Telogis is subject to customary regulatory approvals and is expected to close in the second half of the year.
"The combined strengths of our two companies' unique assets better enable us to deliver best-in-class mobile enterprise management services to customers globally, while building scale and accelerating market share," said Verizon Telematics CEO Andres Irlando in a statement.
Telogis CEO David Cozzens said in the statement that the acquisition positions the combined entity's technologies and services uniquely in the market.
Verizon Communications received financial advice from PJT Partners and a Wells Fargo Securities team of Jim Broner, Vartan Aznavvorian, Maxwell Gover and Rory Berger. A Debevoise & Plimpton team of Jeffrey Rosen, Michael Diz, Lawrence Cagney, Jeffrey Cunard and Peter Furci offered legal counsel to the buyer.
A Barclays Capital team of Steven Markovich, Greg Dalvito, Ricardo Zubieta and Mike Keslosky and JPMorgan Chase offered financial advice to Telogis. A Paul Hastings team of Jason Rednour, Brandon Howald, Sam Ghaffarzadeh and Margaret Yi provided legal counsel to the target.
Officials with Verizon and Telogis declined to comment further.