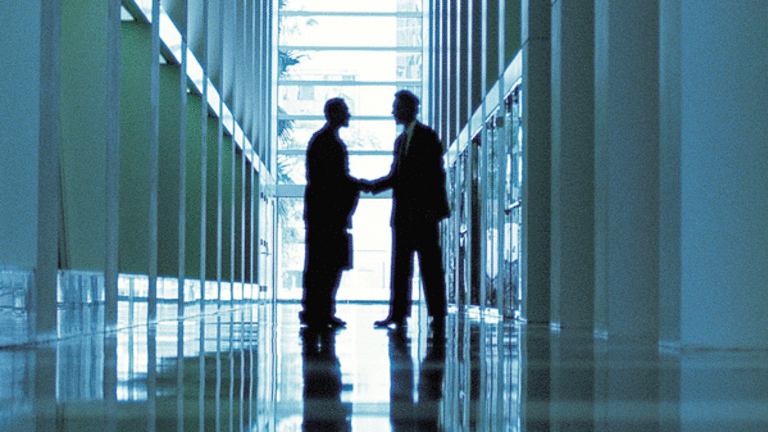 Updated to reflect Evercore Partners analyst comments starting in the fifth paragraph.
NEW YORK(
) --
Verizon
(VZ) - Get Verizon Communications Inc. Report
may need to get ready for some of its own antitrust pain.
AT&T
was the government's antitrust punching bag in 2011 after regulators blocked a $39 billion merger with
T-Mobile USA
. Now with AT&T on the deals sideline, Verizon's $3.6 billion December
from a joint venture held by
Comcast
(CMCSA) - Get Comcast Corporation Class A Report
,
Time Warner Cable
(TWC)
and
Bright House Networks
is now in the crosshairs, according to analysts and previous
Bloomberg
reports.
For more on how antitrust issues are changing the telecoms space, see
why AT&T's M&A fail is a game changer
.
"We believe that the FCC may look to block or modify VZ's planned acquisition of AWS spectrum licenses from SpectrumCo and Cox due to its escalating concerns about spectrum concentration," writes Deutsche Bank analyst Brett Feldman in a February note. "While the deal looks like it should sail through based on the regulator's historical application of spectrum screens, we see risk that the FCC lowers the screens when evaluating this deal," adds Feldman.
Factors like the FCC's ability to change its anti-competitiveness screening guidelines and statements to Congress that screens may be adjusted, in addition to Verizon's existing spectrum dominance put the lockup ups in question, according to Feldman. Such a regulatory aversion to spectrum purchases could also be a headwind for
Dish Networks
(DISH) - Get DISH Network Corporation Class A Report
and
AT&T
who might try to cut spectrum deals, while it may allow for acquisitions by Sprint, T-Mobile,
MetroPCS
(PCS)
and
Leap Wireless
(LEAP)
, adds Feldman.
In doing regional screening analysis of acquisition attempts by AT&T, the FCC appeared to alter its methodology when considering a suit against the T-Mobile tie-up and a separate approval of a $1.8 billion purchase of spectrum from
Qualcomm
(QCOM) - Get QUALCOMM Incorporated Report
, according to Jonathan Schildkraut of Evercore Partners.
Meanwhile in December,
Bloomberg
reported that the
U.S. Department of Justice
may bring an antitrust challenge to Verizon's spectrum pick up, citing unnamed sources who say that the deal could be a restraint of trade. In August 2011, the DoJ issued a formal anti-trust challenge against AT&T in its T-Mobile acquisition, which precipitated the eventual deal breakup.
However, many still believe the spectrum acquisition will be approved. "We still expect the transaction to go through," says Schildkraut. He stresses that while the spectrum purchases and commercial arrangements with cable companies were announced on the same day, they are two separate agreements that won't be conflated in a regulatory review.
"The spectrum sale on its own is more difficult," says Schildkraut, but he notes that if a regulator were to block Verizon's service boosting acquisition, it could signal that authorities are "picking winners and losers" with antitrust suits. That's because Verizon lags its competitors and industry leader T-Mobile in its spectrum per user, even if it has the largest customer base, according to Schildkraut.
Verizon shares are off over 5% year to date to $37.95, while AT&T has posted marginal year-to-date losses. Both companies are underperforming the
S&P 500 Index
after outperforming the index in 2011.
For wireless giants, the big prize is 4G spectrum to bolster smartphone services, meanwhile cable companies are increasingly looking to add long-term wireless service into their retail offerings by negotiating reselling arrangements with wireless providers.
Verizon's pick up eliminated one of the best looking options in both arenas.
For Sprint and T-Mobile, the spectrum sold to Verizon was one of best ways for the industry's third and fourth largest carriers to catch the leaders. Meanwhile, the marketing partnership between Verizon Wireless, Comcast and Time Warner and a wireless reselling option in four years' time eliminates two large cable companies from market for wholesale resellers like Clearwire or potentially, Sprint and Dish.
For more on Verizon see Bruce Berkowitz's Fairholme Capital Management portfolio, or 15 high yield momentum stocks.
"Verizon just ran off with the last pretty girl in the bar," wrote Craig E. Moffett of Sanford Bernstein in a December note assessing the impact of Verizon's deal.
"If approved by the FCC, the deal would amount to an unmistakable step towards the duopolization of the U.S. wireless market, inasmuch it would leave T-Mobile, once again, stranded without a 4G strategy," added Moffett in his note.
However, Moffett doesn't see a significant regulatory risk to the spectrum purchases. "It's not clear that there is anything for antitrust authorities to sink their teeth into," said Moffett in a follow up phone interview on Wednesday.
With Cox Communications and cable companies like Comcast and Time Warner unwilling to spend billions to develop wireless spectrum, Moffett says that Verizon's acquisition would put undeveloped wireless assets to good use. Meanwhile, the firm's limited national wireline and cable footprint downplay notions of an "entente" between the nation's largest carrier and its cable competitors.
Verizon has echoed similar consumer benefits as a rationale for its spectrum purchases.
Overall, wireless carriers still face significant headwinds, even as they battle for limited spectrum to accommodate growing data demands.
Verizon's average revenue per user, or
ARPU, lags that of competitor AT&T because its customers have been slow to adopt smartphones. But, in January, Verizon announced that higher than expected smartphone sales were eroding profit margins, causing analysts to cut earnings-per-share estimates and their price targets.
Other iPhone sellers like AT&T and Sprint are also expected to see margins hit by payments to smartphone makers, cutting at profitability even if revenue grows. Fourth quarter earnings showed that while revenue and smartphone sales grew dramatically on iPhone and Android sales, bottom-line profitability missed estimates, signaling a continued profitability pressure.
For Verizon and AT&T investors, who've been wooed by the 5% dividend yields of the telecommunications sector vs. low bond returns elsewhere, a more fragmented wireless market is cause for "caveat emptor." Calling investors "coddled" by high dividend yields, Moffett wrote "we fear investors are utterly unprepared for upcoming weak wireless margins on the back of staggering iPhone subsidies."
For more on risks to dividend stocks, see why
dividend stocks may be a safe place for investors
.
In January, Verizon missed Wall Street's fourth-quarter earnings estimates, reporting revenue of $28.4 billion, an increase of 7.7% from a year earlier, edging analysts' estimate of $28.39 billion. Excluding items, however, Verizon earned 52 cents a share, just below forecasts of 53 cents.
Revenue from Verizon's Wireless division was $18.3 billion during the quarter, an increase of 13%. The New York-based firm, which started selling
Apple's
(AAPL) - Get Apple Inc. (AAPL) Report
iPhone in 2011, said that smartphones accounted for 44% of Verizon Wireless' retail postpaid customer phone base during the quarter, up from 39% at the end of the prior quarter.
AT&T also beat analysts' revenue estimates, boosted by sales of Apple's iPhone 4S, but its earnings missed expectations.
The Dallas-based carrier brought in revenue of $32.5 billion, an increase of 3.6% from the same period last year on its best-ever quarter of smartphone sales of 9.4 million devices during the quarter. That represented a 50% hike on its previous quarter on 7.6 million iPhone activations in the quarter, compared to just 2.7 million during the third quarter.
AT&T, however, posted a net loss of $6.7 billion for the quarter, a loss of $1.12 per share, on charges related to the loss of benefit plans, impairments, and a one-time charge related to the
of the company's merger with
T-Mobile
. Excluding extraordinary items, AT&T earned 42 cents a share, down from 55 cents a share in the year-earlier quarter. Analysts surveyed by
Thomson Reuters
were looking for earnings of 43 cents a share.
-- Written by Antoine Gara in New York