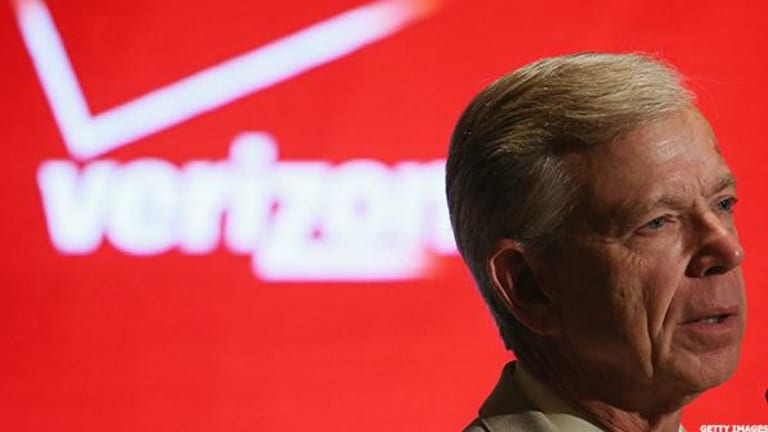 Verizon Needs More Than Yahoo! to Solve Its Problems
How do you budge a $126 billion top line?
While Verizon Communications (VZ) - Get Free Report may have the best wireless network in the world, the company told investors Tuesday that it won't be able to grow wireless services revenues until 2018. Previously, the company hoped to return its wireless business to growth in 2017.
Generating meaningful expansion at a company with a $126 billion top line is challenging, and will take more than the pending $4.8 billion purchase of Yahoo! (YHOO) .
"We're in a no-growth environment for the wireless business," said CFRA Research analyst Angelo Zino. "The business will continue to be pressured."
Verizon, headed by chairman and CEO Lowell McAdam, is positioning itself as a mobile media and ad tech company. Yahoo! would fit into the company's digital media technology unit, which includes AOL and is one of the telecom's growth niches. The unit generated just over $1 billion in the last half of 2016. Verizon has not disclosed sales for the entire year.
Last year, the telecom teamed with media conglomerate Hearst Corp. to invest in millennial-minded digital media companies AwesomenessTV and Complex Media. The businesses supply content for Verizon's go90 mobile app.
Keep in mind that the Yahoo! deal has not closed. The companies had aimed to close the deal in the first quarter, though Yahoo! said after the close Monday that consummation will slip to the second quarter as the buyer and seller look into embarrassing subscriber hacks.
Yahoo!'s $3.5 billion in annual sales would substantially expand the digital media business. Still, the unit would remain a sliver of Verizon's total revenues. The wireless business, by comparison, accounts for $89 billion of the total.
Internet of things is another source of growth. Last year, Verizon bought telematics company Fleetmatics Group for $2.4 billion and Telogis for an undisclosed sum.
Verizon has also expanded into smart cities, or the application of Internet of things to municipality development. Last year Verizon bought Sensity Systems, which develops networked LED lighting systems for airports, cities and large venues, and LQD WiFi, which makes smart kiosks that can provide directions, transit updates, public safety announcements and other services.
The Internet of things group generated just $1 billion in 2016 sales. As with the digital media group, it isn't going to move the needle for Verizon anytime soon.
There are large prey that could dramatically change Verizon's outlook. Speculated targets range from Charter Communications (CHTR) - Get Free Report , Dish Network (DISH) - Get Free Report , Sprint (S) - Get Free Report , T-Mobile USA (TMUS) - Get Free Report or even Walt Disney (DIS) - Get Free Report , Craig Moffett of MoffettNathanson noted in a Tuesday report.
A complicated and costly bet on pay-TV could shackle Verizon to another business in decline, however.
"The simplicity of Verizon's business is a virtue, not a drawback," Moffett wrote. "Unfortunately, neither the wireless nor wireline business is particularly hospitable at the moment."
Rival AT&T (T) - Get Free Report went in a different direction, and invested heavily on content and content distribution systems. The company bought DirecTV for $67 billion in 2015 and is buying Time Warner (TWX) for $107 billion, both prices including assumed debt.
AT&T's DirecTV Now streaming service has hit 200,000 subscribers, and the fast-growing mobile service will doubtless be a topic of interest when the telecom reports earnings Wednesday.
"When you look at what AT&T is doing, they are acquiring as much content as they can and being more creative with the value proposition they are offering wireless customers and looking for new revenue streams," Zino said.
Verizon wants to return its leverage ratios to the levels before its $130 billion purchase of Vodafone Group's (VOD) - Get Free Report minority stake in 2014. The company, which declined to comment on its strategic ambitions, is not likely to announce a blockbuster on the scale of AT&T's deals anytime soon.
Still, CFRA's Zino suggests a shift in strategy is coming. Verizon could sell landline systems or other assets to help fund a purchase without disrupting its plans to reduce debt. "Expect them to get more aggressive more on the content side of things than we've seen in the last two or three years," he said.