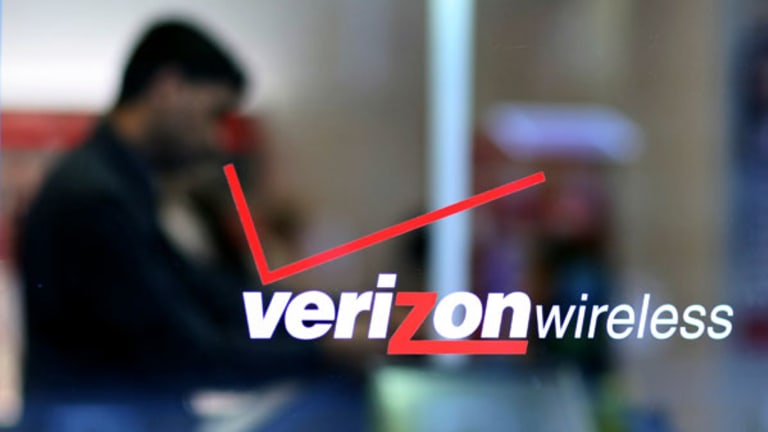 Verizon Expects to Follow Comcast in Netflix Deal
Verizon Communications says it would seek a deal similar to one reached between Netflix and Comcast on Sunday.
Updated from 9:54 a.m. ET to include analyst commentary and opening share prices
NEW YORK (TheStreet) -- Verizon Communications (VZ) - Get Free Report said on a Monday conference call it was pleased with an agreement Netflix (NFLX) - Get Free Report and Comcast (CMCSA) - Get Free Report signed on broadband network interchange, and confirmed that it would seek a similar deal.
Verizon's comments came on a call the company hosted about its financial guidance after closing its $130 billion acquisition of full control of Verizon Wireless from Vodafone (VOD) - Get Free Report.
After providing analysts with guidance that the communications giant would continue to seek spectrum purchases for five-to-10 years and would commit to debt reductions and its dividend over share repurchases in the next few years, Verizon Communications took a moment to reflect on net neutrality and Netflix's deal with Comcast, likely an important step forward for both the streaming video and broadband industries.
Verizon said it was happy that courts ruled in favor of its contest with the Federal Communications Commission over whether the regulator could determine broadband pricing.
Earlier in 2014, U.S. courts upheld a decision that restricted the FCC from regulating net neutrality, potentially paving the way for new broadband pricing models such as some based on usage. Usage based pricing has long been a threat to streaming video providers like Amazon (AMZN) - Get Free Report, Netflix, and Google (GOOG) - Get Free Report.
However, Verizon rejected the notion that it was poised to implement usage based pricing schemes that have long been speculated by the media.
"To view that we are going to be advantaging one over another really is a lot of histrionics at this point," Verizon said, while noting that heavy users like Netflix should bear some cost.
The company confirmed it would seek an interchange deal, after the announcement of Comcast and Netflix's agreement on Sunday.
The Comcast / Netflix Deal
Comcast said on Sunday its interconnection agreement will provide Comcast's U.S. broadband customers with a high-quality Netflix video for years to come.
"Working collaboratively over many months, the companies have established a more direct connection between Netflix and Comcast, similar to other networks, that's already delivering an even better user experience to consumers, while also allowing for future growth in Netflix traffic," the cable giant said, while noting that Netflix will receive no preferential network treatment under the agreement.
The agreement amounts to a multi-year punt by Netflix and Comcast on a controversial network-access issue that's hung over the broadband industry for years. A punt, instead of a stand-off between Netflix and Comcast is a win for consumers and pushes a confrontation between streaming content providers and ISPs years down the line.
Sunday's move effectively ends speculation that Netflix service on Comcast would deteriorate as both companies stood their ground on broadband network access.
When subscribers stream Netflix video there is an interchange between Netflix a subscriber's internet service provider. Whether Netflix should or shouldn't pay for that interchange has been an issue hanging over the broadband industry for a long time.
It also impacts so-called "peering" where there is a two-way connection between broadband networks. Netflix, through its Open Connect program and relationships with third parties like Cogent Networks, however, has generally accounted for about 30% of an ISP's Internet traffic in peak hours, meaning the streaming service has benefited from a one-way flow of data.
Now, after saying it wouldn't pay ISP's for that asymmetrical data flow, Netflix is doing just that. Terms of the interchange deal, however, weren't disclosed. 
Comcast will interconnect directly with Netflix and terminate its IP traffic, in exchange for some form of payment, Carlos Kirjner, a Bernstein Research analyst said in a Sunday client note.
"The Netflix problem is solved.  Isn't that convenient," Craig Moffett, co-head of MoffettNathanson Research said in a Monday client note. "Netflix, it would seem, was at a moment of unprecedented leverage.  And Reed Hastings is a smart guy," he added of the deal.
"Netflix gets cost certainty for a long time at a very low (negligible?) price and they get more capacity and therefore better service for customers.  Comcast has arguably given away the potential to charge more in the future... in return for one less opponent to their merger," Moffett added.
Verizon's 2014 Guidance
On Monday, Verizon said it is targeting 4% revenue growth in 2014, compared with 4.1% in 2013, while expanding its adjusted EBITDA margins in the company's wireline and wireless businesses this year. I
On a conference call with analysts, the telecom giant also discussed its so-called One Verizon plan, which changes some pricing tiers and provided further insight into its financial guidance.
[The company indicated that its guidance does not include aggressive assumptions around equipment installment plans (EIPs). As we highlighted in recent notes, we believe EIPs (EDGE for VZ) could lead to better EBITDA margins - but at the expense of short-term cash flows," Jonathan Schildkraut, a telecom analyst at Evercore Partners said in a Monday client note.
"Net/net, we remain positive on VZ shares given the underlining fundamentals, and believe that near-term technical pressures could create a buying opportunity," the analyst added.
Verizon shares were falling less than 1% to $47.01 in Monday afternoon trading. Netflix shares were gaining nearly 3% to $444.23. 
-- Written by Antoine Gara