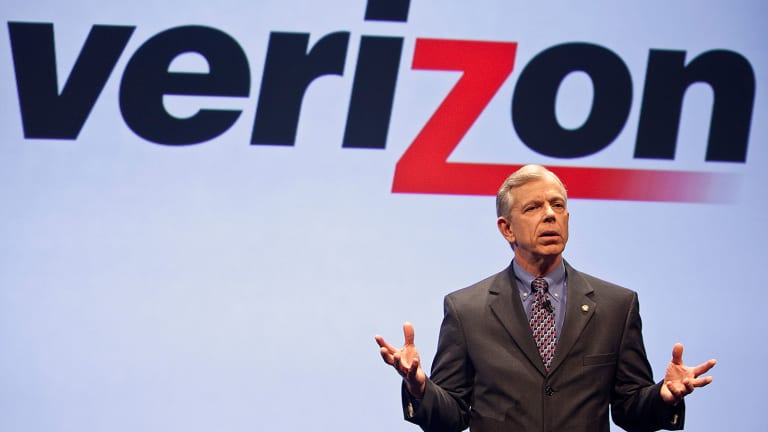 Verizon CEO: Don't Expect Any Huge Media Acquisitions From Us
Tax cuts will give Verizon an extra $3.5 billion to $4 billion in operating cash flow, but Lowell McAdam says the telecom isn't planning to use the funds for any kind of blockbuster media deal.
While Verizon Communications Inc. (VZ) - Get Report missed fourth-quarter earnings on Tuesday, the company reported strong wireless numbers and provided the telecom sector's first report on the benefits of tax cuts. In the company's earnings call, Chairman and CEO Lowell McAdam also shot down expectations for a major media acquisition by the telecom giant.
"It's nice to be loved," McAdam said regarding press reports that have linked Verizon to numerous acquisition targets, most recently Lions Gate Entertainment Corp. (LGF) . The Verizon boss reined in expectations for a deal, however. "There is nothing going on right now with us considering a large media play," McAdam said.
Verizon earned 86 cents per share in the fourth quarter, two cents below forecasts, while revenue of $33.95 billion topped forecasts of $33.2 billion. The telecom added 431,000 postpaid phone subscribers in the quarter, beating forecasts of 306,000.  
Shares of Verizon initially rose more than 2%, but were trading slightly down at $53.26 on Tuesday mid-morning.  
"[The] good well outweighs the bad here," Jennifer Fritzsche of Wells Fargo Securities LLC wrote in a Tuesday report, pointing to the revenues and subscriber gains.
Verizon also had positive news about the impact of the recent tax cuts. McAdam said that the new tax plan will boost operating cash flow by $3.5 billion to $4 billion per year, which Fritzsche wrote was "well ahead of our expectations."
"We are very pleased to see the legislation passed," McAdam said, adding that Verizon will announce a plan to share the benefits of tax cuts with employees later Tuesday. Benefits to employees and donations to a Verizon foundation will reduce earnings per share by 5 to 6 cents per share in the next two years, the telecom said. 
McAdam addressed the dilemma that major telecom and tech companies face regarding whether to buy a content producer. 
"There is a lot of movement in this area right now," McAdam said, suggesting that the activity had not brought clarity. It is uncertain, for example, whether AT&T Inc. (T) - Get Report will be able to close its purchase of Time Warner Inc. (TWX) following a lawsuit by the Department of Justice. Adam acknowledged, though, that Walt Disney Co. (DIS) - Get Report is sending the message that "scale matters" with its purchase of  most of Twenty-First Century Fox Inc.'s (FOXA) - Get Report assets.
The question for Verizon is whether it is better be a large, independent distributor of content, or to actually own content. The Verizon CEO downplayed the need to make a large purchase, citing the telecom's licensing deals to carry NBA and NFL games on its go90 and Yahoo! Sports apps. "We think being a great partner, being able to monetize through advertising and being independent is a very good place for us right now," McAdam said.
The launch of commercial 5G services in three to five cities this year will help Verizon differentiate its offerings.  "We're breaking into one of the most exciting times I've seen in my career," McAdam said, suggesting that 5G will bring a "fourth industrial revolution" extending from medicine to urban infrastructure and other parts of the economy. 
More of What's Trending on TheStreet: