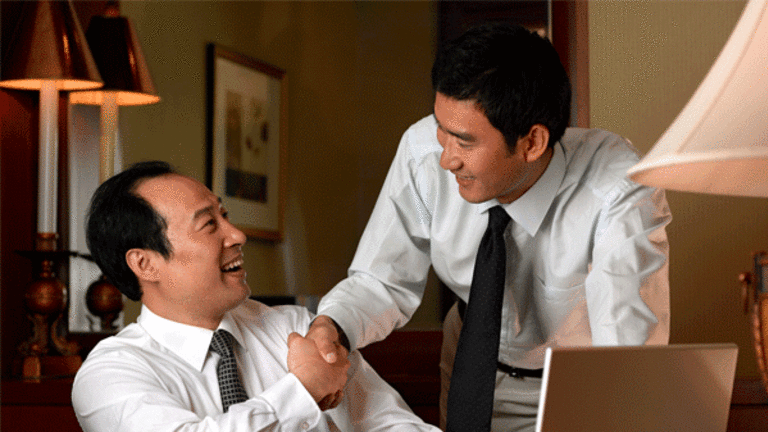 Valeant Raises Hostile Offer for Allergan
Meanwhile, Valeant partner Pershing presses for an unorthodox shareholder vote at the target.
NEW YORK (The Deal) -- Valeant Pharmaceuticals International (VRX) increased its hostile offer to acquire specialty pharmaceutical company Allergan (AGN) - Get Allergan plc Report to $49.4 billion Wednesday amid intense campaigns on both sides to woo shareholder support.
Valeant, led by CEO J. Michael Pearson, had broadcasted that it intended to raise its bid in tandem with a presentation May 28 to the investor bases of both companies along with Pershing Square Capital, a 9.7% Allergan shareholder and investing partner with Valeant in its offer. The revised bid for Allergan, of Irvine, Calif., increases the cash portion of the consideration by $10, to $58.30, an increase of 20.7% to the cash payout and about 6.4% to the value of the deal at the market close May 27. The share exchange ratio remains 0.83.
Allergan shareholders continue to have the option of electing either cash or stock, subject to pro-ration. The revised offer is a 44% premium to Allergan's share price on April 10 when Pershing Square began aggressively buying the shares. Allergan closed Tuesday at $166.92 about 75 cents below the value of the new offer.
The revised bid also introduces a contingent value right for Allergan's DARPin, a Phase 2 drug for age-related macular degeneration. An update on DARPin is expected in the third quarter. The CVR would provide Allergan shareholders with up to an additional $25 per share based on performance. Valeant would commit up to $400 million in DARPin and distribute 40% of net sales after recouping its development investment. Valeant said on its investor presentation that the addition of the CVR stems from interaction with Allergan shareholders in recent weeks.
Laval, Quebec-based Valeant sent a letter to Allergan introducing the revised offer seeking an in-person meeting with key Allergan executives. Valeant said that applying its operating philosophy, strategy and financial discipline to a broader set of durable assets will create substantial long-term returns for shareholders, and exceed returns available to Allergan shareholders through alternative options, including a standalone alternative.
Valeant in its presentation to shareholders Wednesday attempted to counter Allergan's assertions that the Valeant business model, purchasing marketed drugs or drugs in later development with limited R&D, is not sustainable; that the Bausch & Lomb portfolio is not growing, that Valeant slashes R&D and is not committed to innovation, and that it will be impossible to capture $2.7 billion of synergies without impacting top-line growth.

Allergan released an investor presentation Tuesday with the assistance of consultants Alvarez & Marsal and FTI Consulting to evaluate Valeant's business model and stock. Allergan spotlighted Valeant's recent acquisitions of Bausch & Lomb and Medicis, raising concerns about the source of Bausch & Lomb's growth and problems with Medicis' share of its market. It also argued that Valeant has very limited experience with global products that Allergan owns, and it raised concerns about a major reshuffling of its executive team in recent years.
Valeant's increased offer comes as a separate but related battle heats up over Pershing CEO Bill Ackman's efforts to hold an unorthodox shareholder referendum on his nonbinding proposal to have Allergan's board sit down and engage in "good faith" negotiations over Valeant's bid. Ackman's Pershing Square owns most of a 9.7% stake in Allergan, as part of a joint venture fund the insurgent set up with Valeant.
Late Tuesday, Rep. Ed Royce, R-Calif., the lawmaker from Allergan's Orange County district, sent a letter to Securities and Exchange Commission Chairwoman Mary Jo White expressing concern about Ackman's effort to hold the meeting, calling it a "shadow shareholder referendum" that comes at the "expense" of shareholder transparency.
"My immediate concern is that the SEC performs a thorough review of the details of this filing with that transparency in mind. Allergan's investors and the U.S. capital markets deserve nothing less," Royce said.
While shareholder referendums on nonbinding proposals are frequently employed as a pressure tactic to drive transactions in a hostile campaign, Ackman's proposal is unique because he is seeking consideration of his measure outside of the Allergan's corporate bylaw framework.
The approach has, as expected, has already ruffled feathers at Allergan, which has called it a "self-serving exercise" where Ackman can "dictate" his own process. Ackman, if he can get SEC approval, could hold his meeting as early as next month. If Ackman had employed the traditional and accepted approach to hold a special shareholder meeting, following the company's bylaws, he would likely have had to wait until November for it to take place.
Whether the SEC will approve the measure is unclear. At the very least, Royce's letter is likely to delay SEC approval. Some argue that SEC approval is just a formality and Ackman could hold his vote without the agency's assent, while others are not so sure. One former top official in the SEC's Division of Corporation Finance said that this approach may give the SEC some pause. "Putting something in front of investors and saying sign this and deliver it to the company could be characterized as these people joining a group," he said. An SEC official declined to comment.
Critics argue that the unorthodox nature of the meeting means Pershing Square will have to develop its own procedures to assure the integrity of the process. People familiar with Pershing point out that Ackman plans to employ a traditional independent inspector of elections to certify the results and verify the share ownership of participating investors.

Whether the meeting would be a short one simply to tally and announce the preliminary results or whether it will be a broader town-hall style meeting that will allow for debate and discussion is unclear at this stage. Pershing has employed the townhall approach previously, and people familiar with the fund argue that if Allergan hasn't responded to Valeant in a "productive manner" Ackman will likely want to make it into a real forum for debate and discussion of the unsolicited offer.
Even if the SEC signs off on the measure, whether a substantial number of Allergan shareholders would participate is unclear. A key question that also has yet to be answered is whether the top proxy advisory firms would render recommendations on the proposal.
The unusual nonbinding proposal may not be the last governance tactic Pershing employs to get its way. If unsuccessful, escalation could be next. Observers familiar with the Ackman bid note that the next step could be to launch an unsolicited tender offer or an effort to have investors' act by written consent to remove Allergan directors.