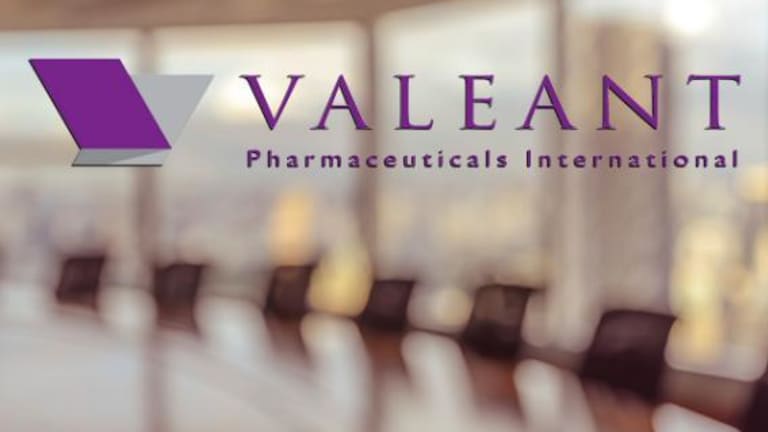 Valeant Pharma Continues Asset Sales Instead of 'Riskier' Debt Swaps
The Laval, Quebec-based specialty pharmaceutical company is likely to sell off more of its business segments as it seeks to pay down nearly $29 billion in debt.
Investors can expect Valeant Pharmaceuticals International Inc. (VRX) to continue selling off its business units to pay down its nearly $29 billion debt load, following the Thursday, closing of the sale of its equity interests in its former subsidiary, Dendreon Pharmaceuticals LLC, to Sanpower Group Co. Ltd. for nearly $820 million.
Valeant also on June 8 announced that it would sell its iNova Pharmaceuticals business to a company owned by funds managed by Pacific Equity Partners and Carlyle Group for $930 million.
The Laval, Quebec-based specialty pharmaceutical company's shares were up 0.15% at $17.30 at 3:51 p.m. Thursday.
"Right now, I think (Valeant) will try to sell more of their business segments if they can get good multiples," said Valeant analyst Timothy Chiang of BTIG LLC. "But I don't see a lot of growth in the company if they keep selling assets."
Chiang said that, while the company is paying off debt, it is also shrinking instead of growing as it sells assets and no longer generates revenue from those sold assets.
Chiang said he is not sure if the company will be able to complete debt-for-equity transactions because of a perceived risk for investors.
"I don't think they will be trading debt for equity, since it's a riskier proposition for investors," Chiang said. "And investors won't be getting the interest payments they were receiving before.
"Pharmaceuticals are all having a hard time," Chiang said. "They are not out of the woods yet. No one really knows what will happen next."
However, one Wall Street firm has high hopes for Valeant as Cantor Fitzgerald & Co. analyst Louise Chen on Wednesday raised her price target on the pharmaceutical company to $23 from $18, citing multiple expansion opportunities.
"We think this is deserved because Valeant's execution has continued to meet or exceed our expectations," Chen wrote in a June 28 note.
She said Valeant's execution against its stated goals boosts confidence that CEO Joe Papa and CFO Paul Herendeen "can return the company back to growth."
Valeant, which built a debt load of more than $30 billion to fund acquisitions in recent years, in March issued $1.25 billion and $2 billion of senior secured notes due 2022 and 2024, respectively, and persuaded bondholders to tender $1.1 billion of senior notes 2018. The move greatly reduced the amount of debt maturing prior to 2020.
As of May, Valeant's debt stood at $28.66 billion, down from $32.31 billion at the end of March 2016.
This article was originally published by The Deal, a sister publication of TheStreet that offers sophisticated insight and analysis on all types of deals, from inception to integration. Click here for a free trial.
— Armie Margaret Lee contributed to this report