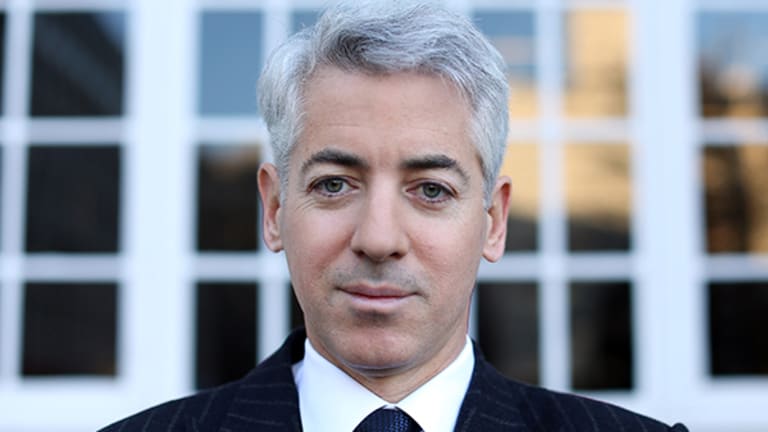 Publish date:
Bill Ackman Gets a Taste of His Own Medicine
The activist investor boosted his stake to 6.3% in the embattled drug producer Valeant, whose CEO now disputes a short-seller's allegations the company was involved in questionable practices.
The activist investor boosted his stake to 6.3% in the embattled drug producer Valeant, whose CEO now disputes a short-seller's allegations the company was involved in questionable practices.
Activist investor Bill Ackman likes to talk about his $1 billion short position in nutritional supplement company Herbalife (HLF) - Get Herbalife Nutrition Ltd. Report , which the insurgent investor has called an illegal pyramid scheme. So far, however, the billionaire has failed to convince the market and folks that regulate it that Herbalife is a fraud, and he's faced high-profile opponents in that battle, including raider-turned-activist Carl Icahn and Third Point LLC's Dan Loeb.
Now Ackman may be getting a taste of his own medicine at Valeant Pharmaceuticals (VRX) after the drug giant's stock lost about $20 billion in market capitalization in response to a report published by an activist short-seller alleging questionable practices at the company.
The short-seller, Andrew Left of Citron Research, issued an eight-page note on the firm's Web site on Wednesday that alleged that there was a secret relationship between Laval, Quebec-based Valeant, a mail-order pharmacy called Philidor Rx Services, and a Philidor customer, R&O Pharmacy LLC. Citron claims that Valeant used the relationship to improperly hike revenues, sometimes bypassing insurers. The report drove share prices down significantly and kindled concerns that federal prosecutors in Washington could launch an investigation into the situation.
Valeant responded to that commentary on Monday, with CEO Michael Pearson calling Left's presentation "sensational" and "untrue" in a conference call with analysts. Pearson charged that Valeant hasn't found any evidence of illegal activity at Philidor and noted that Valeant's outside regulatory counsel is urging the Securities and Exchange Commission to investigate Left. Nevertheless, recognizing that more needed to be done, the drug company set up an ad-hoc committee of independent directors to review the allegations. It also said that Valeant provides no financial support to R&O and that Philidor is fully independent of Valeant.
"The company that I've heard discussed in the press is not one I recognize," said Pearson.
However, it is clear that Philidor, R&O and Valeant, at the very least, have more connections than previously disclosed. (R&O and Philidor have the same phone number, purportedly because Philidor provides backoffice services for R&O).
Also, among the assertions made about Philidor is one recently made by The Wall Street Journal that an investigation of the mail-order pharmacy unearthed that a number of workers there went by "one name in person and another in emails during the past two years."
These people were employees of Valeant and not Philidor, the Journal reported. In response, Valeant lead outside director Robert Ingram told analysts Monday that it is unclear whether the email issue violated any provision in its agreement with Philidor.
"It depends on the facts and whether there is an actual issue with the emails," Ingram said.

Nevertheless, Ackman's investment fund, Pershing Square, recently doubled down on its investment, at least partly, by hiking its stake in Valeant to 6.3% from 5.7% on Thursday. The move, which involved an acquisition of an addition two million shares, puts Pershing into the position of being Valeant's second-largest investor and suggests that Ackman believes Valeant will recover from the allegations. (Pershing hiked its stake to 21.5 million shares from 19.5 million shares).
Valeant's stock traded down more than 5% Monday to finish at $110.04, which is well below the prices in which Pershing made much of its initial accumulation. Between Feb. 12 and March 17, Pershing bought Valeant shares at prices ranging from $163.23 to $203.96.
Pershing, which declined to comment, has not followed its trademark activist playbook with its Valeant investment. In fact, Pershing and Valeant teamed up in an unsuccessful hostile effort last year by the drug company to acquire Allergan (AGN) - Get Allergan plc Report . Dublin-based Actavis eventually acquired Allergan (and took the name), acting as a white knight. The deal was a big victory for Pershing Square, which made an unrealized gain of more than $2 billion. Valeant received roughly $400 million. Nevertheless, it was seen as the main loser in the deal.
Bill Ackman isn't the only activist feeling the sting from holding a large Valeant stake. Jeff Ubben's ValueAct owns about a 4.7% stake, according to an August securities filing, a position that was taken down from a 5.6% stake reported in 2014. ValueAct President Mason Morfit is rejoining Valeant's board and will participate on the independent panel looking into the allegations. (Morfit had been a board member between 2007 and 2014). In addition, John Paulson & Co. owns about 2.6% of Valeant.
Valeant now is considering whether to purchase Philidor or sever ties. If Valeant does purchase the company, it would be no surprise to industry watchers who suggest that Valeant has been a key consolidator in the industry.
The company's strategy of shying away from research-and-development in favor of purchasing companies with meaningful products and technology has been its go-to move.
Most recently, Valeant purchased ophthalmology company Synergetics USA for up to $191.7 million. In late August, it shelled out $1 billion to purchase Sprout Pharmaceuticals, which produces a drug designed to treat low sexual desire in women.
Les Funtleyder, the health care portfolio manager at E Squared Asset Management, noted in an interview last week that the headlines surrounding Valeant may make doing the next deal for the company that much harder. Pearson pushed back on concerns that negative press and the company's market capitalization drop will result in cuts in research and development and mergers and acquisitions spending, noting that the drug company's acquisition strategy remains unchanged and that Valeant will "continue to pursue small and medium deals" and look opportunistically when it comes to potentially larger deals.

Valeant had noted that it will be moving towards a more traditional R&D model, one that many pharmaceutical companies currently employ. On Monday, Pearson, in his conference call, described Valeant's strategy of low-fixed cost, high-output R&D as unchanged.
"We do expect our overall R&D spending to increase because that is tied to a growing business and not tied to a fundamental shift in our strategy," he said.
Meanwhile, Valeant's involvement with a mail-order pharmacy business is still one that may not sit well with many in the space.
"The optics of a pharmaceutical company owning a PBM is such a 1990's issue," Funtleyder said. "That alone is enough to make me say, 'Something doesn't look right.'"
Funtleyder pointed out that Merck (MRK) - Get Merck & Co., Inc. (MRK) Report  and Eli Lilly (LLY) - Get Eli Lilly and Company (LLY) Report  both spun out pharmacy benefit management businesses many years ago. Merck spun out its Medco Health subsidiary in 2003, while Lilly sold PCS Health Systems to Rite Aid (RAD) - Get Rite Aid Corporation Report in 1998 after buying the company in 1994.
Umer Raffat, a senior equity analyst at Evercore ISI, issued a note after Monday's conference call and pointed out that Valeant is indemnified from Philidor's obligation. That indemnification is capped at upfront and milestone fees that Valeant has already paid. Valeant purchased an option to buy the specialty pharmacy company in December. Philidor includes R&O Pharmacy LLC in its network.
Raffat's note noted that a buyside survey he conducted found that most participants were against purchasing the specialty pharmacy.