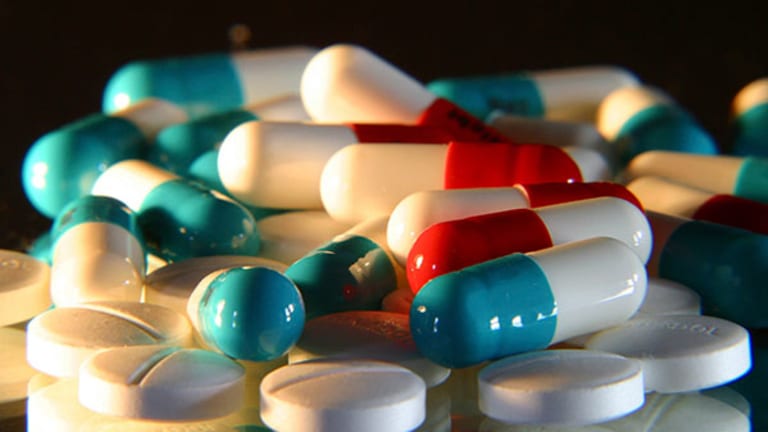 Valeant Agrees to Buy Salix Pharma for $14.5 Billion in Cash
Canada's Valeant Pharma agreed to buy Salix Pharma in cash deal valued at about $14.5 billion, the companies said Sunday.
NEW YORK (The Street) -- Canada's Valeant Pharmaceuticals (VRX)  agreed to buy Salix Pharmaceuticals (SLXP)  for $158 a share in a cash deal valued at $14.5 billion, the companies said Sunday.
Valeant plans to finance the deal, which is expected to close in the second quarter, with bank debt and bonds.
The announcement follows Valeant's failed hostile bid for Allergan, the maker of Botox. Allergan agreed to sell itself to Actavis for $66 billion late last year in 2014's largest deal set to close this quarter.
Raleigh, N.C.- based Salix develops drugs that treat stomach disorders, and has a portfolio of 22 total products, including Xifaxan, Uceris, Relistor, and Apriso.
"Salix's market-leading gastrointestinal franchise is an ideal strategic fit for Valeant's diversified portfolio of specialty products," said J. Michael Pearson, Valeant's chairman and CEO. "The growing GI market has attractive fundamentals, and Salix has a portfolio of terrific products that are outpacing the market in terms of volume growth and a promising near-term pipeline of innovative products."
Valeant "conducted extensive due diligence" on potential legal or regulatory exposure relating to Salix's upward revision to wholesale inventory levels in November, Pearson said. The inventory news raised questions about demand for Salix's products and led the company's top two executives to step down.
Valeant expects 2015 revenue to take a more than $500 million hit from the inventory issue.
"Valeant expects to work down wholesale inventory and plans to target two months or less of wholesale inventory by year-end 2015," the company said.
The work-down will reduce 2014 and 2015 ebitda, making the Salix acquisition only "modestly" accretive to Valeant's 2015 cash earnings per share, and over 20% accretive to 2016 cash earnings per share.
Despite plans to raise debt, Valeant doesn't expect any change to its credit rating from the deal, which is subject to regulatory approval.
Deutsche Bank and HSBC advised Valeant on the deal. Centerview Partners and J.P. Morgan are Salix's financial advisers.
Deutsche Bank Securities, HSBC, Mitsubishi UFJ Securities, DNB Bank ASA and SunTrust Robinson Humphrey will provide debt financing.
Shares of Valeant closed Friday at $173.26, up 2.4%. Salix closed at 157. 85, up 4.7%.
Shares of Salix are up about 53%  from a recent low of $103.03 reached on Dec. 15.