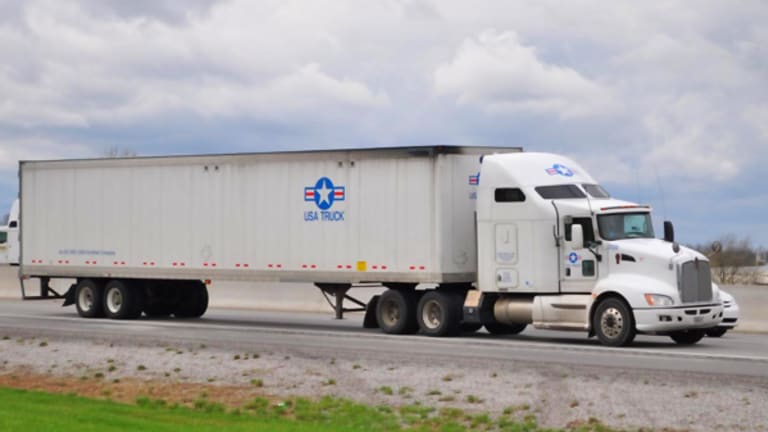 USA Truck Extends Cooperation Agreement With Activist Owners
The company has agreed to back three activist candidates for reelection to the board as part of a broader deal that would see the firms sell down their holdings.
NEW YORK ( The Deal) -- USA Truck (USAK) said Thursday it has extended a  cooperation agreement with hedge fundsBaker Street Capital and Stone House Capital Management that includes provisions that would clear the way for the funds to begin selling down their positions in the transport firm.
Terms of the deal call for the company to nominate investor-backed candidates Vadim Perelman, Thomas Glaser and Gary Enzor for reelection to the USA Truck board. In return the funds have agreed to vote in accordance with board recommendations and continue a standstill agreement reached between the activist funds and the company last year.
New to the revised agreement, USA Truck has agreed to file a registration statement at the request of Baker and Stone to sell up to 2 million fund-owned shares. Should Baker's stake fall below 10% or the fund sell more than 50% of its current holding, Baker general partner Perelman would resign from the company's board. The funds have also agreed to pay certain expenses relating to the sale of shares.
Stone House as of Feb. 25 owned 1.55 million shares, or 14.7%, while Baker Street owns 1.4 million shares or 13.3% of the total.
The deal comes just weeks after USA Truck reported its highest quarterly earnings per share result since 2008, continuing an impressive turnaround by the Van Buren, Ark.-based company. USA Truck has traveled a rocky road in the recent past, but has been on the upswing since appointing John Simone as CEO in February 2013 after a string of quarterly losses.
Stone House's Mark Cohen recognized the progress in a statement, saying "we are very pleased by the operating and financial improvements made by John Simone and the USA Truck team" and noting that shares of the company are up 150% since the firm's initial investment.
USA Truck in 2013 was put in play when Knight Transportation (KNX)   announced a $242 million hostile offer. That offer, valued at $9 per share, was deemed too low, and Knight eventually agreed to a standstill provision in return for an end to litigation between the companies.
The decision proved to be a wise one by USA Truck, given its shares now trade above $30 apiece. Knight as of January still owned 9% of the company's shares.
Even after USA Truck settled with Knight it still had activists to deal with. The company in May 2014 reached an initial deal with Stone House and Baker Street that is being carried forward in its latest agreement.
A separate investor, ADW Capital Partners, called on the company to overhaul management and divest assets last August. It is unclear whether ADW, who at the time said it owned about 3% of USA Truck, is still an investor in the company.
The revised deal would allow Stone and Baker to significantly decrease their ownership positions. Company Chairman Robert A. Peiser said the provision, which he says would provide the funds "flexibility ... to reduce their positions in the future in an orderly manner, would best serve the interests of all USA Truck stockholders."
Stone's Cohen said "portfolio management considerations" are motivating the potential sale, but noted that the fund is not seeking to exit the investment entirely. "As the turnaround plan begins to take hold, we are happy to remain its top shareholder," he said.
Must Read:Warren Buffett's Top 10 Dividend Stocks
Read more from
: