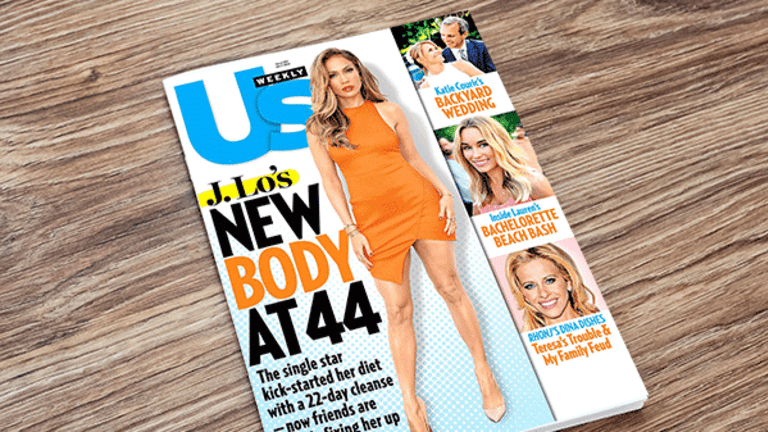 Us Weekly Gets New Suitor at Altar After Tronc Departure
The publisher of the Chicago Tribune drops out at the last moment, leaving room for National Enquirer owner AMI to snatch the middle-market celebrity magazine for up to $100 million.
At this moment in matrimonial M&A, TroncUs has split, but the latter isn't content with the single life.
Tronc (TRNC) , the third-largest U.S. newspaper company, has walked away from its offer to buy Us Weekly, telling magazine owner Wenner Media on Friday that it decided not to finalize and announce the deal this week, as the companies had planned, several confidential sources with knowledge of the latest developments said.
American Media, familiar to those still perusing supermarket checkout reading options, has quickly re-entered the picture as a suitor. AMI, the owner of the National Enquirer, Star, OK!, Soap Opera Digest and Men's Fitness, will likely close its own deal to buy Us Weekly as soon as this week, according to the same sources, for a purchase price that could reach $100 million.
The parties -- Wenner Media, AMI and Tronc -- all refused comment on the dealmaking.
Tronc shares on Tuesday afternoon were flat at $13.11.
If completed, AMI's purchase of Us Weekly would serve as the latest marker of roil and consolidation in the entertainment/celebrity press. Both The Hollywood Reporter and Billboard remain available for sale by Eldridge Industries, and, of course, Time (TIME) is in the final stages of its auction, the centerpiece of which is People.
Watchers of Tronc and the newspaper industry will see still another reason to marvel at the actions of Tronc Chairman Michael Ferro. He and his executive teams had done rounds of due diligence on Us Weekly over a number of weeks, and agreement was reached on all terms, sources said. Why then did Tronc pull out at the last moment?
Insiders have nothing but speculation. "Maybe Ferro got some feedback after the press of the deal," one source close to the company said. Indeed, at least one longstanding board member voiced his opposition, sources said. It's also possible that Tronc Vice Chairman Patrick Soon-Shiong, who like Ferro has been buying up more of Tronc's shares, didn't support the strategy behind the acquisition.
TheStreetlaid out, and raised questions about, that strategy last week. In short, within a global entertainment-centered strategy, Us Weekly was intended to provide Tronc both with more digital audience and more digital revenue. Further, the magazine's robust digital content was to be further distributed through rebuilt Tronc newspapers sites, from the Los Angeles Times to Baltimore Sun.
Ferro and his executive team may have one more reason for walking away. The company has said it is in the hunt for additional acquisitions this year; those could cost three to four times the price of Us Weekly. Tronc closed 2016 with about $200 million in cash, so it may be shepherding some of that for other deals.
One financial observer who had been critical of the deal gave the mercurial Tronc chairman credit. "Ferro is showing some discipline," he said.
Price seems not to have been the issue, according to those with knowledge of the deal. And unlike with the collapsed Gannett (GCI) - Get Gannett Co., Inc. Report acquisition of Tronc, which also fell apart at the very last moment, no late-released financials seem to have torpedoed the deal. Tronc, sources said, had outbid AMI, but that company had maintained its interest.
Us Weekly staffers -- there are about 110 in the editorial and ad departments -- had seen Tronc as the white knight, a journalism company, likelier to maintain more of the status quo. AMI, they had feared, and now newly fear, will remake Us Weekly, a middle-market celebrity magazine, in its own low-cost, high-fiction image.
The difference between Us Weekly and the AMI pubs? Us Weekly could nab interviews with Hillary Clinton and Barack Obama, while AMI might weave space aliens into stories about them. AMI doesn't rely on a strong reporting staff, rather paying editors skilled in the arts of curation -- and copy and paste.
As described by one-time AMI editor Michael Koretzky: "Most of what you read in the tabloids came from somewhere else. A staff of writers never leave the newsroom. They scour every other celebrity publication in existence -- AMI has assistants walking around all day long, dropping copies of these publications on the writers' desks. If the writers can't verify these stories on their own, they just quote from them." Scandal and conspiracy drive these publications.
AMI, run by CEO David Pecker, is known for its niching skill among its four current titles, aiming them at differing demographics. Us Weekly itself offers a new opportunity there, its own longstanding brand and audience not easily merged into others.
An AMI purchase also would bring cost efficiencies. The company can cut administrative expenses for the magazine. Further, it well may leverage its lower-cost, product-building facility in Boca Raton, Fla., to save money, moving some to much of Us Weekly's New York-based publishing workflow there.
An AMI purchase might well produce dozens of Us Weekly resumes hitting the market, but that market remains a poor one.
As for Tronc, it moves on with staffers from coast to coast awaiting new strategies. Last week, the company filed its annual Form 10-K with the Securities and Exchange Commission, and one expense caught attention: Tronc paid $2.7 million for private jet air time for its executives.
That sum paid for the equivalent of 317 hours of flying at $8,500 an hour. Alternatively, it's enough money to pay 35 or so experienced journalists at a time when the company still plans to cut more jobs. Or to reframe it again, $2.7 million equals the amount of retail ad growth income for all of Tronc in 2016.
Tronc's next move, airborne or not, will be well watched in the publishing industry.