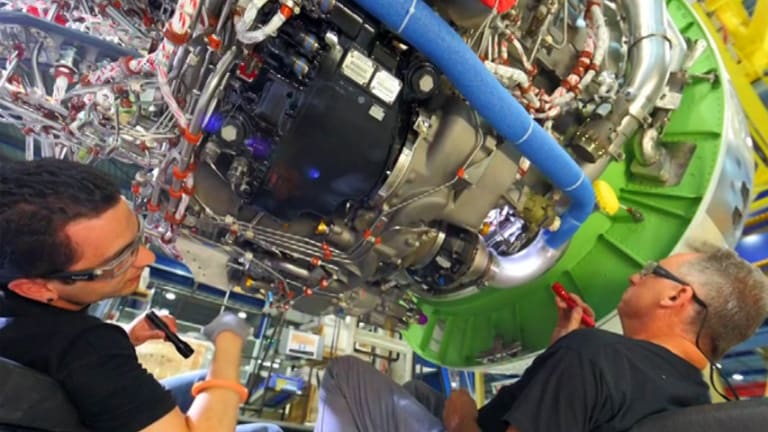 United Technologies Has Plans for Buying and Selling. And splitting?
New CEO Greg Hayes is taking a hard look at the conglomerate's businesses and sees "no sacred cows."
Threatened by what was billed as a monster blizzard, United Technologies Corp. (UTX) - Get United Technologies Corporation Report pushed forward its earnings report by 12 hours earlier this week. The guidance, like the storm, fell short of expectations in some areas, but in UTC's case clouds remain on the horizon.
Hartford, Conn.-based UTC late Monday reported fourth quarter results that were in line with estimates, but warned that 2015 earnings per share were likely to come in at between $6.85 and $7.05, below the $7.19 per share consensus, with weaker than expected revenue.
It's been a tumultuous few months at United Technologies, a $65 billion maker of aerospace components, helicopters, HVAC equipment, elevators and safety and security products. The company's board in late November pushed CEO Louis Chenevert into retirement, replacing him with chief financial officer Greg Hayes.
In the months since other executives, including the CEO of UTC's propulsion and aerospace systems business, have followed Chenevert out the door as Hayes reworks the organizational structure.
For now, UTC is relatively well positioned. Much of its 2015 revision was tied to forex worries, and Chenevert's exit appears to have had more to do with the board feeling the executive was not committed to the job than it did with problems at the company. Still, many industry watchers feel change is in the air. At the company's December investor meeting, Hayes pledged to be more aggressive about acquisitions and sales, saying UTC has "no sacred cows."
Hayes, as a former CFO, is seen inside the company as more of a manager than an empire builder, and is thought to be more open to the idea of overhauling the portfolio.
The question is what steps the new CEO might take. UTC won praise from investors for its $18.4 billion acquisition of Goodrich Corp. in 2011, a deal that bought additional commercial aerospace business in the early stages of what has become a sustained run of new plane orders. But that deal made the diversified conglomerate much more reliant on aerospace, and perhaps could eventually leave other business units on the outside looking in.
Otis, the elevator maker, is particularly exposed to a slowdown in China and foreign exchange issues, but could be an attractive asset if put on the block as a number of multinationals are focused on commercial construction and building controls. Another unit, Sikorsky, has long been the subject of divestiture speculation: The helicopter maker is the smallest of UTC's operating companies, and is overly reliant on lower-margin military spending.
But those units have been part of UTC for so long — Otis since 1976 and Sikorsky since 1929 — the tax implications of a sale would be significant, and it is unlikely that either unit on its own would outperform if spun off as an independent.
Some experts have proposed a more ambitious restructuring. Vertical Research Partners LLC managing partner Jeffrey Sprague has suggested the company could split in two with its non-aerospace businesses, a grouping that includes Carrier HVAC, Chubb security and Kidde safety products in addition to Otis, then merging with a rival like Tyco International Ltd. (TYC) .
Tyco, based in Switzerland, would allow the UTC industrial businesses to adopt a lower tax domicile. United Technologies "is arguably showing signs of being too big to grow," Sprague wrote back in November, saying the change in the CEO suite could drive a change in strategy.
Moving in the opposite direction UTC could also try to find its next Goodrich, perhaps taking a look at buying $11.8 billion market cap Textron Inc. (TXT) - Get Textron Inc. Report or another large company in a complementary area. Hayes has said one of the advantages of the company's size and scale is it has the ability to make large-scale investments in new technologies or deals. But some observers believe there are few obvious targets that would provide significant additional earnings growth over time, and UTC in its guidance earmarked just $1 billion for acquisitions in 2015.
Change has been a constant throughout UTC's storied history, from the early days of William Boeing and United Airlines through to the formation of the modern conglomerate. It might take Greg Hayes time to figure out how the company pivots next. But as inevitable as the next snowstorm, United Technologies will eventually make a move.
Read more from
: